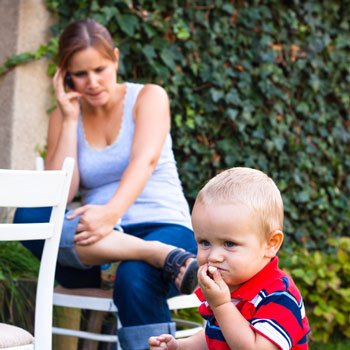 It's only natural for parents to be concerned about whether their children are getting too much tech in their lives – the American Academy of Pediatrics recommends strict limits on kids' screen time. But a new study says that this street goes both ways: Kids are complaining that parents spend too much time with technology themselves.
YouGov recently conducted a survey of parents in Sweden, one of the world's most smartphone-connected countries. In it, one in three parents (33%) admits their children have complained to them about excessive phone use. More alarming: Over 1 in 5 parents have lost sight of their child because they were too busy with a smartphone.
According to U.K's The Guardian, scenes of distracted parenting are playing out across Europe. The site published an anecdote from 36-year-old mother Hanna, who routinely brings her child to a local playground. "There was a dad there with his daughter and he just couldn't take his eyes off the screen," she recalls. "And his daughter was just walking around, calling for her dad. She stood by the swing, looking meaningfully up at him, and seemed really lonely and he just totally ignored her, and this went on for ages."
That's pretty heartbreaking. But it's a common scene, even here in the United States. Against better judgment, moms and dads stare at their phones while interacting with cashiers at coffee shops, while at the movies, and even while driving. There are plenty of ways that technology and smartphones can make you a better parent, but job one should always be making sure tech doesn't make you a more neglectful one.
[mother distracted by cellphone via Shutterstock]