The internet is an inescapable part of everyday life, but it poses plenty of challenges for parents. It's tough to keep track of the content your kids are seeing online, or set limits on what they're doing when they could have their own mobile devices, video game consoles and computers.
Almost every tech company has taken steps to help beleaguered parents keep tabs on their kids' online activities. Upcoming versions of Android and iOS — both due out later this year — include ways to monitor screen time. There's plenty of software to help limit your child's online activities, too, from simple web content filters to more sophisticated tools like Google's Family Link and Amazon's Parent Dashboard that let you see exactly what your child is doing and individually block apps or activities. Software like this has limits, though: typically they only work with a specific device or service.
Mobile providers offer a variety of solutions, too. AT&T, Sprint and Verizon all offer some parental controls, as well as letting you monitor your child's location. But all come with a monthly subscription fee — and only help with mobile devices using cellular data.
The best options are usually connected devices that control access to your home's Wi-Fi network. Sometimes built into your internet router, these typically let you set up a profile for everyone in the household, with rules on what they can do, for how long, and at what hours of the day. That gives you complete control of your home devices, and sometimes these services also have a mobile app to manage smartphones, too. Among these, Circle with Disney ($100, check price on Amazon) is our favorite, pairing a cube-shaped gadget to your home network with an easy-to-use mobile app to track and manage everyone's screen time.
And now T-Mobile is jumping into the ring with a new service called FamilyMode. It consists of the FamilyMode app (for Android 5 or later and iOS 9.3.4 or later) to monitor kids' smartphones and the FamilyMode Home Base which monitors what kids do at home. FamilyMode was built in partnership with Circle, and aside from the bright pink T-Mobile branding, the two products are hard to tell apart. They feature the same square-shaped connected gadget, and the apps for each service have a nearly identical interface. Both offer an excellent suite of parental controls, including:
Setting time limits on internet access or time limits on specific apps
Limiting the apps they can use and the content they can see
Pausing access to the internet with a single tap
Rewarding kids with extra internet privileges for good behavior
Monitoring what your kids are doing online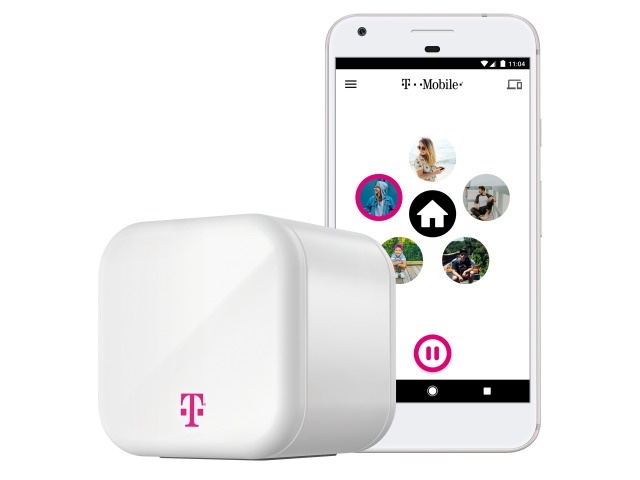 If you just use the mobile app, you'll have all of those features for your children's mobile devices — but if you also plug the FamilyMode Home Base or Circle Home into your home Wi-Fi network, you get the same controls on every gadget in your household. It makes digital parenting a lot easier.
However, there are a couple of differences between T-Mobile's service and Circle's service, simply because your cellular carrier can do more with your phone. FamilyMode lets track your child's location in real time, so you can keep tabs on them physically as well as digitally. FamilyMode also includes T-Mobile's Family Allowances feature, which lets parents control talk and text time, as well as data use. Those are features you'll find on parental control services with other cellular carriers, but not with Circle's app. If you're a T-Mobile subscriber who's looking for a good way to manage your family's screen time, it makes FamilyMode a great choice.
But existing Circle users who want to add these features are out of luck: though the services are very similar, they aren't compatible. That means if you already have a Circle Home, you'll need to replace it with a FamilyMode Home Base to use the T-Mobile features. Similarly, if you ever leave T-Mobile but still want Circle features, you'll need to buy a Circle Home.
FamilyMode will be available for T-Mobile subscribers starting on June 29. The app costs $10 per month, which is more expensive than Circle's $5 per month, but matches what other cellular carriers charge for parental control subscriptions. The Home Base costs a very modest $20, which is significantly less than Circle Home's $100 (check price on Amazon), but the price is only available for a limited time.
[Image credit: kid using smartphone via BigStockPhoto, T-Mobile)