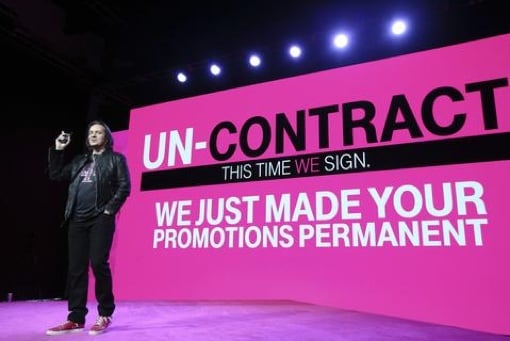 If you've been considering switching your cell phone service to save a couple bucks, T-Mobile has a new offer to sweeten the pot. This week, the carrier announced that not only will it reimburse you for your early termination fees if you switch, but T-Mobile will also complete the remaining payments on phone installment plans like AT&T Next and Verizon Edge, up to $650 per line.
But that's not all: As part of what the company is calling Un-carrier 9.0, T-Mobile is promising not to raise the price of its Simple Choice plans for as long as you remain a customer. If you choose an unlimited 4G LTE plan instead, T-Mobile will lock in your rate for a minimum of two years.
"The other guys have been throwing out all kinds of desperate, short-term promotions to suck you in and lock you down – only to jack up rates later," says T-Mobile CEO and President John Legere. "We're not playing that game. The Un-contract is our promise to individuals, families and businesses of all sizes, that – while your price may go down – it won't go up."
Service at T-Mobile may not be quite at Verizon's or AT&T's level, but the company has been improving considerably over the last few years. An OpenSignal analysis of mobile data speeds recently showed that T-Mobile actually has the fastest 4G LTE speeds of all major U.S. carriers. The only catch is that its 4G LTE service is only available about 76% of the time – both Verizon and AT&T have wider data networks.
Currently, individual Simple Choice T-Mobile plans start at $50 for 1 GB of monthly data with rollover; plans with unlimited data start at $80 per line. Families, meanwhile, can share a 10 GB data pool across four lines for just $100 per month. For more on T-Mobile's cell phone plans, visit the company's website at t-mobile.com.
[Image credit: T-Mobile]