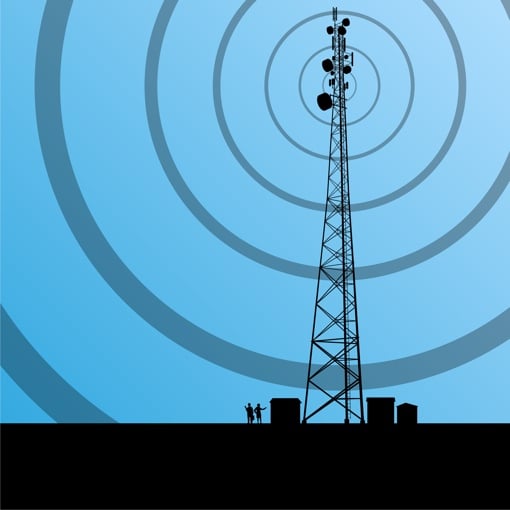 When it comes time to shop around for mobile phone service, there's more to pay attention to than just price. Some carriers offer data speeds that are demonstrably faster than others. Other carriers, while perhaps not the fastest, may have better nationwide 4G LTE coverage. Every carrier claims to be "the best," but how do you separate marketing bluster from the honest truth?
The answer to that question is simple: You take a look at the data. And that's just what the folks behind the cell network-mapping app OpenSignal did to compile their The State of LTE (March 2015) Report. It compares speeds and network availability in the U.S. and around the globe. Here in the United States, carrier T-Mobile scored top honors when it comes to network speed. According to the OpenSignal report, T-Mobile has average 4G LTE speeds of 10 Mbps. AT&T and Verizon tie for second place with average speeds of 6.5 Mbps each, while Sprint is fourth fastest at just 4.0 Mbps on average. Regional carrier CricKet has average 4G speeds of 2.9 Mbps. Other carriers were not considered in the rankings due to small sample sizes.
But while T-Mobile may have the fastest network, it doesn't have the widest one – Verizon does. Its subscribers enjoy 4G LTE coverage approximately 86% of the time. AT&T comes in second with 78% coverage; T-Mobile is in third with 76%; CricKet comes in fourth at 70%. Sprint's network comes in a disappointing fifth in this metric, with its subscribers connecting to 4G LTE networks less than 60% of the time.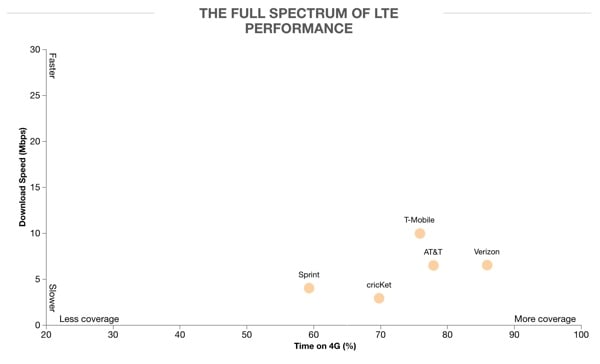 Overall, average U.S. mobile data speeds are up slightly (7 Mbps) since last year's OpenSignal State of LTE report, a nice change from last year's net speed decline. Still, the average U.S. speed now lags behind those of 25 other countries, including Russia (10 Mbps), the U.K. (12 Mbps), Canada (13 Mbps) and Australia (13 Mbps). Spain is the country with the fastest 4G LTE speeds, with an average of 17 Mbps.
Data for the OpenSignal The State of LTE March 2015 report was collected between November 2014 and January 2015. You can view the full report, with carrier-by-carrier data from around the world, by visiting the OpenSignal website.
[Cell tower graphic via Shutterstock; Full Spectrum of LTE Performance via OpenSignal]