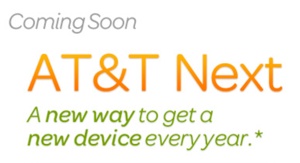 When T-Mobile announced its new Jump wireless plan last week, it used the tagline "two years is too long to wait for a new phone." Apparently, the marketing department at AT&T agrees: The carrier has just unveiled a new trade-in plan called Next that lets customers get a new phone once every 12 months.
Next is very different from the standard AT&T two-year contract plan. Instead of buying a phone, you're essentially renting it from AT&T with no upfront cost. After making 12 payments, you'll have the option to trade in your old phone and upgrade to a new one. Keep your old phone, and after 8 more payments, you'll own it outright.
The convenience that Next offers comes at a steep price. A Samsung Galaxy S4 or iPhone 5 will cost you $32 per month, and that's on top of what you already pay AT&T now for service. In total, you'll pay 60% of a phone's full retail price – $384 – just to rent it. And even worse, you'll have to give up your $440 two-year contract discount. It's a pretty lousy deal all around.
Looking for a better option than Next? Keep your current two-year contract. When there's a new phone you want in a year when you're not up for renewal, buy it at full retail price and use one of these online services to sell your existing phone. It's a bit more of a hassle, but you'll literally save hundreds of dollars a year by doing it.
You can sign up for AT&T's Next starting July 26.