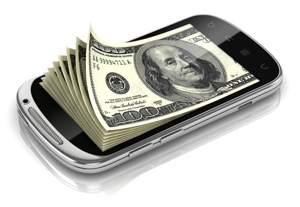 When you think about the top wireless carriers in the country, fourth-place T-Mobile probably doesn't come to mind. But that may be about to change: Yesterday, at the 2014 Consumer Electronics Show in Las Vegas, T-Mobile made a stunning announcement that it will pay Verizon, AT&T and Sprint customers' early termination fees if they make a switch, effective immediately.
There's fine print to the offer. T-Mobile will offer you a maximum of $650 per line for up to five lines – up to $350 to cover termination fees, and up to $300 for trading in your phone. You must trade in your old phone to qualify, and you must purchase a new device. You need to port your existing number, too. And naturally, you'll need to provide T-Mobile proof that you actually paid a termination fee to get the cash.
Catches aside, let's be honest: Being able to get out of an existing phone contract for free is a huge game-changer for the cellular industry. But is the offer right for you? The answer, in short: "It depends."
If the most important thing about a cell carrier to you is reliability and data coverage, T-Mobile still lags behind the big names in the industry. Verizon has a truly nationwide 4G LTE network. AT&T often tops the charts in terms of 4G LTE data speeds, though T-Mobile disagrees with that assessment. You'll probably be fine with T-Mobile in a big city, but in more rural areas, finding 4G LTE is dicey.
If saving money is the most important factor to you, and you want to stick with one of the four major carriers, T-Mobile's offer is a slam-dunk. The most expensive individual plan with the carrier will set you back $70, and that comes with unlimited talk, texts and high-speed web. $50 buys you unlimited talk, texts and 500MB of high-speed web, with unlimited low-speed web after that. There are no overages with T-Mobile.
Sure, you'll need to buy your own phone without a subsidy to switch. T-Mobile does have plenty of $0 down options, though. And the amazing Google Nexus 5 smartphone (with Android 4.4) is just $396 full retail through the carrier that can be split over 24 months without interest with good credit.
If you travel internationally, you'll love T-Mobile. There's no charge to send text or use data while roaming outside the U.S. Calls, meanwhile, are charged at a crazy-low 20 cents per minute flat rate in over 100 countries. There are no SIM cards to swap, and no burner phones to buy.
More details about the T-Mobile offer are available at t-mobile.com/breakup or at your local T-Mobile store.
[Dollars inside smartphone via Shutterstock]