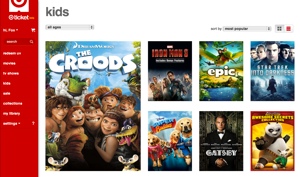 The incredibly crowded pool of streaming movie providers is about to get even more crowded. Today, major retailer Target announced the launch of its new Target Ticket service, a way to buy or rent movies online to stream to a TV, computer, tablet or smartphone device.
Unlike subscription-based Netflix, Target Ticket requires you to purchase individual movies through the platform-agnostic UltraViolet digital rights management standard. This means top titles are available – big releases like Iron Man 3, The Great Gatsby and The Croods – but you'll wind up paying retail-like prices for them. Star Trek Into Darkness, for example, can be bought for $14.99 or rented for 48 hours for $3.99.
But it's not all bad news for Target Ticket. The new service has a decidedly family-friendly spin in the level of information and parental controls offered to help make informed family viewing decisions. Each title is backed up with information from Common Sense Media, telling you what you need to know as a parent – what curse words are present, the specific amount of on-screen and implied sex and what kind of drug use is pictured. You'll be able to create profiles for individual family members, so you can keep your innocent little toddler's collection of Disney movies well separated from your collection of horror films.
You can download the new Target Ticket app on iOS and Android for free. Sign up for the service before February 22, 2014 and Target will give you your choice of 10 (largely old and undesirable) free movies when you provide your credit card information. To learn more about the service or to sign up, visit targetticket.com.