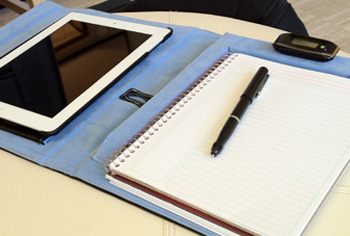 Sometimes you need to capture an idea or write a message on plain old paper. Even if you have a device equipped with a handy app like Evernote or Springpad, tapping words out can be a pain. And while a stylus coupled with your device can also do the job, your handwriting will always look better using a pen.
Targus, maker of accessories for mobile devices, is bringing to market a pen and Bluetooth receiver called the Targus iNotebook that uses infrared technology to capture whatever you write and wirelessly display it on an iPad screen. It will do this in real time as you write or if your iPad isn't around when you're feeling inspired the pen will save your scribbles and sync to the iPad once you're in range again. If you need a stylus on top of all that iNotebook includes one that's integrated into the pen. And here's a bonus: iNotebook will come with a leather iPad portfolio case.
What's with the future tense? Like so many things shown off at the Consumer Electronics Show in Las Vegas, it's not actually available for purchase yet. The photo we have here is the prototype reporters handled in a suite at the swanky Encore hotel there, so the final product might not look exactly like the one shown.
The iNotebook will work with a free app that can be downloaded from the Apple App Store. The app lets you record any written content and transcribe it directly to your iPad - from notes and lectures, to signatures and business documents. You can also save your files to iCloud and share them between devices as well as email them directly from the app.
The iNotebook app also lets users customize the background of their documents, organize saved files and edit them using the pen's stylus. It also offers Facebook and Twitter integration so you can share your missives on Facebook or Twitter. The app also lets you record conversations and lectures to pair with the handwritten notes.
Targus says iNotebook will be available for purchase this summer for $150, which beats some competitive products that still rely on USB transfer of files.
However, if you can't wait for iNotebook you might also check out the Livescribe 8 GB Echo Smartpen Pro Pack ($183.79 on Amazon.com
) which records audio while you take notes with its smart pen. You can transfer both to your Mac and then tap on your digital notes to skip to the audio that corresponds with it.
Another option is the Wacom Inkling Digital Sketch Pen ($199 on Amazon.com
) which lets you store hundreds of sketches on its receiver before transferring them to your Mac or PC via USB. From there you can export your layered sketches from Wacom's software into Adobe Photoshop, Illustrator or Autodesk SketchBook Pro and save them as JPG, BMP, TIFF, PNG, SVG or PDF files.