OnePlus has a reputation for delivering impressive Android smartphones at competitive prices, but the company wants you to see for yourself how good its flagship OnePlus 11 5G is. So between today and April 30, 2023, you can purchase the $699 OnePlus 11 5G and test drive it through the company's "100 Days No Regret" program.
As its name suggests, the program allows you 100 days from delivery to try out the phone and all its features to decide whether you want to keep it. If not, you can send it back for a full refund. Typically, return policies run between 15 and 30 days, depending on the store and the carrier.
Of course, there are some caveats. You must purchase the device from OnePlus, not a third party or a carrier, and it must be registered within 15 days of the phone's delivery date. If there's a chance you might return it, make sure to hang onto the original packaging and all the accessories. (Charging cable and wall plug) The phone will be inspected when it's returned and must be "free of visible chips and cracks," so you might want to invest in a case to keep it safe and scratch-free during the trial.
The OnePlus 11 5G is the company's latest flagship smartphone, and at $699, it offers compelling features typically found on smartphones that start at $1,000, like the Samsung Galaxy S23 Ultra and S23+. Both brands' phones feature the Snapdragon 8 Gen 2 Mobile Platform, a high-performance processor for mobile devices.
I started my test drive of the OnePlus 11 5G when it first hit the market last month. I instantly loved the look and feel of it, including the round camera bump on the back that holds three lenses designed by Hasselblad – a 50MP wide, 48MP ultra-wide, and 32MP telephoto lens.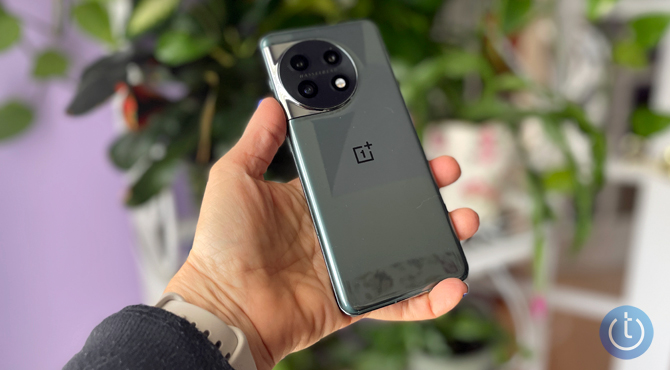 The 6.7-inch AMOLED display is bright and vibrant, and though the body is larger than my 6.1-inch iPhone 12, it doesn't feel too huge in my hand. It has a variable refresh rate of up to 120Hz, so that crisp display is responsive and great for gamers.
The standout feature of the OnePlus flagship phones is high-speed charging. The 11 5G supports 80-watt charging, and the 80-watt charger is in the box – something you'll rarely see these days. So I could fully charge the phone's 5,000mAh battery in about half an hour, which is crazy fast. As a point of reference, my iPhone 12, which supports a little over 20-watt charging and has a 2,815mAh battery, charges to 50 percent in 30 minutes with my 30-watt charger.
You are giving up a few of the features found on higher-end flagship phones, like Samsung's Galaxy S23 series. For example, there's no wireless charging capability, and with an IP64 rating (versus the more water-resistant IP68 rating of the Samsung Galaxy S23 series and iPhone 14 series), the OnePlus can get wet in the rain but can't be fully immersed in water. And while the cameras take great photos, they don't quite measure up to the similarly priced Google Pixel 7 Pro.
The $699 OnePlus 11 5G comes with 8 GB of RAM and 128GB of storage, while the 16GB version with 256 of storage sells for $799. If you feel like testing it out to see if this full-featured flagship smartphone is for you, check it out at OnePlus.com. You get three months to give it a go with no buyer's remorse if you don't like it. If you buy one after the April 30th timeframe, you still get the standard 15-day return policy, but an offer like this makes it much easier to check it out without fully committing.
[Image credit: Andrea Smith]
Andrea Smith is an award-winning technology broadcast journalist, reporter, and producer. Andrea was the Technology Producer and an on-air Technology contributor at ABC News for over two decades before becoming the Lifestyle Channel Editor at Mashable, where she explored the ways in which real people, not just geeks, began using technology in their everyday lives.