Planning a trip is complicated. There are flights to book, hotel stays to arrange, restaurants to reserve and plenty of other details to figure out. And once you have everything set up, you probably have a pile of confirmation messages in your mailbox, as well as apps for your airline and hotel on your phone to help track your plans. The whole thing is a headache just waiting to happen.
That's where the TripIt app comes in handy. It takes all of your travel plans and combines them into a single streamlined itinerary you can access from anywhere — no headaches required.
TripIt has always been a great tool for managing your travel plans, and now the app is adding a host of new information to help make your trip smoother. The most interesting is a new safety feature called Neighborhood Safety Scores, which can help you make smart choices about where to go and where to stay. It ranks areas on a score of 1 to 100, based on both the risk of danger (from being mugged to finding yourself in an area with poor sanitary conditions) and access to services (like police and hospitals). You'll find these scores in the app whenever you look up a hotel, restaurant, or any other activity that has an address. This makes it tremendously easy to see what kind of environment you're walking into, no matter where you go.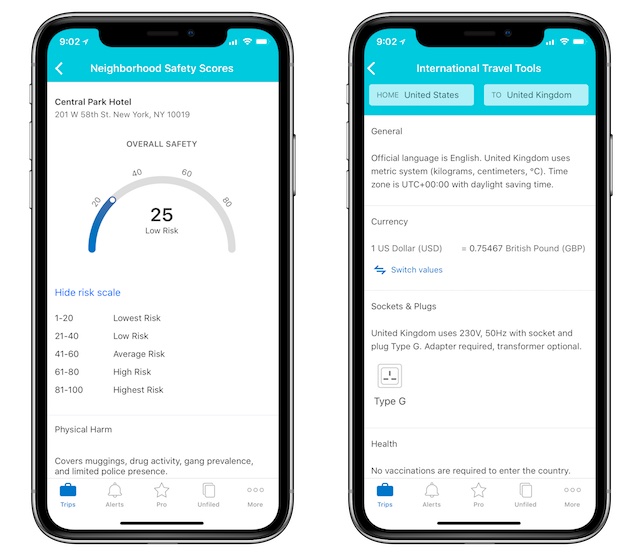 The next addition offers some much-needed information for international travelers. Now, whenever you have an international itinerary in TripIt, a single click gives you access to everything you need to be (or pretend to be) a seasoned travel pro. It lists important information, like where to find your embassy, what kinds of sockets the country uses, what kind of internet service to expect, how much you should tip, currency conversion rates, and more. All the essential information is there, right alongside your travel plans.
These features are available right now in the TripIt app — if you already have the app just update it to the latest version, and if you don't have the app you can download it for free (for iOS and Android). The Neighborhood Safety Scores are available free for everyone, but the international travel info requires a TripIt Pro subscription for $49 year. It's a price worth paying for frequent travelers, but as long as you aren't planning any international trips, the free version will serve you just fine.
[Image credit: person holding passport via BigStockPhoto, TripIt]