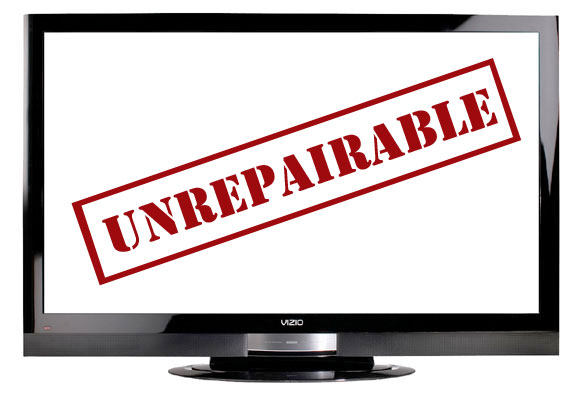 HD Guru is reporting that Vizio is no longer repairing LCD sets that break outside the 12 month warranty period, if the failure is due to the TV's backlight or other panel defects. Instead, customers with "un-repairable defects" are only being offered the option to buy a replacement set at a discount. However, some customers are reporting that the discounted price is higher than what you could get on your own from a Vizio retailer.
Defective in-warranty sets will be replaced by Vizio with refurbished units, which a number of owners complained failed soon after the warranty period.
According to HD Guru, Vizio's customer service center confirmed in a phone call that defective set owners are indeed told that their TVs are un-repairable when the failure turns out to be the backlight unit, which is the light source within all LED and LCD flat panels. So your 13-month old Vizio 55-inch LED HDTV may become a $1500+ doorstop if it suffers a backlight failure.
HD Guru asked Vizio media relations to explain why its HDTVs are un-repairable when a backlight fails and for an explanation as to what Vizio defines as a defect that is un-repairable, and a list of Vizio models and the associated defects that make the sets un-repairable.
Unfortunately, he didn't get a full answer. However, a Vizio spokesperson did say, "Panel defects are extremely rare with VIZIO televisions. In cases where a panel defect does arise, VIZIO's policy is to replace the unit as opposed to sourcing, shipping and installing a replacement panel because it is considered "beyond economical repair (BER)". Panels can be replaced, but it is economically impractical because the cost of a new unit is comparable and comes with a full manufactures' warranty. VIZIO is addressing it's customer service response to ensure there are no further misunderstandings."
Yet, other TV manufacturers repair sets with backlight defects. Panasonic, Samsung and Best Buy (for their Insignia house-brand) all confirmed they provide repair options for both in- and out-of-warranty sets.
HD Guru says that Vizio purchases their sets from assemblers and so don't maintain extensive nationwide parts and service networks. While companies like Samsung, Panasonic, and LG have invested billions of dollars in panel and component manufacturing plants, so parts are consistent across models and more readily available.
What to do if you purchase a Vizio TV
If you are buying a Vizio TV, you should strongly consider extended warranty options that will offer a replacement TV if the set can't be repaired. Read our article on What Retailers Don't Want You to Know about Extended Warranties before you buy one, though, so you understand what free options may be available through your credit card.
Portions of this story and the TV graphic were published with permission of HDGuru.com