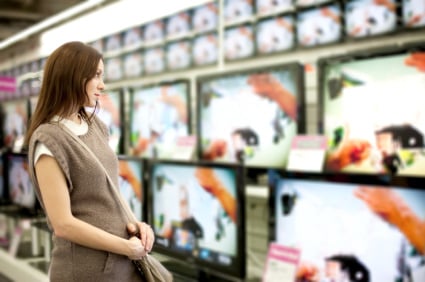 Call them "protection plans," "extended warranties" or "service plans," salespeople at the big box electronics retailers feverishly push these add-ons to their customers. Why?
Though Best Buy hasn't reported its extended warranty income for over a decade, Business Week estimated in 2004 that it represented 45% of the mega electronic store's profit, or about $600 million that year.
It's Not Insurance
Unlike insurance policies, which are regulated by state laws to assure that along with other protections, there are cash reserves to pay policyholders, these "add-ons" are not considered insurance policies and so are not well-regulated.
According to a warranty industry source, in order to bypass state mandated consumer protections, service contract sellers successfully lobbied many state legislatures to have extended warranties classified as "plans" and not as insurance.
In New York State, for instance, companies are not required to cover buyers of these "add-ons" in the event the plan seller goes bankrupt.
The good news is that some plans (including Best Buy's and SquareTrade's), are underwritten by an insurance company, but others are not. Third party insurance underwriters did not cover Circuit City's Firedog plan, leaving buyers holding the bag.
Product Reliability
For most electronic products, the overwhelming majority of failures occur during the first year of ownership, which is within many new products' factory warranty period. A far smaller percent of failures occur in year two and failures continue to diminish in the third year and beyond.
For HDTVs, Consumer Reports' data indicates that most major brand flat panel sets have a 2-4% failure rate within the first three years. Obviously there is always a chance a product failing in later years, but the percentages there are fractional, with a typical TV lifespan of around 10 years. Remember, flat panel prices continue to fall, so the set you buy today for $1000 could cost around $400 after three years if prices continue to drop at the current rate of about 20% a year.
Smart Alternatives
A. Our advice is to not buy an extended warranty. Weighing the odds of an out of manufacturer's warranty repair versus the cost of the warranty we (along with Consumer Reports) think it's a bad deal. The best "insurance" you can buy is a Surge Protector. They're cheap and guard against power surges that can knock out your electronics.
B. Pay for your purchase in full with a "Signature" Visa card, MasterCard or an American Express card that automatically double up to one year the manufacturer's warranty. Many cardholders are not aware of this benefit. Check out the links for terms and conditions. Like virtually all extended (and often factory) warranties, making a claim requires you possess your store receipt, along with your credit card statement showing the purchase. In the case of American Express, we have had first hand experience. It works; they credited our card account for the complete cost of a repair!
C. Check out third party extended plans like SquareTrade. They cost less than many brick and mortar store plans and may be purchased within 90 days of your electronic item purchase. Like many other third party plans, ultimately you must first pay for an "authorized" repair and wait for reimbursement by Pay Pal or by check.
D. Costco Warehouse Club members get a free two-year warranty on all HDTVs purchased from them (typically one year mfr. + one year Costco plan).
This article was originally published on hdguru.com