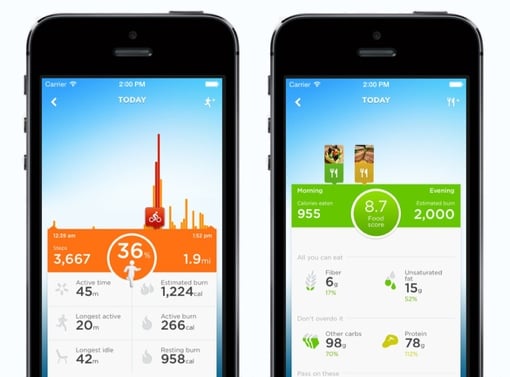 One of the most talked about features of Apple's iOS 8 is Health, the new fitness data aggregation app. But it's not the only – or best – way to track all aspects of your health via your iPhone. Today, Jawbone released a new version of its popular UP app that works without needing to link to an activity tracking UP or UP24 band.
The UP by Jawbone app works in a number of different ways to collect data. UP can connect to other apps like MyFitnessPal, RunKeeper, MapMyFitness and Strava through the Health app portal to import data automatically. It can also count steps using your phone itself if you have an iPhone 5S or iPhone 6. Or, you can enter data manually, telling the app when you wake up, when you work out, and what food you ate. UP by Jawbone has a large library of menu items and nutrition info that makes tracking easy, whether you eat a 4-ounce portion of grilled chicken or a pumpkin spice latte at Starbucks. Each key metric is tracked, from calories to protein to sugar.
Beyond simple tracking, UP acts as a health and fitness coach. The app can suggest recipes that mesh well with your lifestyle (it may recommend a high-protein dish after a workout), health tips and simple workouts to help you meet your daily goals. It takes all the information stored in the Health app and makes sense of it for you. All told, it's a great way to gradually build new, healthy habits that really will make a difference.
Of course, to make the most out of the UP by Jawbone app, you'll want to pair it with a physical tracker like the UP or UP24 wristband. Both count steps and activity, and both track your sleep patterns and quality. The main difference is Bluetooth – the $149.99 UP 24 band has it; the $79.99 UP band requires you to plug it in to sync. Again, though, neither is required.
You can download the free UP by Jawbone app for iOS (the one with the purple app icon) on the Apple App Store. Jawbone's UP24 and UP bands are available in 6 and 7 different colors respectively. You can purchase the $65.16 UP band and the $119.99 UP24 band at Amazon.com.