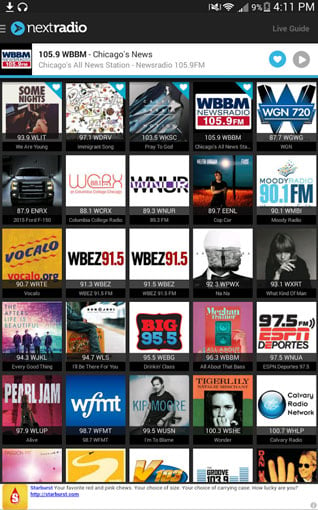 You can already get tons of radio stations streamed to your phone, so why would you want to use an FM radio? There are a few good reasons. FM reception requires a lot less power than streaming, so it saves on battery life and, of course, since you're not streaming, you're saving on data consumption. FM reception can also be useful in emergencies. When data networks are clogged, you'll still be able to receive emergency broadcast information.
Want to get FM radio on your phone? If you're a Sprint, Virgin Mobile and Boost Mobile customer, you can use the NextRadio app on supported devices to listen to local FM radio stations for free. Manufacturers of supported devices include Suamsung, LG, HTC and Motorola. You can find a full list on nextradioapp.com/supported-devices/. And, if you're an AT&T customer, you can expect to see FM radio functionality next year on the carrier's 2016 Android phones.
If the NextRadio app didn't come pre-loaded, you can download it from Google Play or Amazon. The app has a live guide of what's currently on-air, a station list you can browse by genre or frequency, the ability to buy songs currently playing and information about artists (e.g., upcoming gigs and album releases).
[Image credit: NextRadio]