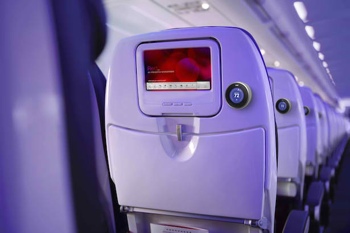 Virgin America airline announced on its blog March 31 that it is teaming up with smart thermostat maker Nest Electronics to offer personalized in-flight climate control.
The offering, of course, isn't real – it's an early April Fools Joke. But the details of the so-called Total Temperature Control feature, which would place individual Nest thermostats on every airplane seat by the end of the year, sure have us wishing it were a real luxury.
"Starting this month, we'll begin integrating Nest technology into our seatbacks via the new Total Temperature Control (TTC) feature," the company explains. "TTC allows flyers the ability to control their own personal climate settings onboard our aircraft. Through the Destination Acclimation settings within TTC, Virgin America guests will even be able to select one of multiple custom climate settings to help them acclimate to the weather in their destinations: Chicago Polar Vortex, Standard Day in Los Angeles, or Cancun Afternoon."
You can learn more about this fantastic (albeit fake) feature by watching the promotional video below.
While Virgin won't be offering Nest thermostats, the company does offer a decent suite of in-flight tech tools on its fleet including a flirty chat service, in-air WiFi and standard power outlets for your devices. Other airlines offer cool high-tech features, too, but Virgin's prices often seem to be the lowest of the bunch for popular routes.
For more early April Fools fun, check out Google Maps' augmented reality Pokemon hunt and seven of our favorite jokes from April Fools 2013.