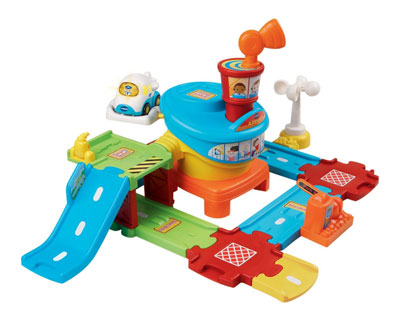 VTech Go! Go! Smart Wheels, a set of vehicles and playset tracks that encourage creative play through cause and effect. These cute vehicles are intended for youngsters 1 to 5 years old, and VTech has really tapped into the preschooler obsession with vehicles and role play with the Go! Go! Smart Wheels series.
Each interactive playset has a number of SmartPoint locations that can be recognized as a vehicle rolls over them. Each time a Go! Go! Vehicle rolls over a SmartPoint, it triggers one of several effects: flashing lights, greetings, fun sounds or sing-along songs.
There are more than 20 different playsets, cars and accessories including an airport, construction site and train station that can connect together for expanded tracks. Each set has unique learning skills that are built into each set, teaching everything from letters and sounds to colors to the weather. Plus, the sets help refine fine motor skills.
The cars and sets range from $7.99 to $49.99. VTech Go! Go! Smart Wheels are available on Amazon.