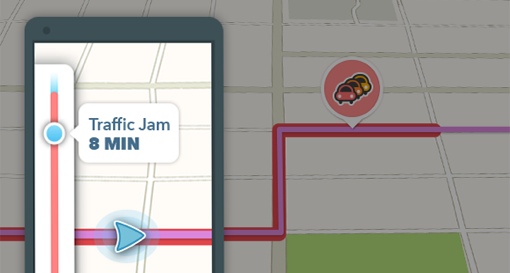 I tend to use Google Maps for all my travel related directions. On occasion, though, I use the Waze app instead – it's a mapping app built on a Google Maps backbone with a handful of cool, useful features that Google Maps simply doesn't have. Case in point: Today, Waze updated its app to add the new Traffic Bar, a progress indicator meant to display just how much longer you'll be sitting in bumper-to-bumper traffic.
Waze, like Google Maps, works to calculate travel times based on how fast actual users are actually traveling on the same road. It's nice to always have a sense of when you'll actually arrive at your destination. Now, you'll also know roughly when traffic will resume it's normal flow – a great feature if you get as anxious being boxed into a jam as I do.
There are a handful of other improvements to the Waze app available in this latest update, as well. The new build is up to 85% faster, according to the company. There's also improved support for U-turns and some more bug fixes, as well.
You can download the free Waze app for Apple iOS on the Apple App Store and for Google Android via Google Play. To learn more about the specific Waze 3.9.4 update, visit the company's blog.
[Image credit: Waze]