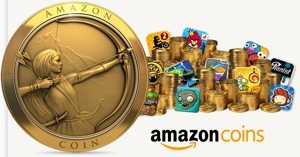 Today marks the official launch of Amazon Coins, a new virtual currency used to buy games, apps, and make in-app purchases. And to help get Coins off the ground, Amazon is gifting every Kindle Fire owner $5 worth of the currency to spend as they choose – a giveaway the company says is equal to "tens of millions of dollars."
Amazon Coins work much the same way Facebook Credits used to operate. You give Amazon negotiable U.S. currency; the company gives you back Amazon Coins (at a rate of 100 Amazon Coins per dollar), which can only be used to purchase virtual goods on your Kindle. You can still use cash to buy apps and the like, but if you use Amazon Coins instead you'll get a discount "of up to 10%." Presumably, Amazon Coins will soon be available for purchase as a gift card at select retail locations, much like similar virtual currencies.
For now, you'll only be able to use Amazon Coins to buy apps, games, and make in-app purchases. In the future, however, you may be able to use Coins to purchase items directly off the Amazon site. "We will continue to add more ways to earn and spend Coins on a wider range of content and activities," said Amazon VP Mike George.
Once you buy Amazon Coins, you're stuck with them, but that's how Amazon is hoping to get rich off the venture. After all, I've got a drawer at home filled with gift cards I haven't used yet, and both my Wii Shop and PlayStation Store accounts have leftover virtual currency credits that are simply unredeemable for anything. It's easier for tech giants to rope you in to a virtual shell game when they're using "Coins" or credits instead of real money.
Kindle Fire owners who are eligible for the free Coins should receive an email with more information. There's absolutely no harm in enjoy your $5 shopping spree, but just remember: Unless you're going to be buying apps in bulk and could really use that "up to 10%" discount, you're probably better off using cash. You should also make sure your kids don't go "Coin crazy" -- Techlicious recommends you disable one-click purchasing on your Kindle Fire so you don't get any surprise bills later on.