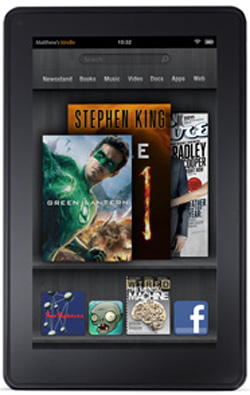 Amazon entered the tablet fray today with the new 7-inch, Android 2.3 powered Kindle Fire. At a price point of only $199, Amazon is aiming squarely at those users who want basic tablet functionality, but don't want to kick in the big bucks for an Apple iPad 2 or Samsung Galaxy Tab 10.1. And at a $300 savings versus those devices, the Amazon Kindle Fire will likely be a huge hit.
Even with its low price-point, the Kindle Fire provides a 1GHz dual-core processor, so apps and navigation should run smoothly, and a 1024 x 600 IPS display made using Gorilla Glass, so it can hold up to the punishment of traveling and provides great colors and off-axis viewing. It has 8GB of storage, but no microSD slot. The Amazon Kindle Fire is also light at only 14.6 ounces.
Beyond price, what really makes the new Kindle Fire a compelling competitor to the iPad 2 is content. Between music, movies and books, Amazon can easily rival Apple's iTunes. The new Kindle Fire will seamlessly connect with the Amazon store through Wi-Fi. And, that content can be stored in the Amazon cloud for access anywhere, on multiple devices, without taking up unnecessary storage space on the device.
The Kindle Fire uses a proprietary browser technology called "Amazon Silk" that Amazon says can predict your browsing habits and cache pages for faster page downloads.
So what are you giving up with the Amazon Kindle Fire?
It runs Android 2.3, so you're not getting the latest version of Android. But in my experience, that's not much of a loss - I've been very happy with Android 2.3 on mobile devices and haven't seen much real world benefit with Honeycomb. It won't look like your typical Android tablet, though. Amazon has heavily skinned the interface, so you browse your content on bookshelves.
And, there is no built-in camera or microphone. Those are options that few tablet owners make use of, but if you were hoping to use it for video chat, that's obviously not in the cards.
Finally, the 7" display is considerably smaller than the 10" display of the iPad 2. Whether that's a plus or a minus will depend on how much you value portability over screen size. Personally, I prefer a 10" tablet for use at home and a 7" when on the go.
But for $199, there's no question that the Kindle Fire is the best deal going in the tablet world. See our comparison versus its main competition, the Nook Color and iPad 2.
The Amazon Kindle Fire will ship on November 15th and is available for pre-order today.