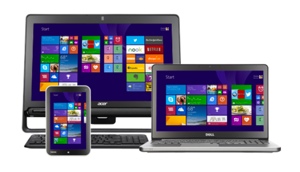 Today's a big day for owners of Windows 8 devices: The Windows 8.1 upgrade has been officially released to the public and is available for download. And as promised, current Windows 8 users will be able to upgrade to 8.1 for free.
The upgrade process for Windows 8 users is quite simple. Just tap or click the Store icon on your Start screen. You should find the upgrade located in the Featured Apps spot. It's worth noting that the download is a massive 3.63GB so it may take a while to complete. Fortunately, your device will still be functional while the download runs in the background.
If your computer is running an older version of Windows like Windows 7, Vista or XP, you can still upgrade, though you'll have to pay for the privilege. You'll want to visit this page on Windows.com – it will autodetect your current operating system and work you through the digital download process. Or, if you'd prefer, you can go to a local retailer and purchase a box off the shelf.
Earlier today, Techlicious's own Suzanne Kantra downloaded 8.1 and had positive words about the experience. "I just upgraded today and it went flawlessly," she told me earlier today. "Definitely worth it for current Windows 8 users." I agree, but then again, I'm rather partial to the old-fashioned Windows Start button. And yes, the Start button makes a comeback in Windows 8.1.
The full retail version of Windows 8.1 can currently be purchased for $119.99; Windows 8.1 Pro carries a hefty MSRP of $199.99. If you have more questions about the new Windows 8.1 or the upgrade process, check out the Windows 8.1 FAQ on the Microsoft website.