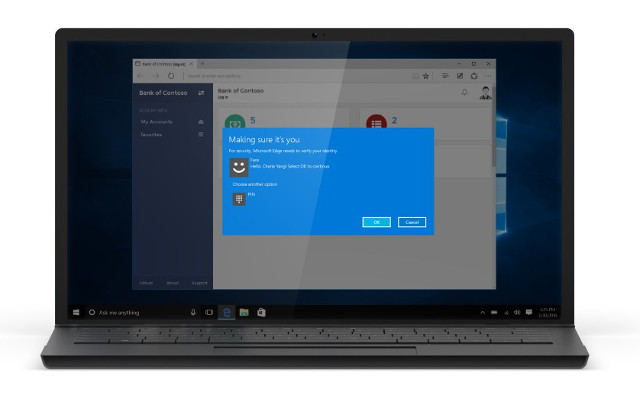 Windows Hello, the Microsoft face, fingerprint and iris recognition technology that debuted with Windows 10, is about to widen its reach beyond your PC. Microsoft has revealed plans to provide Windows Hello code to developers so that they can integrate the personal recognition technology into their apps and websites.
Few devices currently support Windows Hello's face-reading biometric login technology, since only devices loaded with Intel's depth-sensing RealSense 3D camera currently work with it. Microsoft says more devices that can read both your fingerprint and your face are coming soon.
Windows Hello is a truly convenient way to log in to your computer. Once you teach it one time to recognize your face, all you'll need to do to log into your Windows PC is look at its camera. To set up Windows Hello on your Windows 10 machine, follow Microsoft's step-by-step guide.
Now imagine that same convenience available to devices, apps and browsers such as Microsoft Edge. The impact will be huge. No longer will you need to remember different passwords for your various accounts (assuming you don't unsafely use the same password for all your accounts). With Windows Hello gaining wider adoption, all you'll need is your face — and a supported device, of course.
So far, Windows Hello support exists only for Windows apps. That's going to change this summer. Microsoft announced at its Build 2016 conference that an improved version of its upstart browser, Microsoft Edge, will include support for Windows Hello. The upgraded browser will be one of the major features of the Windows 10 Anniversary Update Microsoft will release for free to all Windows 10 customers this summer.
The update will make Microsoft Edge the first and only browser carrying native support for biometric technology with supporting sites. That's not likely to remain the case for long. According to Microsoft, Windows Hello is compatible with the FIDO 2.0 standard, so in theory, it can work with any browser.
[Image credit: Windows Experience Blog]