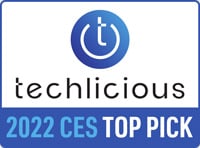 Stepping on the Withings Body Scan scale will be like stepping into the doctor's office for a quick check-up. In addition to measuring weight, body fat, muscle mass, and heart rate, the company is now adding the ability to measure heart rhythm, foot nerve activity, and segmented body composition. With this new data, you'll receive a more complete picture of your health.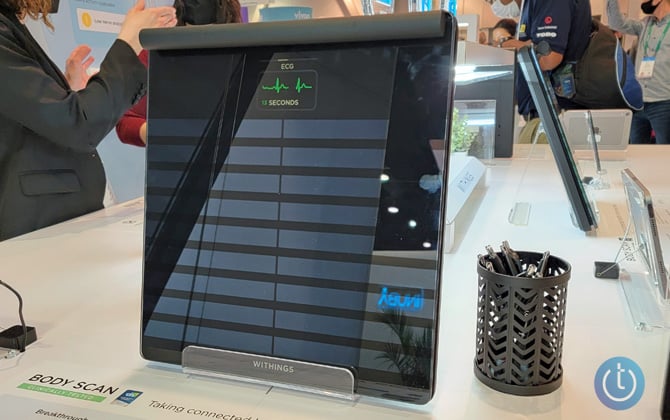 While the Body Scan looks virtually identical to a regular smart scale, with high-strength tempered glass and a 3.2-inch LCD color screen readout, it has a retractable handle on top. That handle, which you pull up and hold while standing on the scale, is what allows for many of the new measurements, including six-lead ECG readings to detect heart arrhythmias associated with atrial fibrillation. Two sets of electrodes are located on either side of the handle, and two are located in the base of the scale.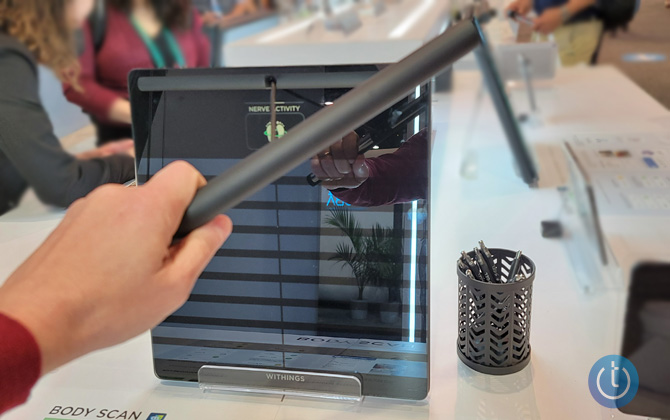 Like other smart scales on the market, the Body Scan measures body composition via bioelectrical impedance analysis (BIA), which works by sending a safe, low-level electrical current through your body that you never even feel. The scale estimates your body composition based on how quickly the current travels through your body. Previous scales could only send signals through your feet, so the estimate was confined to measuring the lower portion of the body.
The Body Scan can perform "multi-frequency" BIA with the additional electrodes in the handle, giving you a more complete overall view of your body composition. So you won't just see overall fat, muscle, bone, and water. You will also receive information on visceral fat (the more dangerous fat you carry in your abdomen) and extracellular and intracellular water. The scale also segments the readings for each arm and leg and your torso. Learning how fat is distributed through your body and how your weight relates to your cardiovascular health can help you make healthier lifestyle and nutrition decisions. You'll also receive feedback on whether your muscle mass is the same on both sides of your body. If you've been injured, this tool could help track your recovery as you build back your muscles in the injured limb.
Another new, advanced feature assesses small nerve activity by tracking sweat gland activity in the feet; something called sudomotor function. The assessment is done using the same low-level electrical currents coming from the base of the scale and lets the user know if any degeneration of small nerve fibers is detected. Withings says this could be especially helpful for those with diabetes, who are at risk for diabetic neuropathy.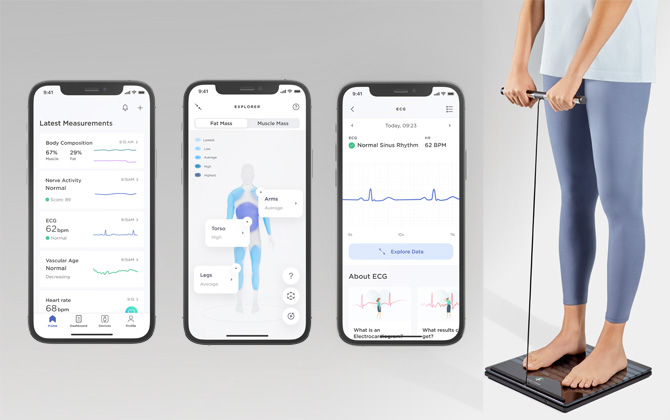 All the data captured by the scale (and other Withings devices you might use) is stored in the Withings app and can be shared with your doctors.
Bringing the type of assessments typically found in a doctor's office to a consumer product, with the user doing nothing more than stepping on a scale, makes the Body Scan a welcome leader in a growing field of advanced at-home health monitoring.
The Body Scan still needs FDA approval before it hits the market, but Withings says it hopes to launch the Body Scan sometime in the second half of 2022. The Body Scan will cost $299.99.
The Withings Body Scan is a product that stands out for its advances in technology and potential to significantly improve our lives. It is one of 14 Techlicious 2022 CES Top Pick winners.
[Image credit: Techlicious, Withings]
Andrea Smith is an award-winning technology broadcast journalist, reporter, and producer. Andrea was the Technology Producer and an on-air Technology contributor at ABC News for over two decades before becoming the Lifestyle Channel Editor at Mashable, where she explored the ways in which real people, not just geeks, began using technology in their everyday lives.