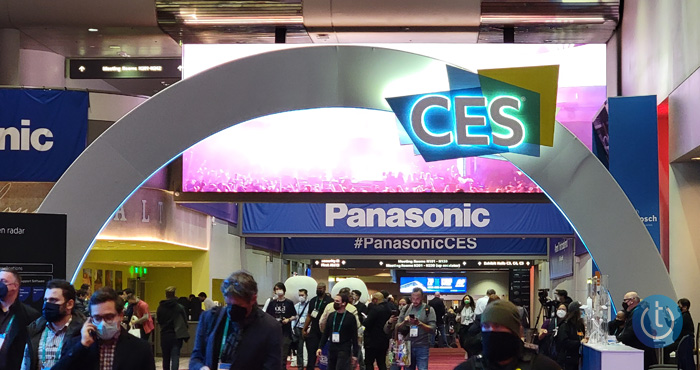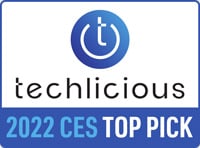 Despite the challenges at this year's CES with omicron, we had a team of our tech industry veterans on the ground in Las Vegas to scour the CES show floor, meet with companies, and get hands-on with the coolest new products. Together with our remote team, we searched for stand-out products that represent amazing advances in technology and have the potential to significantly improve our lives.
While the show was smaller than in years past, there was still an impressive array of products to choose from. We spent untold hours walking the show floor and connecting with companies, both virtually and in-person. In the end, we selected 14 of our absolute favorite products to earn the honor of our Techlicious Top Picks of CES 2022 Awards.
Mark Henninger, Suzanne Kantra, Josh Kirschner, Andrea Smith, Jonathan Takiff, and Stewart Wolpin contributed to this story.
GAF Energy Timberline Solar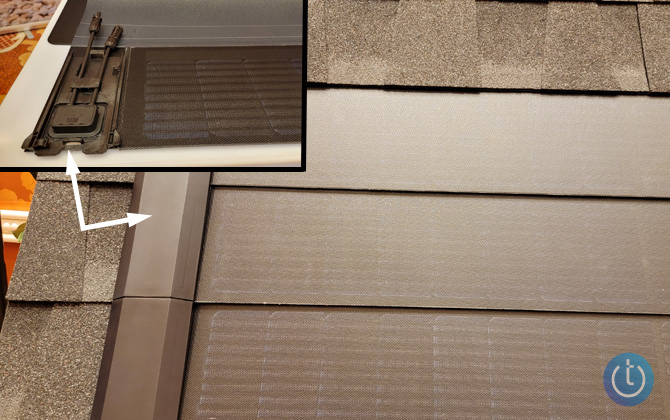 There are a lot of reasons to go solar for your home, both to save money and be more environmentally responsible. However, there are also a lot of reasons not to, especially the initial cost and complexity of installing solar panels and shingles, along with the less than appealing physical appearance.
GAF Energy's new Timberline Solar shingles solve both those issues: they're simple enough (they get nailed in just like a normal shingle and can be used with any roofing deck material), light enough, and tough enough to be installed by a regular roofing crew, and they're designed to (mostly) blend in with matching standard roofing shingles from GAF for a more seamless look. We handled and walked on them at CES and can confirm the claims. And because the Timberline Solar shingles can be installed in roughly the same amount of time as standard roofing, you'll save about 30% over other solar installation costs when putting on a new roof, according to GAF Energy.
GAF Energy Timberline Solar shingles are available now in select markets via GAF affiliated roofing contractors.
L'Oréal Colorsonic

As many found out during the pandemic, coloring your hair at home is not easy. There's the worry of not evenly applying the color and ending up with patchiness or missing sports, and then there's the mess it leaves in your bathroom. L'Oréal is revolutionizing at-home hair coloring with the Colorsonic, an electronic handheld device that takes all of the worry, guesswork, and mess out of the process.
Hair color is a combination of dye and developer. The dye and developer have to be mixed just before the formula is applied or else it won't penetrate the hair effectively. So L'Oréal developed a color cartridge that keeps the two separated and the Colorsonic mixes them just before dispensing the formula through holes in the bristles in its brush head. As the bristles oscillate and move in a zigzag pattern, they evenly distribute the color through your hair. All you have to do is comb your hair from top to bottom to achieve an even application.
L'Oréal expects to launch in early 2023 with 40 shades of ammonia-free color, including some non-traditional ones. While pricing has not been set, the Colorsonic and the color cartridges will be "affordably priced", according to L'Oréal.
Lenovo ThinkBook 13x Gen2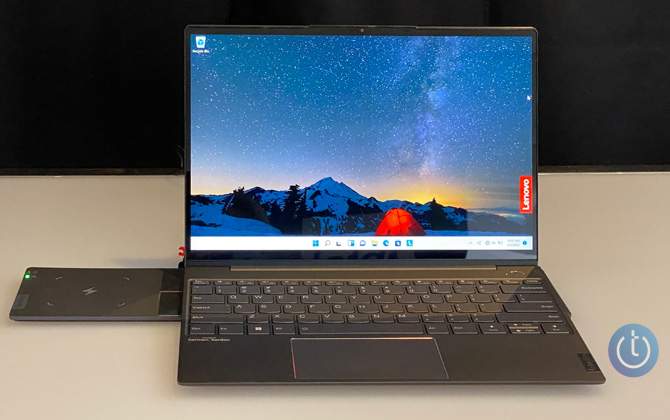 Lenovo's new ThinkBook 13x Gen 2 has everything you'd want in a premium ultralight laptop – 12th generation Intel Core I processor, up to 32GB dual-channel LPDDR5 RAM, up to 2TB storage – and one very unique feature that sets it above the rest: wireless charging. No longer will you have to worry about plugging and unplugging your laptop every time you want to move it, potentially damaging your laptop ports. You simply place the ThinkBook 13x Gen 2 on the optional ThinkBook Wireless Multi-device Charging Mat to enjoy full-speed 65-watt charging and pick it up when you're ready to go.
We see wireless charging being a game changer for anyone who regularly uses a laptop in multiple locations, whether it's moving from your home office to the kitchen or bringing you laptop back and forth between work and home. The charging pad offers a much simpler, cleaner solution than buying a second charger with an ugly dangling cord. It's true grab-and-go. And the mat handles not only your laptop's power needs but also charges your phone with its secondary 10-watt Qi charger.
Available in April 2022, the Lenovo ThinkBook 13x Gen 2 will start at $1,099 and the ThinkBook Wireless Multi-device Charging Mat will cost $199.99.
LG S95QR Soundbar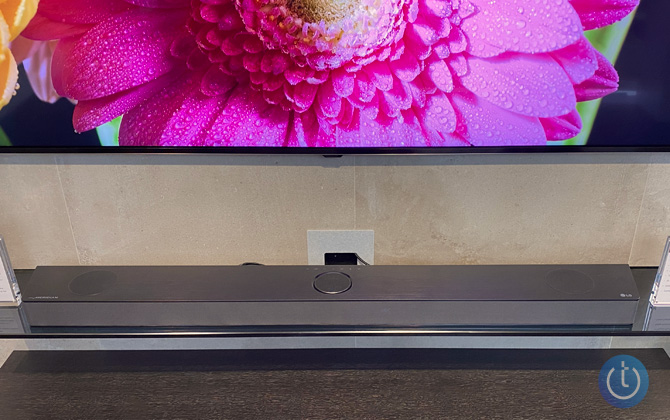 Home movie viewers often find themselves switching on closed captions because they can't hear what people on-screen are saying amidst car screeches, explosions, background sound, and music cues. LG's Soundbar S95QR lets you turn off the captions thanks to a unique up-firing center speaker that, for dialog, is like switching on a light in a dark room. Unlike any other soundbar we've listened to (and we've listened to a lot), voices now cut through the cacophony so you can clearly hear and understand character conversations.
The 810-watt, 9.1.5-channel Soundbar is a four-piece system that includes the soundbar, two wireless rear speakers and a wireless subwoofer. The soundbar has eight speakers in total, including the up-firing center, left and right up-firing speakers, and five front firing. Each rear unit has two side-firing speakers and one up-firing. Together, those speakers will deliver immersive Dolby Atmos, DTS:X, and IMAX Enhanced surround sound. For music and control, the S95QR works with Alexa, Google, and Apple Airplay 2, and includes AI room calibration.
The premium LG Soundbar S95QR system will likely carry a premium price and be on store shelves by the spring along with less pricey 570-watt, 5.1.3-channel S90QY and 480-watt, 3.1.3 S80QY versions.
LG Wi-Fi Enabled Top Control Dishwasher with QuadWash Pro and Dynamic Heat Dry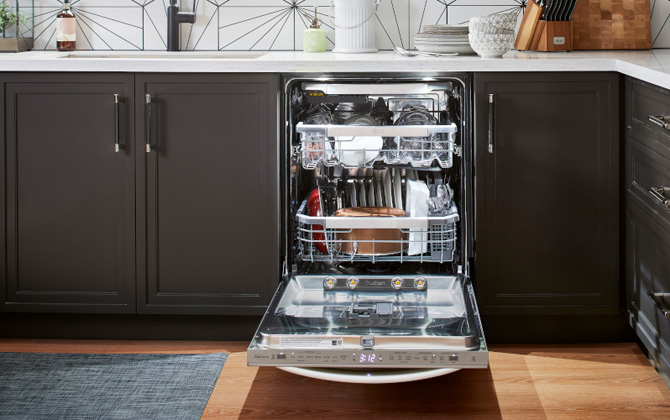 LG's new Wi-Fi Enabled Top Control Dishwasher with QuadWash Pro and Dynamic Heat Dry leverages steam, water jets, microbubbles, and fan-driven heated air to complete a regular wash and dry cycle in just one hour. Most dishwashers take between 1.5 and 4 hours to complete a regular cycle, making the new LG a significant time saver (or life saver if you have people coming over for dinner in hour and you haven't had a chance to do the dishes).
Some of LG's other dishwashers also use steam to help penetrated caked-on foods and many dishwashers use water jets, but this new dishwasher's spray arms are unique in that they have holes that produce microbubbles. These microbubbles adhere more readily to dirt and help break it down more quickly. Another favorite feature of ours is the interior light, which make it easy to determine whether your dishes are clean or dirty.
The Wi-Fi Enabled Top Control Dishwasher with QuadWash Pro and Dynamic Heat Dry will be available later this year. The price is not set.
Nextbase iQ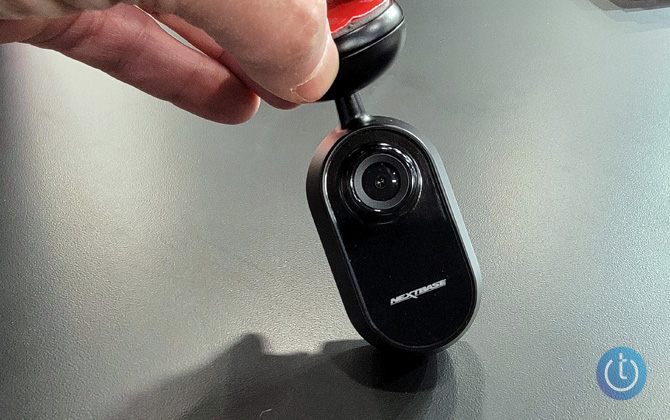 Using up to three cameras for forward, interior, and rear monitoring (4k front and 1440p rear and inside) combined with 4G and WiFi connectivity and artificial intelligence processing, the Nextbase iQ transforms the standard dashcam into a multi-functional car safety and security system. And it's all voice controlled - making it simple for anyone to use.
Standout features for us include the Nextbase IQ's ability to monitor the speed and distance of cars and other obstacles around you, warning you of potential dangers. A smart parking setting can capture video from just before and after a break-in or someone denting your car, send you an alert, and allow you to check up on your car through the Nextbase cameras from anywhere using its built-in 4G. There's also GPS tracking, should your car go missing. We also really like the comfort of the Nextbase Witness Mode, which records real-time video to the cloud if you want to preserve evidence of a traffic stop, road rage incident, or any uncomfortable situation.
The Nextbase iQ will be available in September 2022. Pricing is not available.
Noveto N1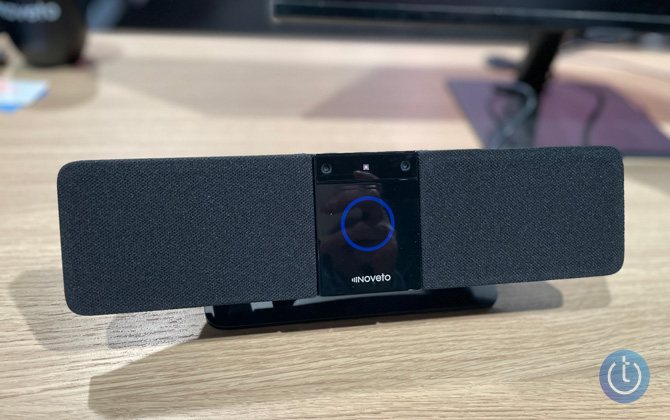 The Noveto N1 gives new meaning to the term "personal speaker." If you're not seated or standing directly in front of it, it's unlikely you'll hear more than a whisper of sound coming out of this small desktop speaker. This makes the N1 incredibly useful for shared environments in your home or office where you want to listen to music, Zoom sessions, and phone conversations without disturbing others. Sure, you could accomplish the same thing with headphones, but for many of us, wearing headphones all day gets extremely tedious.
Loaded up with patents, the N1 combines visual recognition and beam-focused ultrasound frequencies to direct sound to a person sitting within three meters of the speaker in an 80-degree range (40-degrees left and right off-center). When the ultrasonic audio beam reaches you, your ears disrupt the beam and convert the non-audible sound into a pleasingly wide frequency range you can hear. Using facial recognition, the N1 will continue to send the audio beam directly to your ears even if you shift position. The device has a 3.5mm jack and is also able to stream video calls and music through WiFi, Bluetooth, and AirPlay 2.
In our demonstration on the semi-busy CES show floor, the binaural speaker's 85 dB peak volume seemed barely sufficient, but should work well in a normal quiet room. First adopters will pay about $800 for the privilege of testing the Noveto N1 when it debuts in April. The Tel Aviv-based inventor hopes major companies will license the tech for inclusion in soundbars and TV sets, which would bring the costs way down.
Roborock S7 MaxV Ultra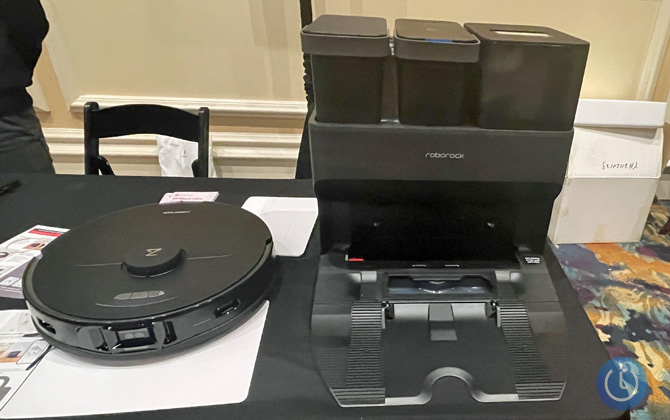 The whole point of having a robotic mop-vac is to have it take care of the cleaning for you. However, mop-vacs don't just deal with dry debris that they can easily deposit in a bin. They also have dirty water from cleaning your floor, mop pads that need cleaning or changing, and a clean water tank that needs topping off. That's a lot of manual work you have to do for a device that is supposed to be automatic.
The Roborock S7 MaxV Ultra is the mop-vac we've been wishing for. It lets you set it up and forget about mopping and vacuuming for a good long while. The Ultra-Dock that comes bundled with the S7 MaxV Ultra can hold up to 7 weeks of dust and debris and will mop for up to 300 square meters before needing attention. The dock scrubs the mop in between uses, cleans itself, and refills the mop-vac tank with clean water.
Roborock's new ReactiveAI 2.0 Obstacle Avoidance System also debuts in the S7 MaxV Ultra. It uses a combination of an RGB camera, 3D structured light scanner, and new neural processor to recognize obstacles more quickly and adapt to clean around them.
The Roborock S7 MaxV Ultra will be available in Q2 2022 for $1399.99.
Samsung Eco Remote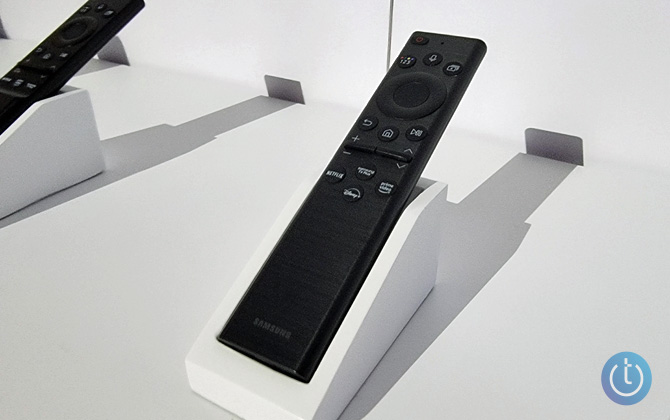 Everybody hates dealing with dead batteries in their TV remote. So, last year, Samsung came out with its Eco Remote, which uses a solar panel on the back to keep itself charged. However, remote controls are often stashed in dark places, making the solar panel impractical as a power source.
The solution that Samsung came up with for this is nothing short of amazing. The second-generation Eco Remote solves this problem by incorporating two environmentally friendly charging sources: light and your home's 2.4 GHz WiFi signal. An antenna in the remote harvests the signal and technology in the remote converts the signal into power to top up the battery. WiFi harvesting has been researched for years, but this is the first viable use of it coming to a consumer product.
Samsung plans to include the WiFi harvesting Eco remote with its new TVs and even its home appliances to hopefully eliminate more than 200 million batteries from landfills. Hopefully, Samsung will sell the Eco separately so we can replace our current Samsung battery-powered remotes.
Samsung The Frame 85"

Samsung's Frame TV has always been about style. With a variety of changeable wooden frame options and fine art works available for download, you can take an otherwise boring black rectangle and turn it into a beautiful museum display for your wall.
For 2022, the Samsung Frame has a new matte finish display technology that almost completely eliminates reflections and gives the fine art the impression of an actual canvas. When we saw it live at CES, we were absolutely blown away by the visual effect. We took the picture above, and you can easily see the reduction of glare from them lamps on either side and absence of reflection from the pink light behind us on the 2022 matte display (we assure you that it is not an artifact of the picture angle – it really looks that good). And unlike matte screens of the past, Samsung says the new tech won't impact brightness or contrast for video.
The Frame will be available in March 2022 in sizes ranging from 32 to 85 inches. Price is not yet set.
Samsung The Freestyle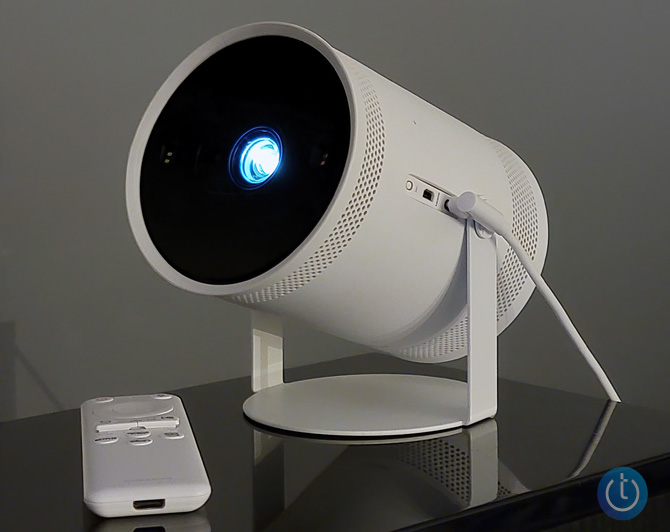 The Samsung Freestyle packs a lot of technology into a portable projector able to take on multiple roles including monitor, TV, home theater, smart speaker, and even a lamp. Its novel design is adaptable, with an included stand that lets you point it where you want, while the projector quickly focuses and adjusts the picture to straighten it, automatically – just point it at the wall and the projector does its thing. It's a 1080p projector, but the picture quality is very high for the category, thanks to a sharp lens and vibrant, accurate color.
Although primarily a projector, the freestyle also serves as a smart speaker and even a color-changing lamp. It has built-in microphones that work with Amazon Alexa and Samsung Bixby smart assistants, and the Bluetooth remote also has voice search. Support for streaming is robust, The Freestyle leverages Samsung's Smart TV platform which supports many popular apps including Netflix, HBO Max, Disney+, Apple TV+, and Vudu plus Samsung's free TV Plus service that streams 190 free channels.
What makes The Freestyle so innovative is the combination of flexibility and fidelity it offers. For one, it operates silently and stays cool to the touch. You can attach a rechargeable battery, or a light socket adapter and project it onto tabletops or a kitchen counter. This Samsung even has a Game Mode and a micro-HDMI input, so you can connect a PC or console and enjoy a big-screen experience anywhere. It's a personal display with many uses, sporting a clever, novel design that's signature Samsung and likely to be widely imitated.
The Freestyle is currently available to preorder for $899 and is expected to ship on January 24, 2022.
Sleep Number 360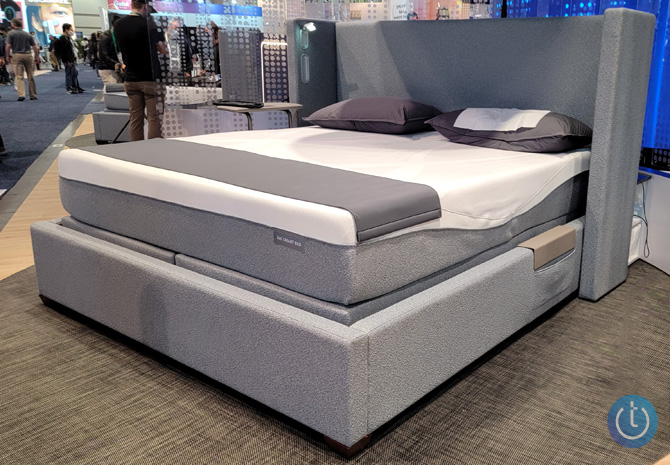 Sleep Number 360 smart beds already have a plethora of features that help you get what we all crave - a better night's sleep. However, while they could provide you numerous sleep measures, it was still up to you to set features, such as individual temperature zones and adjusting head angle to reduce snoring on your own.
The latest version of the Sleep Number 360 smart bed will do the thinking for you, automatically setting temperature zones and optimizing them throughout the night based on your sleeping patterns. And if it senses you snoring, it will slightly elevate your head to open up your airway before your spouse needs to poke you in the ribs. Also in the works is technology to track potential health issues like atrial fibrillation.
The new Sleep Number 360 smart bed will be available in 2023. Pricing will start at $1,099.
Sony A95K 4K QD-OLED TV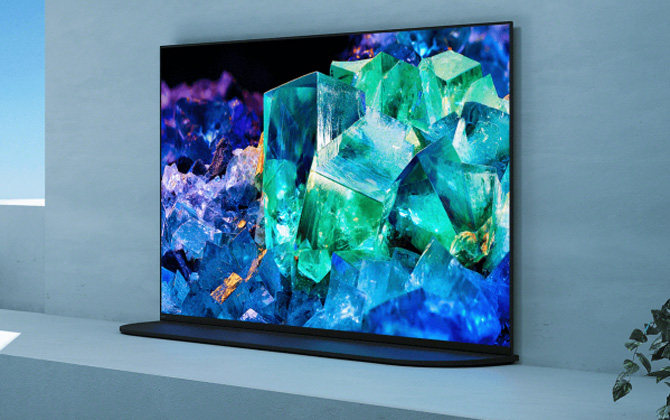 OLED TVs have been the gold standard when it comes to picture quality, but they are about to be supplanted by QD-OLED TVs. QD-OLED TVs combine OLED technology with quantum-dot technology found in today's QLED TVs for a display that has the best qualities of both technologies. The result is a TV that delivers the pure blacks and off-axis viewing of OLED with the poppy colors and brightness of QLED TVs.
At CES, Sony announced the first QD-OLED TV, the Bravia XR-A95K, a 4K TV that will come in 55- and 65-inch screen sizes. In addition to best-in-class picture quality, the XR-A95K will come with a host of other premium features, including 360-degree Spatial Sound Mapping to deliver room-filling sound, gesture control, display optimization for PlayStation 5, and an improved Netflix Adaptive Calibration Mode. If you want the best picture quality of any TV on the market, the Sony Bravia XR-A95K will be the TV to buy in 2022.
The Bravia XR-A95K will be available later this year. Pricing has not been set.
Withings Body Scan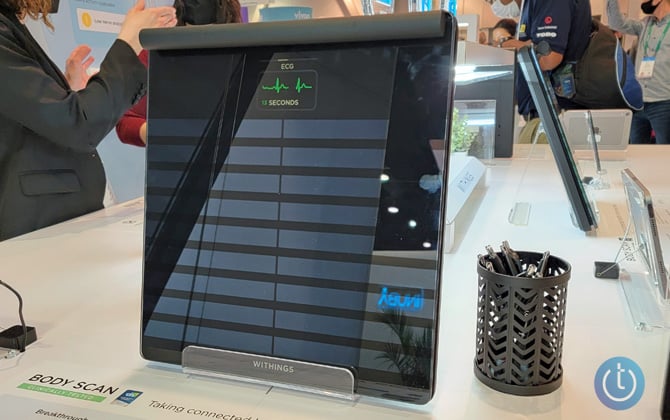 Stepping on the Withing Body Scan scale is like getting a mini check-up at the doctor's office. In addition to weighing you, giving you a breakdown of your body composition (fat, muscle, and water), tracking vascular health, and measuring your heart rate – features available on other Withings scales – it also can give you a full ECG and assess your nerve activity.
The big difference between the Body Scan and earlier models is the addition of a retractable handle with four stainless steel electrodes (shown at top). With the additional electrodes, the scale can now perform a 6-lead ECG, which is more accurate than smart watches, like the Apple Watch, which have one lead. The electrodes also perform a more detailed body composition report, so you can see differences in fat, water, and muscle in each of your arms and legs, as well as your torso. That insight could be useful if you injured your leg and have uneven muscle development.
Another new capability is the ability to assess nerve activity in your feet. The scale sends a small electric current to stimulate the sweat glands in your feet and evaluates the response. Nerve damage can develop in those with diabetes or who are obese, and the scale is a tool to track changes related to these issues over time.
The Withings Body Scan is expected to cost $299.95 and will be available in the second half of 2022, pending FDA approval.
[Image credit: Techlicious, L'Oréal, LG, Sony]