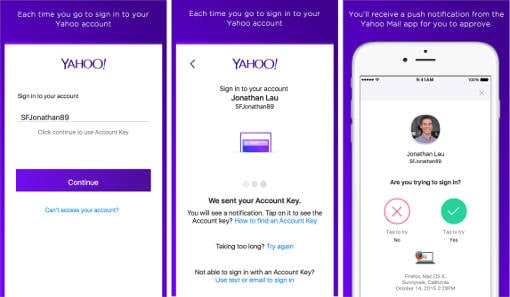 Starting this month, Yahoo Mail users will be able to access all their email accounts from Yahoo Mail and get in without entering a password. Also announced in conjunction with Yahoo Mail's 18th birthday, Yahoo Mail desktop and mobile users can now use Yahoo Mail to manage their emails from external providers such as Outlook.com, Hotmail and AOL Mail.
So how does Yahoo's Yahoo Account Key password-free log-in work? When signing in using Yahoo Account Key, you will get a push notification on your mobile device to verify that you are the one trying to sign in. All you need to do is tap the check mark button to confirm.
Yahoo claims that this new method is actually more secure than traditional passwords because others can't sign in to your account even if they know your account details. Yahoo Account Key represents a leap forward from the On-Demand Passwords feature introduced last March that sends your phone a unique, one-time password for logging in. Both On-Demand Passwords and Yahoo Account Key are designed to help secure your mail account from getting hacked.
Another major development this month is the streamlining of Yahoo's mobile mail app. The new app is less cluttered, snappier, more responsive, more intuitive to use and generally prettier.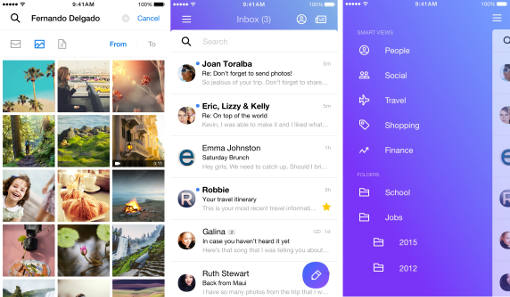 For example, the mail app has shied away from generic avatar silhouettes or colored letters as the default image for contacts without custom profile pictures. Instead, the app shows the sender's initials with a photo pulled from Flickr's massive archive of photos.
The Yahoo Mail app also now uses Contact Cards, which shows you information that your contacts — even those who aren't in your address book — have shared with you via connected Facebook, Flickr, Twitter and LinkedIn profiles, as well as email messages they have exchanged with you. Shared details include contact name, company, title, alternate email addresses, email history and tweets.
Gestures make processing mail more convenient. Swiping a message to the right marks it as read or unread; swiping to the left deletes it. Selecting several messages for bulk actions such as deleting multiple messages simultaneously has become easier: long-press on a message to turn on the multi-select mode.
Contacts- or keyword-based searching in Yahoo Mail has become smarter. Search results are grouped into messages, photos and attachments.
Email composition has also been improved. By default, attached photos or videos are embedded in the email body and scaled automatically. If you prefer the conventional method of attaching files, convert the image to a regular attachment by tapping "..." on the image. Sending an email to yourself can be accomplished with a single long-press of the Compose button.
Get more details about the changes to Yahoo Mail in Yahoo's blog announcement.
Make sure you get the new mail app features by updating your Yahoo Mail app for iOS or Yahoo Mail app for Android.
[Image credit: Yahoo!]