4 Best Weather Sites
Looking to get the latest forecast or keep an eye out for severe weather? A weather app will do the job for you, but if you're in front of your computer, visiting a weather site will give you the most complete information in the easiest to read format. We'll point you to the best sites online for up-to-the-minute weather information, so you can be prepared for any weather eventuality before you head out.
Best All Around: Weather.com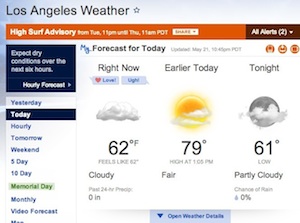 Coming straight from the weather experts at The Weather Channel, Weather.com highlights the latest weather-related news on its front page, with stories about big national weather events as well as topics like travel and health which can be weather related. The weather tab on the top of the page is your easy access to local, national and severe weather information, as well as weather alerts and safety tips. The video tab on the top of the site will direct you to weather news (not forecasts) if you prefer that format.
The site's weather page packs in a lot of information, offering a basic forecast for any area you specify with details for the day, covering high and low temperature, clouds, chance of rain, recent rain, wind, humidity, the UV index, pressure, dew point, visibility, and sun and moon information. If you want more detail, a click in the left-hand toolbar will get you an hourly, tomorrow, weekend, 5 day, 10 day, monthly or video forecast as well as a weather radar map and specialty forecasts for boat & beach, ski, fishing, home & garden, pollen and travel.
Best Local Forecast: Weather Underground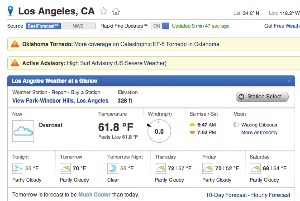 Weather Underground provides a nice balance of weather news and weather forecasts. Unlike Weather.com, Weather Underground puts local weather front and center, with a weather map and local forecast dominating their front page. You can scroll down for more weather news, select a tab on the top of the screen for photos, video, and weather blogs, or click on the local forecast (or enter a city name or zip code in their search box) to pull up a forecast.
On their forecast page, you'll find today's forecast, with current conditions, temperature, wind, and sun and moon information, as well as a brief 5-day forecast. You can scroll down for more information, including pressure, visibility, humidity, rainfall, snow, dew point, wind, UV, pollen, ozone, flu outbreak information, the day's historical data, weather radar and satellite images, local webcams, local photos, and 10-day and hourly forecasts. That's a lot of info!
Cleanest Display: Weather.gov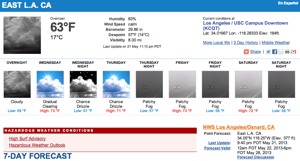 Weather.gov is not the most straightforward way to get your local forecast, but it is the best way to get alerts and other information directly from the National Weather Service without any extras or fluff. Because this is a government site, there are no ads and a lot less clutter than you'll find on other weather sites, which makes for a very clean interface. If you want to see a local forecast, just enter your city and state (or zip code) and it will pop up alongside a national weather map and national weather alerts—or you can click to see a full forecast.
Click anywhere on their weather map to see local weather radar and temperatures (though since no cities are marked on the map, you'll need a good geographical sense to click on the right place). The top menu will give you access to additional forecasts, historical weather info, weather safety, and news from the NOAA.
On their forecast page, you get current, 5-day and 7-day forecasts, in addition to humidity, wind, barometer, dew point, visibility, weather alerts, weather radar and satellite images, and weather graphs.
Best Specialty Forecasts: AccuWeather.com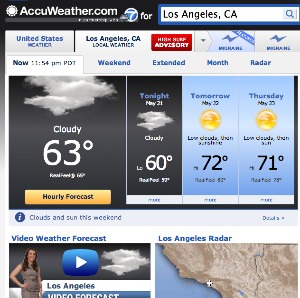 Like Weather Underground, AccuWeather.com puts your local weather forecast front and center—automatically pulling up local conditions when you first load the site. AccuWeather also has news and other articles—including useful information like the difference between a tornado watch and a tornado warning—on their front page. You can scroll down for more news and video content, or you can click on your local weather forecast for additional details.
In addition to the usual weather-related bells and whistles, AccuWeather.com has other kinds of forecasts that may interest you. These include forecasts for cold & flu, allergies, respiratory, arthritis, migraine, sinus, travel, astronomy, events, driving, school day, hair day, snow days, D.I.Y. lawn & garden, home energy, entertaining, golf, ski, hunting, fishing, running, hiking, biking, sun & sand and sailing, each detailing weather conditions that might effect the activity in question. Once you've clicked one, it's added to the top bar of the site so you can easily access it in the future.
Hopefully one of these sites is your perfect weather-watching companion. So be sure to keep an eye on the forecast and plan ahead for inclement weather.
Discussion