4 Naggiest Products Ever…and Why You Want Them
Techlicious editors independently review products. To help support our mission, we may earn affiliate commissions from links contained on this page.
Somewhere around my son's 14th birthday, I grew weary of "gently reminding" him to stop wolfing down his food and to clean up his room. Of course he called these gentle reminders nagging, and we both came to realize it wasn't a good thing. So how do you help someone who needs some coaching or gentle reminders to get out and exercise, sit up straight or quit a bad habit? We've found some gadgets and apps to help with that.
New devices equipped with Bluetooth Low Energy, which have enough battery power to run for days, alert you to your stats and behavior patterns. From eating to quitting smoking to practicing good posture, there's a device to remind you of your good intentions — and, unlike your parents, spouse or friends, if they start nagging too much, you can always turn them off.
Lumo Lift Posture Sensor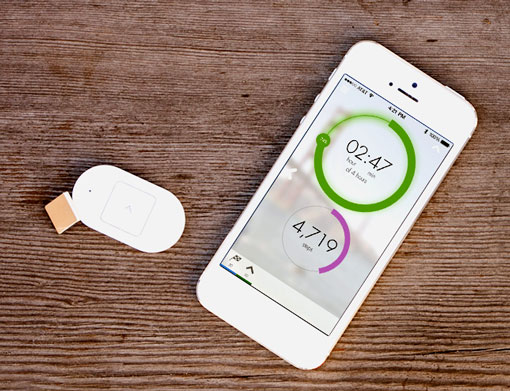 When I was growing up, my grandmother always reminded me to sit up straight. I straightened my back whenever the words came out of her mouth, whether I was standing up or sitting on the couch. Lumo Lift
is a wearable device that looks like a lapel pin with a magnetic clasp. The built-in sensor buzzes or vibrates to let you know when you're slouching, gently nudging you to regain proper form. The vibration frequency can be adjusted to your preference.
If you need a visual reminder of how your posture can slip during the day, prop up your mobile device on your desk and watch the app react to your movements. As your body slouches, the stick figure on the screen slouches as well. As you straighten your back and open your shoulders, the figure does too — while displaying a happy face.
Like other fitness devices, Lumo Lift lets you can track your daily activity to see if you're reaching your goals. Aside from reminding you throughout the day, the app lets you see how much time you spend sitting, what distance you walked or how many calories you burned. Battery life is about five days. Lumo Body Tech calls this positive reinforcement throughout the day; I say it acts just like my grandma.
Price: $99 by preorder at Lumobodytech.com
JUNE Sun Exposure Tracker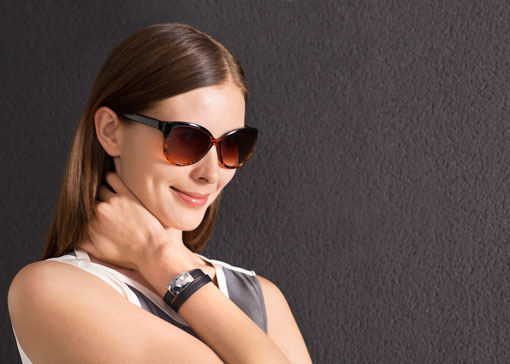 The beautiful, jewelry-like June bracelet from Netatmo measures how long you've been in the sun and, just like your mom, reminds you to reapply sunscreen. The sensor in the bracelet tracks UV intensity, sending it wirelessly to a mobile app. You tell the iOS app a little about you: whether you're fair skinned and what color hair and eyes you have. Based on the local UV index, it calculates your maximum suggested daily sun exposure (which is likely a lot lower than you might think it should be).
If you've had too much sun and need to take action, the June will alert you to the need to put on a hat or sunglasses, or just move to a shadier spot. The sensor, made to look like a diamond that glistens in the sun, is available in platinum, gold and gunmetal. You can wear it as a bracelet or a brooch. Netatmo says the battery should last for about a month before needing a charge.
The downside of June is that while it's splash- and sweat-resistant, it's not water-resistant and so you need to take it off before you go for a swim — and if it's tucked into your beach bag while you're in the water, it's not gauging your exposure to the sun. While it may not keep you from getting burned, the app is likely to help you become more aware of the damage the sun does to your skin.
Price: $99 at Netatmo.com
HAPIfork Food Consumption Pacer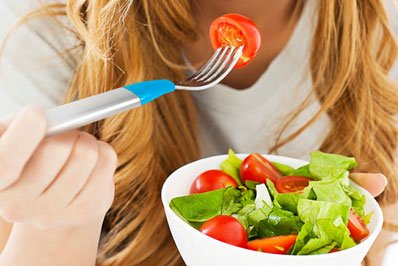 The HAPIfork is a connected smart fork that lets you know when you're eating too quickly. Just as your mother repeatedly reminded you that eating too quickly will give you an upset stomach, the HAPIfork measures the time between bites and then vibrates to let you know when you're eating too quickly. The data collected from the fork is sent wirelessly to an app to track your progress.
Using the iOS or Android app, you can see how many bites ("fork servings") you take per minute. And HAPIfork wants to be part of your overall healthier lifestyle, not just a nag at the dinner table. There's a coaching program available with tips and advice to guide you through smarter eating, along with suggested meal plans.
You would think the HAPIfork is dishwasher safe. After all, you eat with it; you'll want to wash it afterwards. Alas, only the tines and handle are waterproof, which means you need to remove the electronics from the fork before placing it in the dishwasher. HAPIfork says you can wash the entire fork under a faucet by hand.
Add to that the need to keep the fork with you at all times for tracking to be effective, and I'm not sure this one will take a bite out of my poor eating habits.
HAPIfork claims a 2-week battery life.
Price: $99 at Hapi.com or Amazon
Quitbit Smoking Tracker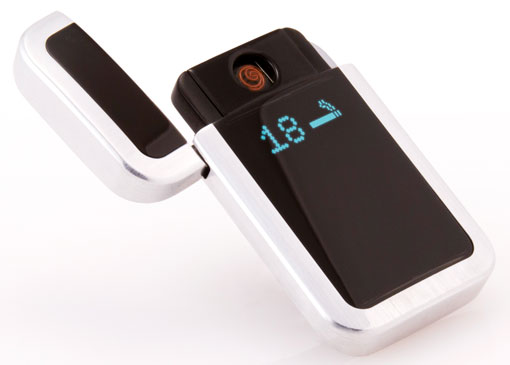 If you hear a lot of "you really should quit smoking" from a parent, child or spouse, it may be time to fire up the Quitbit. Currently available for preorder, the Quitbit is a battery-powered lighter that measures how often you light a cigarette. That's right, it counts your smokes. But unlike a nagging spouse, it wirelessly tracks your smoking habits so you can see in real time how long it's been since your last cigarette. The idea is to help you meet your goals and keep you motivated.
There's a tiny digital screen on the lighter that tells you how many cigarettes you've gone through as well as how long it's been since your last smoke. The iOS or Android app displays your smoking history and lets you set rules for when the lighter can be used. For instance, you can program it to only light a certain number of times a day or to hold off for two minutes after an initial attempt.
The Quitbit battery lasts for about a week or 100 lights, depending on how much you smoke.
Quitbit says it's received 55,000 preorders and expects to ship the items in December 2014, just in time for New Year's resolutions.
Price: $150 for pre-order at Quitbitlighter.com
Discussion