6 Best Google Assistant Speakers
Techlicious editors independently review products. To help support our mission, we may earn affiliate commissions from links contained on this page.
If you're an Android phone user used to saying "Ok, Google," and you're thinking about buying — or you've already bought — some Google-compatible smart home gadgets, consider a Google Assistant-equipped smart speaker, rather than one imbued with Amazon's Alexa.
Google Assistant speakers enjoy one huge advantage over Alexa-laden models: Most include Chromecast, which lets you build a multi-room audio system comprising various Google Assistant-compatible models regardless of brand, all controllable from the Google Home app. By comparison, to create an Amazon multi-room music system, you have to buy Alexa speakers that are specifically multi-room-capable and that are, with the exception of DTS PlayFi models, all from the same brand. Google's built-in Chromecast multi-room capability is the reason there's no "best for multi-room" choice in this Google Assistant list.
Be wary of speakers labeled "Works With Google Assistant" or "Google Compatible," however. Speakers thus labeled do NOT have Google Assistant built in — they're designed to work with an Android phone with Google Assistant. What you want are speakers clearly labeled "Google Assistant built-in."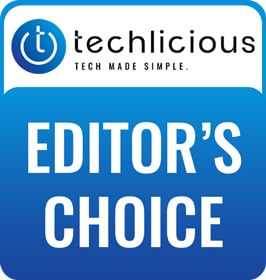 As with Alexa, Google's own Home speaker (MSRP $199, currently on sale for $149) is the safe and obvious Google Assistant choice. But like the Amazon Echo, the Google Home is best for folks who just want to plant it on a living room tabletop and occasionally ask it questions. We've identified six other Google Assistant speakers better suited for specific purposes inside and outside your abode.
Best all-around: JBL Link 10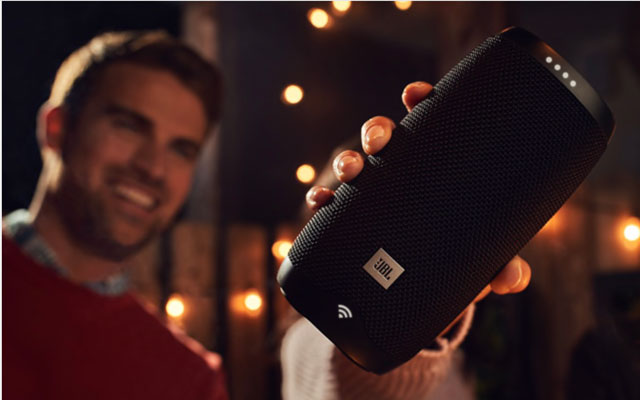 Why isn't the Google Home our best all-around pick? Primarily because this JBL operates via both AC and DC, for up to five hours on its rechargeable battery, whereas the Home only works when plugged into an outlet.
Battery power means you can move the Link 10 in and around your castle as needed — in the kitchen when you need recipes, measurement conversions and cooking timers, for instance, or in the baby's room to play soothing sleepy music or for audio storytelling, or anywhere else either music or information is needed on a temporary basis. You can even play it by the pool for floatation accompaniment thanks to its waterproof IPX7 protection, which the Home lacks.
The Link 10 also has both WiFi and Bluetooth capabilities, while Home is WiFi-only for greater music playback flexibility and to save battery life (WiFi is a power-hog). And the Link 10 is available in either black or white, versus the Home's only option, white (though you can change the color of the speaker grill).
The Link 10 doesn't produce the smoothest sound we've heard — it sounds a bit murky with a little distortion at higher volumes. But we found it produced more volume than the Home, it supplies 360 degrees of surround-sound so it's not placement-specific, and you'll get plenty of boom, clearly tuned for more beat-centric modern music and younger ears.
Size: 3.39" (wide) x 6.65" (tall)
Speaker(s): two 45mm drivers
Multi-room: Yes
Bluetooth: Yes
Audio inputs: No
Price: $149.95 on JBL
Best for the bedroom: Insignia Voice Speaker alarm clock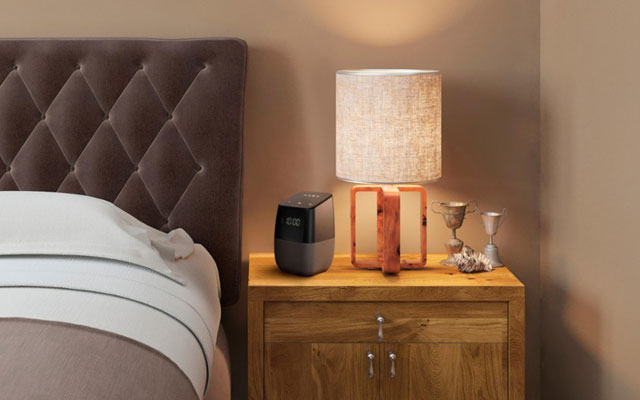 Since no smart speaker includes an AM or FM tuner, the Insignia isn't exactly a clock radio. But with a built-in alarm clock, a prominent, bright and adjustable LED time display, and the capability to stream internet radio stations, this Best Buy house-brand smart speaker makes the best bedside Google Assistant speaker.
While the Insignia lacks a physical snooze button, a quick wave of the hand near it enables the short alarm delay and grants you an extra 10 minutes of zzzs. Similar gestures in its immediate proximity also illuminate the speaker's buttons and lower its volume.
It is a bit on the bulky side for a nightstand — it's nine inches tall and its base is about five and a half inches square — but it supplies five hours of rechargeable battery life so it will continue to work if the power goes out. Or, you can move it temporarily to another location for smart speaker use. A second LED display lets you know the indoor temperature, and there's a rear USB jack so you can charge your smartphone while you're sleeping.
Size: 5.6" (width/depth) x 9" (tall)
Speaker(s): one
Multi-room: Yes
Bluetooth: Yes
Audio inputs: No
Price: $149.99 on Best Buy
Best for audiophiles: Onkyo VC-GX30B G3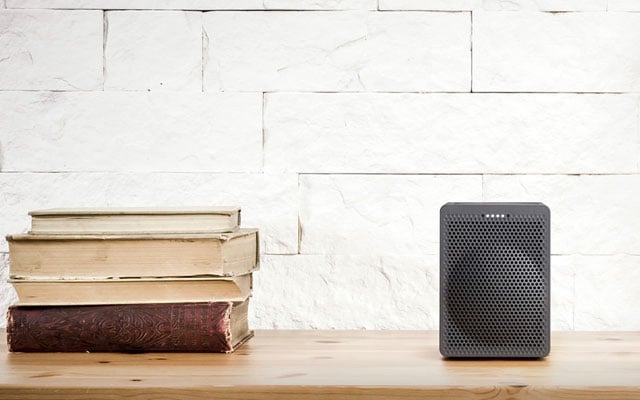 Thanks to its resonant qualities, wood has been the material of choice for regular speaker cabinets. But because of its weight and bulk, it was thought impractical for small speakers. Onkyo, however, says it has "computer-modeled a wooden acoustic-suspension enclosure to eliminate standing waves and vibration that compromise performance."
However it did it, Onkyo has created what is arguably the best-sounding Google Assistant speaker currently available. Inside the G3 is a custom woofer designed to reproduce clear midrange for vocals, matched with a soft-dome tweeter for smoother highs, along with custom switching amplification and digital signal processing to ensure that the appropriate frequencies are delivered to the correct speakers, resulting in the most accurate music reproduction possible.
To make sure your Google Assistant commands are heard without having to repeat yourself, the G3's microphone "is isolated on a floating board embedded in a rubber panel on the speaker's upper surface," Onkyo's literature explains. "Electromechanical interference caused by chassis resonance is eliminated. The mic's flat linearity is unlocked for a precision voice capture, allowing the AI assistant to respond instantly." Again, however Onkyo does it, the G3 hears you loud and clear.
As a result of all its aural traits, the G3 produces wide, smooth, clean music from a surprisingly compact cabinet, along with Google Assistant answers, which will please curious audiophiles.
The elegantly rectangular G3 comes in both black and white.
Size: 4.75" (wide) x 6.5" (high) x 5.13" (depth)
Speaker(s): one 20mm soft-dome tweeter, one 80mm pressed-pulp diaphragm woofer
Multi-room: Yes
Bluetooth: Yes
Audio inputs: No
Price: $199.99 on Best Buy
Best for partying: JBL Link 500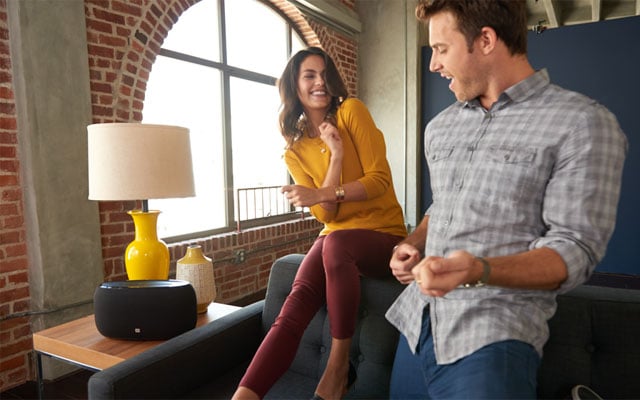 The choices in this category were this JBL monster and Google's impressive Home Max ($399). Both the Home Max and the JBL Link 500 deliver room-filling decibels, and the former does sound smoother for most background, casual or romantic music listening situations.
But the Link 500, which JBL touts as the "most powerful Google voice assistant speaker out there," generates 60 watts of overall power from four channels, compared to the usual single or dual-channel, 8-25 total watt output of most smart speakers.
Inside the 500's oval black cabinet are a pair of 20mm tweeters capable of creating enough crisp highs to keep pace with the deep, thumping bass pounded out from its twin 89mm woofers. Plus, the Link 500 is tuned to cleanly deliver higher-quality 24-bit, 96kHz streaming audio, and a wide soundstage helps spread the sound around larger rooms crowded with gyrating bodies.
This combination of amplification, driver and soundstage attributes enables the Link 500 to punch out a wider, boomier beat, which makes it the superior danceathon option. Just keep it as far from poolside as possible, since it isn't water-resistant.
Size: 14.57" (wide) x 7.87" (high) x 6.18" (depth)
Speaker(s): two 2mm tweeters, two 89mm woofers
Multi-room: Yes
Bluetooth: Yes
Audio inputs: No
Price: $399.95 on JBL, check price on Amazon
Best portable outdoor speaker: JBL Link 20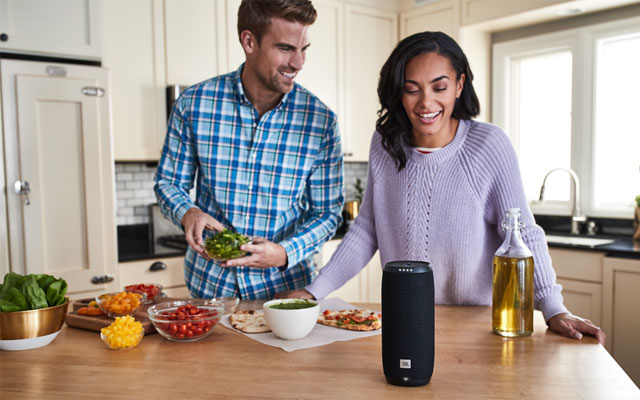 There are three attributes a good beach or poolside speaker must have: imperviousness to splashing water and even accidental submersion, long battery life and plenty of both volume and bass to fuel an open-air party. By default, the Link 20 is the best portable smart speaker for pool or beach because it's the only smart speaker endowed with all three attributes.
Fortunately, the Link 20 doesn't skimp on any of these qualities, so it earns its ranking. First, it's IPX7-rated, which means it will survive a half-hour dunk in up to three feet of water, which also means you can groove to its streaming tunes in the shower or sauna.
Second, it'll play for up to 10 hours, longer than any other Google Assistant smart speaker, and it can stream Google Play Music, Spotify and Pandora via voice command.
Third and finally, the compact, tubular Link 20 is packed with two speakers that each deliver 10 watts of power, so it can get surprisingly LOUD 360 degrees around, including resonant booming bass, to entertain any group of sunbathers or clambakers.
Size: 3.66" (wide/depth) x 8.27" (high)
Speaker(s): two 50mm drivers
Multi-room: Yes
Bluetooth: Yes
Audio inputs: No
Price: $199.95 on JBL
Best bargain: Google Home Mini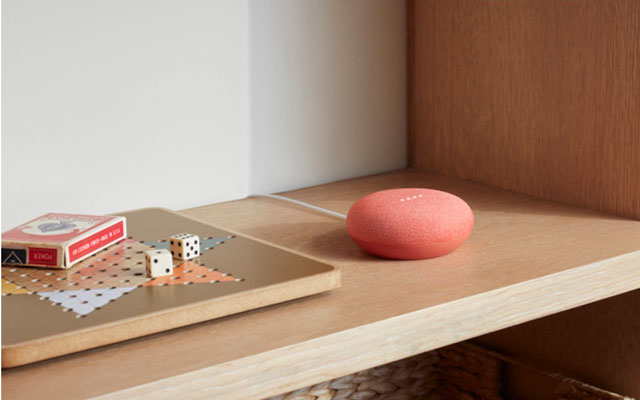 Unlike the audio-challenged Amazon Echo Dot (MRSP: $49.99, on check price on Amazon), Google's own tiny budget speaker, the Home Mini, generates a comparatively decent amount of sound thanks to its relatively large 40mm speaker. You won't get volume that'll overwhelm a crowded room, but you'll get enough sound for chore background music and certainly enough to clearly hear answers to your queries.
The contoured Home Mini also is more design-friendly than the more industrial hockey puck Dot. Not only does the Home Mini come in gentle whitish "chalk" and gray "charcoal" versions, but there's a pretty pastel orange-red coral as well.
One drawback: For some bizarre reason, the Mini lacks built-in Chromecast, so it can't be made part of a multi-room audio system the way the Dot can unless you also buy a $35 Chromecast accessory.
Size: 3.86" (wide) x 1.65" (high)
Speaker(s): one 40mm driver
Multi-room: No
Bluetooth: Yes
Audio inputs: No
Price: $49 on Google
[Image credits: Onkyo, JBL, Google, Best Buy]
Discussion