We may earn commissions when you buy from links on our site. Why you can trust us.

The Best Free VPNs
For a growing number of people, a VPN service checks off a basic privacy must-have – protecting browsing activity from online snoops, whether they're from corporate, government, or criminal outfits.
VPNs – or virtual proxy networks - encrypt your web traffic by routing the traffic through the VPN provider's servers, which might be located in a different country, so that anyone spying on a network can't identify what you're browsing, or where you're located.
This makes VPNs useful if you're ever browsing on public Wi-Fi – even if you aren't using online banking and entering your financial details, in which case you definitely need a VPN – or if you don't want it recorded by the masses of ad trackers out there that you visited particular sites.
VPNs can also bypass geo-restrictions, where content such as newspaper sites or TV and movies is accessible only in licensed countries. This doesn't only apply to watching U.S. Netflix; many US newspapers and lifestyle sites are still blocked in Europe as they do not yet comply with GDPR standards, so if you're traveling on the continent, or in more restricted countries where sites such as Facebook are blocked, a VPN can additionally let you grab the news back home as well as protect your personal data while online.
And if you simply want extra protection while online banking on your mobile, most VPNs offer smartphone apps that can similarly secure mobile data.
Are free VPNs a good idea?
We almost always recommend going for a paid-for VPN because of the potential privacy pitfalls associated with any free VPN service. That's because the free VPN business model usually involves monetizing your data. By using a VPN, all the data that is normally routed through your internet service provider runs through the VPN provider instead, which can mean the VPN provider has access to all your data, from financial details to sensitive search queries.
This means it's imperative that the VPN provider is trustworthy, with gold-standard security and privacy practices. Luckily, while there are a ton of free VPN providers out there that engage in undesirable practices, such as using your data for ads or over-requesting access to your device, there are also a few gems that can be had without a fee.
The best free VPNs tend to be offered by providers that also have a paid-for version, with the free VPN services being restricted in data or speed. And because there is an existing revenue stream, chances are that scraping the data of free users isn't part of the business model.
As with choosing any VPN, a great free VPN should:
Run on the OpenVPN protocol (rather than the older PPTP), which is a more modern implementation widely considered secure and reliable. It's open-source so frequently checked for vulnerabilities. (Some providers, such as Hotspot Shield, may also have their own protocol based on open-source software like OpenSSL.)
Request an appropriate level of permission(particularly important on smartphones). On computers, providers will always request "VPN configurations" which allow the program to read all traffic. Always read the permissions an app requests before downloading to be sure you know what you're agreeing to
Have a "zero-logs policy"- this means it does not save logs of users' browsing data or identifying details, ensuring that this information cannot be accessed, whether by hackers, law enforcement, or the provider itself. (Two of our favorite paid services have successfully proven their "no logs" claims: NordVPN and ExpressVPN).
Additionally, you should not be required to enter your credit card details in order to use the free VPN.
Unlike paid-for VPNs, many free VPNs will also have a data cap, so this is something to check if you'll need a lot of data – say, for streaming or daily use.
It's worth noting that some security products also come bundled with a VPN that may be sufficient for occasional use, say, for financial transactions only. Antivirus providers Kaspersky, Norton, and McAfee all offer a VPN with their premium security software, while password manager Dashlane includes a VPN with subscription accounts. Although this can be another great reason to install one of these vital security tools if you haven't already, bundled VPNs usually have fewer features than standalone products (for example, they may have a slower connection or offer fewer servers to connect from).
The five best free VPNs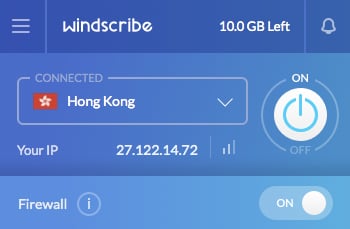 Best all-round free VPN: Windscribe

You can download Windscribe free, without entering your name, email, or credit card info, and automatically get an account with a 2GB data cap. Confirming your email nets you a total 10GB limit, which makes this is an excellent choice for streaming video as well as everyday internet. Servers in 10 countries in North America and Europe, plus Hong Kong, allow you to bypass geo-restrictions and catch up on those home team playbacks and your usual series on Amazon Prime or other streaming services (as of publishing, Windscribe wasn't working with Netflix, which has comprehensive VPN-blocking in place).
With standard video on a computer streaming at about 1GB per hour, 10GB should allow you to access somewhere in the region of eight movies or several evenings of minor TV binges per month.
For advanced users, there's the option to manually select connection modes and IP address, among other settings, but Windscribe also works just fine in the background, ready to go on installation.
Windscribe provides the best free VPN experience, with plenty of data, access to most streaming services, and advanced controls for users who need them.
Security: Windscribe uses strong 256-bit AES encryption, with a firewall option to block internet access while the VPN is in the process of connecting. The VPN can be easily deactivated from the toolbar icon, while in the settings, you can also select whether the VPN launches at startup. The browser extensions additionally offer ad-blocking.
Servers: 10 countries; although the full service accesses over 60 countries and 110 cities
Data cap? Yes, 10GB
Speed restrictions? No
Zero logs? Yes, Windscribe does not store logs that could identify a user, including connection logs, IP timestamps, session logs, or activity monitoring.
Available for: Windows, Mac, Linux, Android, iOS, plus browser extensions for Chrome, Firefox, Opera on Windscribe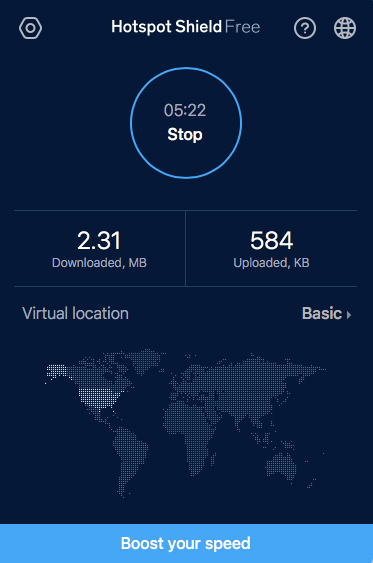 VPN for beginners: Hotspot Shield Free
For a quick fix, you can download Hotspot Shield, without entering any registration information, and start using its VPN immediately. (On startup, you'll be asked to log in or purchase an account; you can close this window to view the free service dashboard.)
While the free version doesn't include the option to choose a location, you'll be automatically connected to a server in the United States, and your traffic encrypted from prying eyes. There's a daily data cap of 500MB whether on smartphone or desktop (you can use the VPN on both and get 500MB each, as you don't register for an account), which makes this a good option for securing your daily browsing, financial transactions and emailing, rather than streaming geo-restricted content. It's worth noting that free accounts are blocked from accessing many types of video, including streaming from BBC, Netflix, and Hulu (but not Prime Video, as of publishing), as well as adult content.
Security: Hotspot Shield connections are secured by 128-bit AES encryption, and the free version includes basic malware protection. No user information is requested in order to use the free service.
Servers: US cities only; premium version has access to 3,200 servers in 70+ countries
Data cap? Yes, 500MB per day; counter resets every 24 hours
Speed restrictions? Yes, up to fourfold, although no noticeable lag when browsing everyday pages such as email, lifestyle sites, and Google
Zero logs? Yes. No identifying information or browsing logs are stored. Ads shown while using the free service (which is ad-supported) are generic, according to Hotspot. Shield
Available for: Windows, Mac, Android, iOS on HotspotShield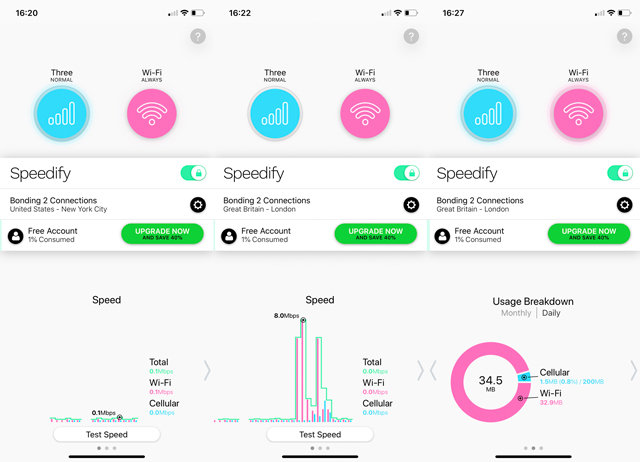 VPN for smartphones: Speedify
Like the other services on this list, Speedify offers a free version of its paid-for VPN – and this free version comes with a 2GB data cap. It's really intended for people to try out the service before subscribing (and the app will often pop up offers to subscribe) but if you only want a VPN for smartphone use, that data limit should cover it comfortably; 2GB is roughly equivalent to 89 hours of mobile browsing or nearly 70,000 emails or WhatsApp messages. You can even set data limits per day or month to be sure you don't go over your cell plan allowance.
On a smartphone with both cellular and Wi-Fi connection, you can also take advantage of Speedify's channel bonding technology for fast, reliable connection – it combines multiple internet connections, such as Wi-Fi, cellular and Ethernet if on the desktop, to provide more bandwidth and faster page loading. And unlike some providers, Speedify doesn't cap this speed for its free users. (Note: after the app has installed, a login screen will suggest subscribing or starting a 7-day free trial; shut this window without selecting either, in order to view the free service dashboard.)
For that matter, if a data limit isn't an issue because you're only going to be using your VPN occasionally – such as to make financial transactions – Speedify is also a good free option for the desktop.
Security: Connections are secured with 256-bit encryption that can use either AES or ChaCha protocol depending on the device (older devices may not support AES).
Servers: 1,000 servers in 38 countries
Data cap? 2GB
Speed restrictions? No
Zero logs? Yes. Your IP address and a device identifier are stored temporarily in order to provide service without users needing to register for an account, and deleted after a connection is closed.
Available for: Windows, Mac, Linux, iOS, Android on Speedify
Best for traveling: ProtonVPN
If you're heading on an overseas jaunt, it's a good idea to prep your laptop or smartphone with a VPN so you can securely use airport or hotel Wi-Fi, or look up your next stop using a nearby café's internet. A product from the Swiss-based team behind the encrypted email service ProtonMail, ProtonVPN unusually has no data limit on its free service, which makes it ideal for long and short trips abroad. A clean, intuitive desktop interface shows a world map with server locations marked out in 42 countries (free users can access three) with the option to automatically connect to the fastest one, or a random server for enhanced anonymity. Although the free version allows only one simultaneous connection at a time, you can still install and use the same ProtonVPN account across any devices you're taking on holiday.
Security: ProtonVPN uses 256-bit AES encryption with DNS leak protection that secures the domains being accessed. Ads are not served to free or premium users.
Servers: Three countries for free users
Data cap? No.
Speed restrictions? Yes.
Zero logs? Yes. However, users need to enter an email address to sign up for an account.
Available for: Windows, Mac, Linux, iOS, Android on ProtonVPN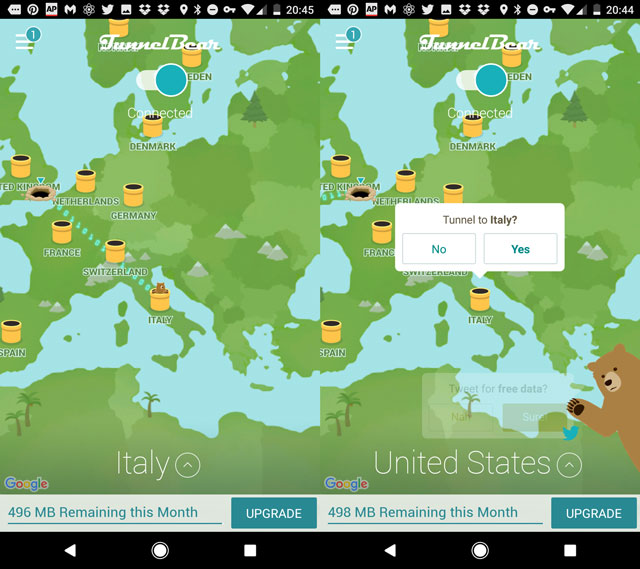 VPN for occasional use: Tunnelbear
If you're just looking for a VPN to use on the infrequent occasions you're on public Wi-Fi networks, then the free version of Tunnelbear should cover you. The data cap of 500MB per month (though you get an extra one-off 1GB for tweeting about the service) won't allow for much streaming; but it is around 21 hours of web browsing on mobile, according to this data calculator, or roughly half that on desktop (due to heavier webpages). That's fine if you only need a fallback security option on the off-chance you need to log in to online banking while out, or overseas. A friendly user interface depicts a bear popping out of tunnels signifying server locations you can select, making it easy to change where your IP appears to be from, whether you're checking on the price of plane tickets or news from back home.
Should a site block access when using Tunnelbear, you can also try turning on GhostBear, which slows the encrypted connection but makes it less detectable by webpages or internet service providers who may be automatically blocking VPN usage.
Security: Connections are secured with 256-bit AES encryption, with a Vigilant Mode that blocks internet connection if the VPN is disrupted.
Servers: Over 22 countries
Data cap? 500MB; an extra one-off 1GB for tweeting about Tunnelbear, as long as the promo is running
Speed restrictions? No
Zero logs? Yes.
Available for: Windows, Mac, Android, iOS (iOS can't access GhostBear) on Tunnelbear
[Image credit: laptop using VPN via BigStockPhoto ]
---
Discussion