We may earn commissions when you buy from links on our site. Why you can trust us.

6 Best Kitchen Gadget Gifts for Cooks
The holidays are all about food and entertaining so why not get the chef or hostess in your life a practical, yet fun, gift for the kitchen? That way, they can whip up awesome meals and still have time to sit and entertain. These helpful kitchen gadgets are sure to please any home cook this holiday season and throughout the year.
Hamilton Beach Smart 12-Cup Coffee Maker (Alexa enabled)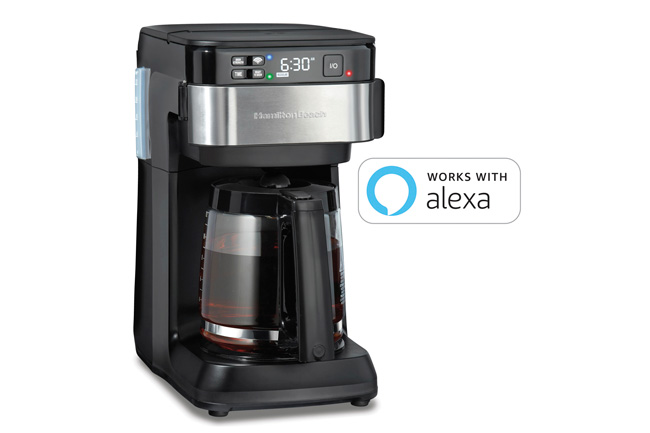 Give the gift of a fresh brewed cup of coffee first thing in the morning with this Alexa-enabled coffee maker. Just ask Alexa to set your coffee maker to begin brewing at a different time every morning, without having to fumble with programming the clock each night. Set routines in the Alexa app or ask any of your Amazon Echo devices to start the coffee or adjust the brew strength.
The Hamilton Beach coffee maker brews up to 12 cups of coffee with a front swing-out brew basket, a drip-free glass carafe and auto shut off after two hours. That's if you haven't already asked Alexa to turn it off first.
You can pre-order the $89.99 coffee maker now on Amazon and get it when it ships later in November.
Braun MultiQuick Spiralizer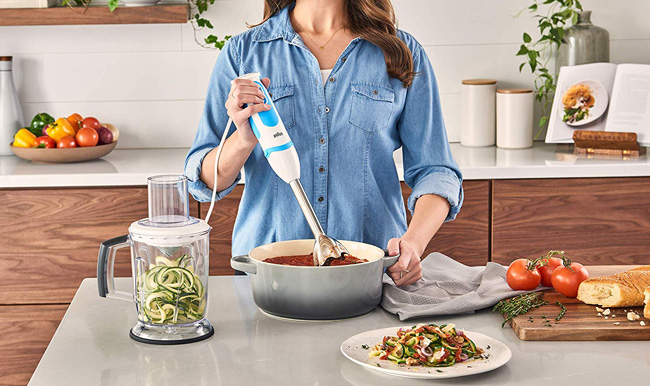 Know someone who always goes the extra step to hand-cut veggies into cute designs? Save them a lot of time and up their creativity level with the Braun MultiQuick Spiralizer. This hand-held device instantly turns veggies like squash and zucchini into spiralized works of art, great for salads and pasta substitutes. It has 21 speed settings and 3 interchangeable blades for getting just the right noodle size.
It comes with several attachments, like a blending wand that turns the spiralizer into a hand-held blender for whipping up sauces and salad dressings.
Available for $99 on Braun.com or check lowest price on Amazon.
Anova Sous Vide Precision Cooker Nano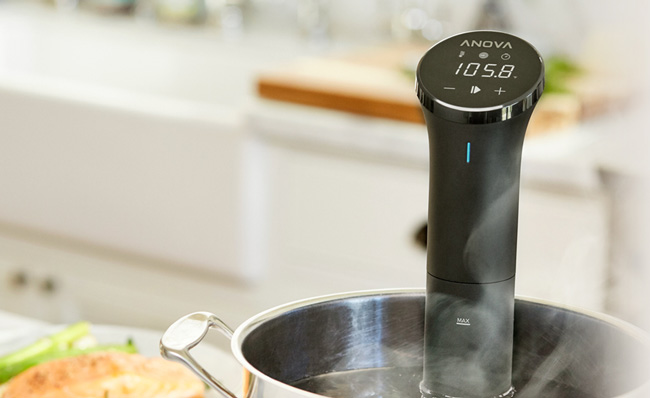 If the foodie on your list loves to try different ways of cooking, treat them to a sous vide cooker – the method that cooks food in a sealed bag submerged in water. The trick is the water must be the exact temperature as the desired temperature for your food, which is what makes the Anova Sous Vide Precision Cooker Nano the perfect gift idea. Clamp it to a pot of water and the precision cooker circulates the water, keeping it at just the precise temp. Set the time and water temp manually or with the Bluetooth connected Anova app.
Available for $99 on Anovaculinary.com or check lowest price on Amazon.
Instant Pot Duo Mini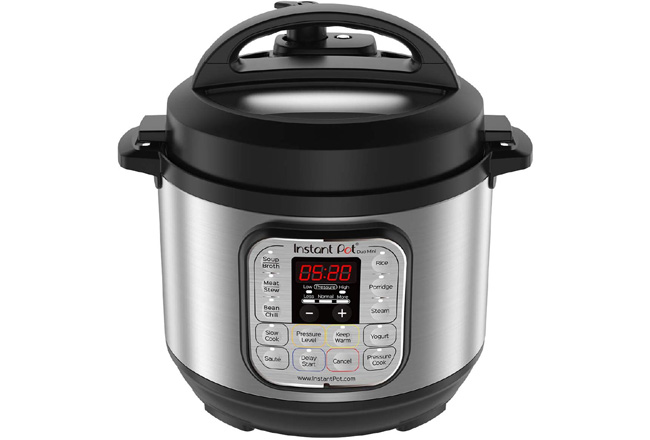 The Instant Pot was one of the hottest gifts of 2018, and with new versions introduced this year, it will likely hold on to that title. It's a pressure cooker, a slow cooker, a rice cooker, a steamer and more. And if you know a foodie who doesn't have one of these yet, now is the time to buy one.
With 14 cooking presets, it's easy to make soup, chili, rice, steam veggies, or even your own yogurt. The 3-quart Duo Mini has all the same features as the larger 6 and 8-quart version, but it's just the right size for smaller households.
Available for $79.95 on Instantpot.com or check lowest price on Amazon.
Smart Speakers for the Kitchen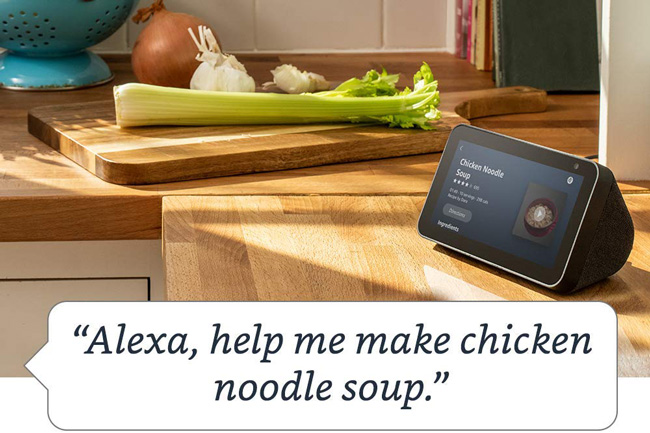 Why cook alone when a smart speaker makes a great sous chef? It keeps you company with music, podcasts, the latest news and weather. Out of parsley? Just add it to your shopping or to-do list with your voice.
Smart speakers with a screen let you watch step-by-step videos of your recipe or catch up on your favorite videos while stirring the risotto. We like the Amazon Echo Show 5 for the kitchen because the compact 5.5-inch device doesn't take up too much room sitting on the countertop. It's on sale on Amazon right now for $59.99, down from $89.99, which is a great price.
If you're shopping for a Google user, pick up a Lenovo Smart Display. Based on Google Assistant, the 8 or 10-inch stylish display is available with a bamboo back, which makes it easy to fit into any kitchen decor. You can look up recipes for dinner, collated from around the web. If you don't know how to prepare something, you can get step by step directions read to you or a quick query will pull up a YouTube video showing you what to do. Available starting at $139.99 on Lenovo.com.
Bartesian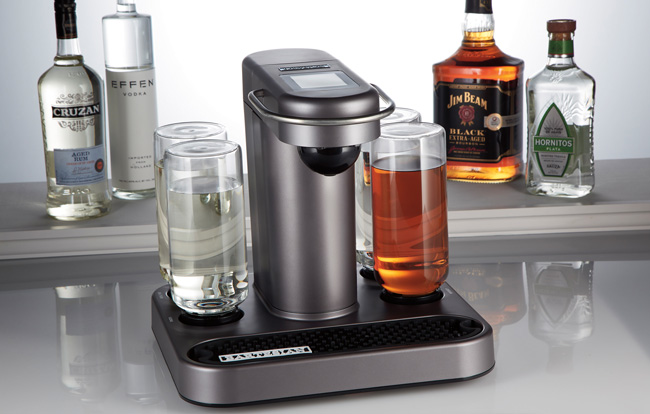 Here's a pricey, but fun gift idea for someone who loves an occasional cocktail but has no idea how to properly mix them. Bartesian is an at-home single serve cocktail maker that takes the guesswork out of mixing a good Cosmo.
You supply your spirit of choice; Vodka, Tequila, Whisky, Gin/Rum as well as water. There are interchangeable reservoirs to store the alcohol. Then use one of the recyclable cocktail capsules which contain all the bitters, extracts, and juice concentrates. Choose your strength or make it a mocktail for the kids.
Classic cocktails include Cosmos, Margaritas, Whiskey Sours and yes, even Sex on the Beach. New premium cocktail flavors include Old Fashioned, Manhattan and Long Island Iced Tea, among others, with even more flavors being released in January.
Available on Bartesian.com for $349 or check lowest price on Amazon.
Packets of 6 cocktail capsules: $14.99
[Image Credit: Amazon, Anova, Bartesian, Google, Hamilton Beach, Instant Pot]
---
Discussion