The Best Wi-Fi Mesh Router Systems
Techlicious editors independently review products. To help support our mission, we may earn affiliate commissions from links contained on this page.
Sometimes a single router simply won't do. While manufacturers have made them more powerful, and Wi-Fi technology has advanced to better cover wider spaces with better range, throughput can still be an issue. Enter Wi-Fi mesh routers, networking systems that use multiple routers that "talk" to each other to cast a net that serves to improve signal strength throughout the home.
They serve a useful purpose if you have weak areas or dead zones in your living space. Wi-Fi range extenders can be decent accessories, except they don't work seamlessly the way mesh Wi-Fi systems do. It's hard to pinpoint one mesh system that is the "best" above all others, but there are advantages between them worth taking into account. For example, you may want more stringent parental controls, or prefer a design that can blend in with your décor.
Before you take the next step in home networking, here are some pointers to think about:
Does your home Internet Wi-Fi connection have weak or dead signals anywhere in your home? If so, you may want the range multiple routers can provide. They may also use what are called "back channels" to communicate with each other on a separate frequency for uninterrupted operation.
Do you want a Wi-Fi network that is easy to setup, manage and administer? Well, who doesn't, really? The simple step-by-step setups inherent in mesh Wi-Fi systems extend to the app-based management tools that could include parental controls, security, media prioritization and more. You don't need to be mechanically-inclined to run one of these like a pro. Plus, you can even access your router's features away from home.
Do you like the idea of a Wi-Fi network that is scalable and expansive? Mesh Wi-Fi networks usually come in packs of two or three, but you can always add more single units to expand the mesh further.
Are you concerned about compatibility? No need to be. Mesh Wi-Fi routers work just like any other router does, and would be fully compatible with whatever hardware your Internet Service Provider (ISP) delivers through the modem. Your devices would also connect to them like any other Wi-Fi router.
Wondering about speed and range? The whole premise here is that you get better throughput around your home, which will improve the connection speed in areas that struggled before. Mesh Wi-Fi won't get you faster Internet on its own — overall speed depends on what you're paying for from your ISP.
Speaking of speed, you will see manufacturers marketing numbers like AC1900, AC2200 and AC2600. These indicate the theoretical total bandwidth the router can produce on both the 2.4GHz and 5.0GHz bands. They are more an indicator of throughput than they are of speed, though the two can go hand-in-hand. A larger number is better able to handle a greater number of devices connected to it. MU-MIMO (multi-user, multi-input, multi-output) is a newer protocol that allows compatible devices to receive bandwidth without having to queue for it. Normally, routers distribute bandwidth in sequence based on which device needs it first, whereas MU-MIMO just does it to compatible devices simultaneously.
Here's a look at some of the top mesh Wi-Fi systems to help you out.
---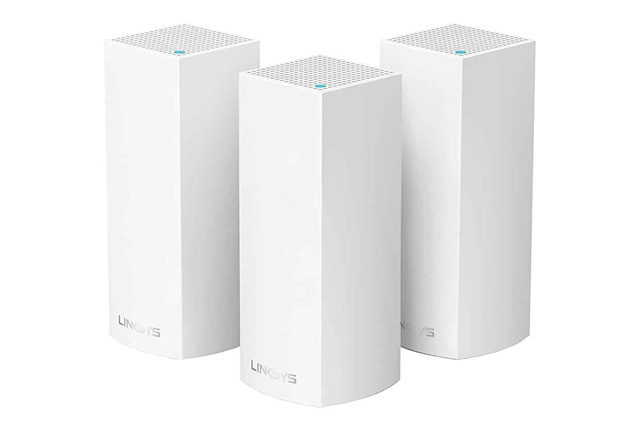 Best All-Around Wi-Fi Mesh Router: Linksys Velop
A play on the word, "envelop", the Velop is a powerful starter pack trio of routers that can deliver the best combination of range, throughput and administrative features. It also blends in well no matter where you want to place the three units within your home. All three units are identical, so it doesn't matter which one is used to plug into the modem, thereby simplifying the setup process.
The simplicity extends to the connections underneath each unit, too. There are two Gigabit LAN (local area network) Ethernet ports, plus the plug for the power adapter. None of the units have USB ports, unfortunately. LEDs at the top provide a visual indicator of connection status. Each unit has a maximum range of 2,000 square feet, so you can get 6,000 sq. ft. of coverage with a three-pack. That's higher than competing mesh systems
Since each unit is effectively an AC2200 router with tri-band networking, each is capable of 400Mbps of bandwidth throughput on the 2.4GHz network, and 867Mbps plus 867Mbps on the 5.0GHz network. These are theoretical limits, as real-world performance won't hit that high, but the Velop funnels bandwidth very well.
Using the iOS and Android app to setup and manage the Velop is easy, and its assortment of controls is fairly broad. Parental controls, guest network, device prioritization, MU-MIMO for supported devices, Amazon Alexa integration, and other more advanced options make this system a standout.
Size: 3.1 x 3.1 x 7.3 in. per node
Speed: AC2200 with MU-MIMO
Ethernet jacks: 2 per node
Parental controls: Yes
Price: 1-Pack is $198 on Amazon, 2-Pack is $329 on Amazon, 3-Pack is $450 on Amazon
---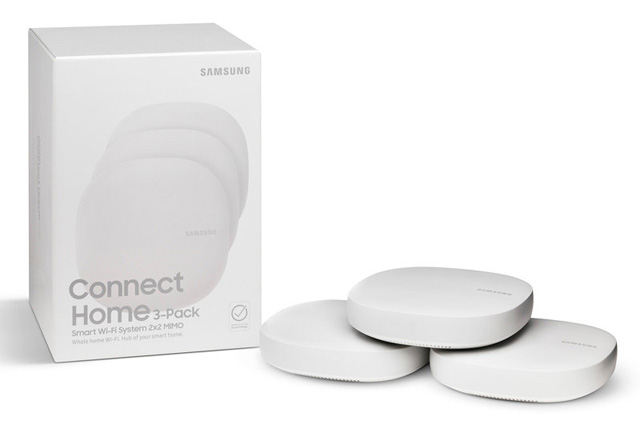 Best for setting up a smart home: Samsung Connect Home
Samsung has taken the mesh Wi-Fi system setup others have gone with and added its own twist by throwing in a SmartThings Hub into the mix. It mirrors much of what others do in the sense that you can use the Connect Home app on Android and iOS to set up and manage the mesh system, but is also clearly aimed at users who want both a Wi-Fi mesh and smart home setup.
Doubling as a SmartThings hub, it's possible to program and control compatible smart home devices www.smartthings.com/products from other manufacturers. It supports the Zigbee and Z-Wave protocols that are common in smart home products, and thus, can "talk" to popular devices like Philips Hue lights, Nest Thermostat, Netgear Arlo Pro and iRobot Roomba vacuums, among others. That negates having to buy a separate hub to automate and control these types of products.
As a router, the Connect Home comes in a three-pack, though a two-pack or single unit could be purchased as well, if you live in a smaller space. Each unit covers up to 1,500 sq. ft., and five is the max number for one system. Throughput is more moderate at AC1300 equivalents, so while it says 400Mbps on the 2.4GHz band and 866Mbps on the 5.0GHz band, this trio won't be quite as potent as others, like the Linksys Velop, for instance. Alternatively, the Samsung Connect Home Pro bumps up speed and throughput to AC2600.
Still, for the ease-of-use and smart home compatibility, the Connect Home is worthy of consideration.
Size: 4.72 x 4.72 x 1.16 in. per node
Speed: AC1300 (or AC2600 for Connect Home Pro)
Ethernet jacks: 2 per unit
Parental controls: Yes
Price: Connect Home 3-Pack is $325 on Amazon, Connect Home 1-Pack is $150 on Amazon, Connect Home Pro 1-Pack is $200 on Amazon
---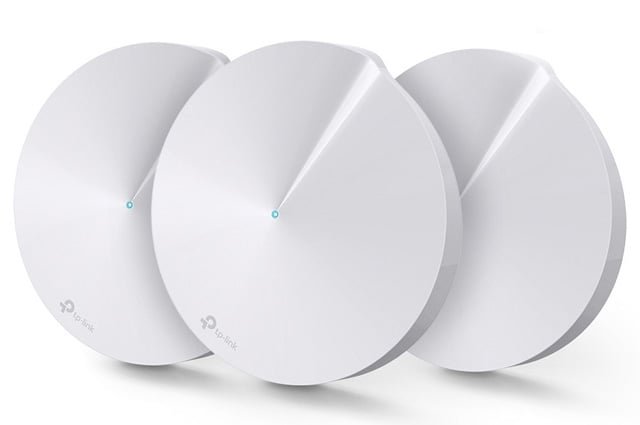 Best for included security: TP-Link Deco M5
The only way to set up and manage TP-Link's Deco M5 mesh system is via the iOS and Android app, since there is no web-based interface for computers. It presents a clear and concise menu to get around, aiming to keep it simple wherever it can. The built-in security software, courtesy of Trend Micro, is pre-installed and does not incur any additional fees. The antivirus screens for malicious content, infected devices and outside intrusions. It does this automatically, so you don't have to give it much thought unless something significant happens.
Bearing in mind it's not a super extensive security suite, the fact it's there and working constantly is good to have. It does extend out to every device connected to the network for added peace of mind. Infected devices logging onto the network will be blocked from infecting other healthy devices too. A history section in the app lists what was caught and quarantined, including the date and time it happened. Parental controls are fairly robust as well.
As a mesh system, the Deco M5 is quite capable, offering solid range and throughput with a good feature set. The small size of each unit makes it easier to nestle into different parts of the home, and the small LED always indicates the network's overall health and performance.
Size: 4.72 x 4.72 x 1.50 in. per node
Speed: AC1300
Ethernet jacks: 2 per unit
Parental controls: Yes
Price: 3-Pack is $240 on Amazon, 1-Pack is $100 on Amazon
---

Best for parental controls: Asus Lyra
Like TP-Link's Deco M5, Asus has equipped the Lyra to offer anti-virus and anti-malware security software it calls AiProtection to help protect the Wi-Fi mesh system from outside intruders. Beyond that, however, is an impressive set of parental controls that digs deep enough to moderate and protect children's usage.
Parental controls are available in just about every Wi-Fi mesh system, except the Lyra makes it very easy to automate how restrictions apply, so that you don't need to always go back and change things manually. It would be possible to set a time each day that blocks Internet access entirely, or only for specific apps and websites. That would make it possible to block social media sites when it's time to get homework done, for example. The Family Overview dashboard is the hub for all things parental control, and it's always accessible, either at home or away.
Unfortunately, there is limited effect on mobile devices. While it's easy to block Wi-Fi access to a smartphone or tablet, for instance, it wouldn't be possible to allow access, yet block specific apps running on iOS or Android, for example. The true depth of the parental controls features is only found on laptop and desktop computers. To achieve something similar with mobile devices, a VPN (virtual private network) product like the Disney Circle would help.
As a mesh network, the Lyra performs very well, and is most similar to TP-Link's system, based on performance, setup and management.
Size: 5.90 x 5.90 x 1.95 in. per node
Speed: AC2200
Ethernet jacks: 2 per unit
Parental controls: Yes
Price: 3-Pack is $400 on Amazon
---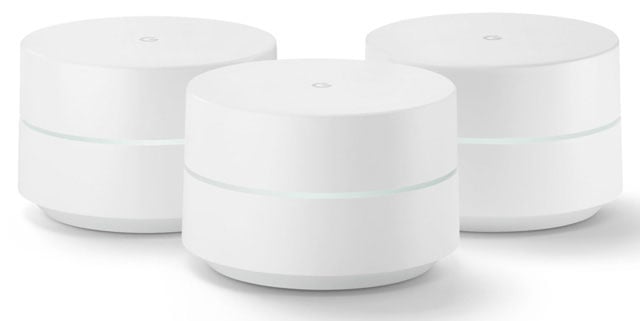 Best for easiest setup: Google Wifi
When Google entered the Wi-Fi mesh category, it wanted to create something that was extremely easy to setup, and it managed to do so. The Google Wifi Android and iOS app can expedite setup by scanning the QR code at the bottom of any of the units, which then goes through a clear-cut step-by-step process.
Much of that process will feel automated because most of the work is being done in the background. To have everything up and running in as little as five minutes wouldn't be a stretch. The hand-holding carries over to the features within the app, where navigating most of the settings and options is spelled out.
A big oversight in Google's system is the lack of parental controls, so there is no way to filter out inappropriate content or block websites. While it is possible to block Wi-Fi access to a device for even one hour with a quick tap, it's not as intricate as others.
Range and throughput is superb, especially when three units are working together in unison.
Size: 3.79 x 3.79 x 5.42
Speed: AC1200
Ethernet jacks: 1 on base, 2 per node
Parental controls: No
Price: 3-Pack is $270 on Amazon, 1-Pack is $119 on Amazon
---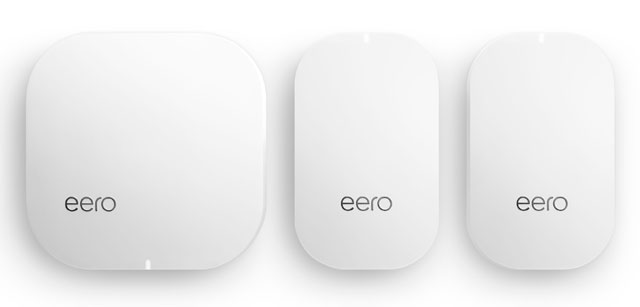 Best for discreet installation: eero
The beauty of mesh Wi-Fi is that each node extends the reach of your network. But what if there isn't a good place to seat a node? eero, which launched the mesh Wi-Fi product category, has you covered with new tiny nodes, called eero Beacon, which plug directly into outlets, making installation possible and discreet in places like hallways. The Beacons also have nightlights built-in with automatic dimming during the daytime.
While the flexibility of installation is a big selling point for the eero, it also excels in other areas. The 2nd generation eero is one of the fastest systems on the market, rated at AC2200 with MU-MIMO. And, if you're willing to pay for the Eero Plus service ($9.99 per month or $99 for the year), you'll get anti-malware protection for all devices and parental controls, including content blocking.
Size: 4.76 x 4.76 x 1.24 inches for the hub, 4.76 x 2.91 by 1.18 inches for the eero Beacon
Speed: AC2200 with MU-MIMO
Ethernet jacks: 1 on eero hub, 0 on eero Beacon
Parental controls: Yes, with subscription to Eero Plus ($9.99 per month or $99 per year)
Price: One eero and 1 eero Beacon: $299 on Amazon, One eero and 2 eero Beacons: $399 on Amazon
---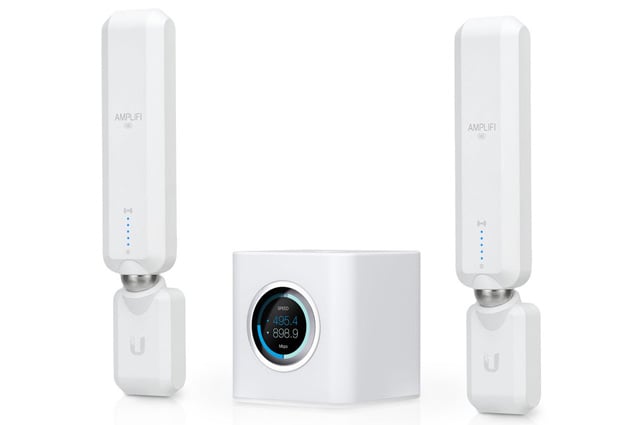 Best for range expansion: Ubiquiti AmpliFi HD
The AmpliFi system is unique in that it uses nodes that look and operate like antennas, rather than identical units. The base unit that plugs into the modem and has a small LCD to visualize network speed, among other things.
The other mesh points plug directly into power outlets with flexible antennas to angle them any which way. They are a little unseemly if in plain sight, and they need to be unencumbered by outlets above. The advantage is that they pack a real punch in achieving a wider range. Six high-density antennas in the base system (the main unit, plus two mesh point antennas) are capable of covering a theoretical max of 20,000 sq. ft. Expanding it with another mesh point would only drive that number up higher.
Blue LEDs on the mesh points illustrate the signal strength, and the AmpliFi app for iOS and Android is fairly straightforward in managing the network.
Being unique mesh points that plug in and stick out from outlets, there are no Ethernet ports onboard to use as wired ports for devices to connect via Ethernet. The AmpliFi HD might also be overkill for smaller homes, whereas the less expensive AmpliFi LR (Long Range) can cover the same ground, albeit with four high-density antennas inside the main unit.
Size: 3.91 x 3.85 x 3.92 for the base, 1.81 x 7.05 x 1.06 for the mesh points
Speed: AC1750
Ethernet jacks: 4 outputs, 1 input on the base
Parental controls: No
Price: High Density system is $312 on Amazon, Long Range system is $306 on Amazon, Mesh Point HD is $109 on Amazon
[Image credit: Linksys, Samsung, TP-Link, Asus, Google, eero, Ubiquiti]
Discussion