The Best Photo Sharing Sites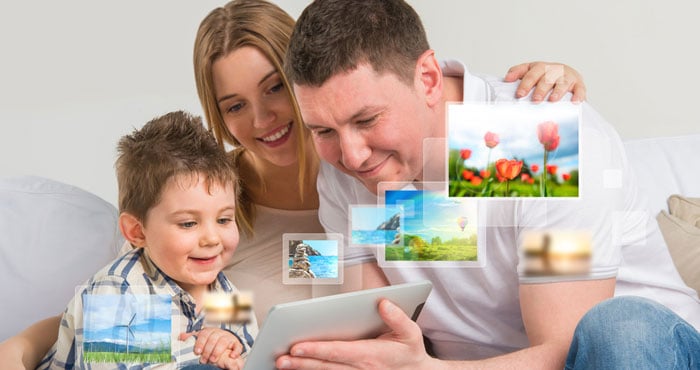 Digital cameras and smartphones mean that most of us have a ton of photos scattered everywhere from phones and computer hard drives to Facebook and Instagram profiles.
But what happens when you switch phones, upgrade computers, or simply want to search all your photos at once?
Uploading pictures to a photo sharing site is a simple way to answer all those questions—and the services offer lots of other benefits, as well. You can organize large photo collections, make it easier for friends and family to contribute to shared albums and ensure your pictures stay with you no matter what device they came from.
There are four main criteria to think about when picking the best site for your needs:
1. Cost of storage. First, you need to figure out how much memory you'll need. This is largely determined by where most of your pictures are coming from. Smartphone photos can range from 500KB to 2MB in size, while photos from point-and-shoot cameras are usually 1-5MB, depending on the megapixel-count of the camera. Choose lower storage limits at first; you can always pay for more when you need it.
2. Automatic photo sync. If you take a lot of photos, a service that syncs images automatically via a smartphone app or folder on your desktop can take the hassle out of backing up.
3. Privacy. Do you want complete control over who can see your pictures? Family albums, for instance, might benefit from a site that keeps albums password protected.
4. Full-size upload and download. If you want to back-up a collection or print your photos, find a service that allows full-resolution uploads and downloads. Some services downsize photos for quicker uploads.
Below are our favorite sites and their best features.
Flickr: Best overall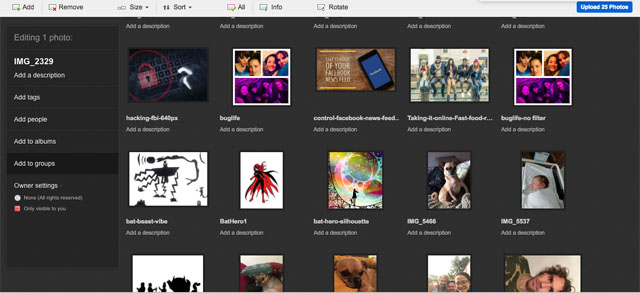 The grandaddy of photo-sharing sites, Flickr offers 1TB of storage for free (which can hold from 500,000 to 2 million photos) with no limit on picture resolution. Users can also upload 1080p high-definition video clips, with playback up to three minutes long.
You can also organize pictures into collections and sub-collections, with options to tag keywords and people either individually or in batches of photos. Your friends and followers can tag photos too, creating a massive database of keyworded photos. You can then search your library by keyword or people tags and sort by dates that pictures were posted or taken—a godsend when a lifetime's worth of photos start to stack up.
For photographers seeking a more public audience, photos can be made available for viewing as well as for various levels of licensed use. And, if you're looking for such a photo to use, a great search function lets you make keyword searches to hunt down that needle in the haystack of Flickr's 13 billion photos.
Flickr displays photos in a minimalist grid with a slideshow option, as well as an "explore" feature to find new pictures and photographers to follow. The site also offers a beginner-friendly image editor, with Instagram-style color filters, cutesy effects like frames and stickers and basic editing tools, such as contrast, saturation and focus tweaks.
You can upload photos via email, the website, or directly from the Flickr smartphone app and share albums on Facebook, Pinterest, Tumblr and Twitter. A desktop uploader – handy for syncing pictures from a camera – is available to paid accounts. If you want hard copies, you can print products such as wall art and photo books.
Cost of storage: Free, with 1TB of storage and displayed ads; $49.99 a year for ad-free version with access to stats on how photos are shared, free U.S. Shipping for Flickr prints, and 20% off Adobe's Creative Cloud set of design editing apps
Automatic photo sync? Yes, through the Flickr smartphone app for iPhone and Android
Do you need an account to view photos? No
Privacy control: You can choose the audience for every photo as friends, family, public or only you (adding contacts allows you to set them as friends or family)
Full-size uploads/downloads? Yes
Cluster: Great for private group photo sharing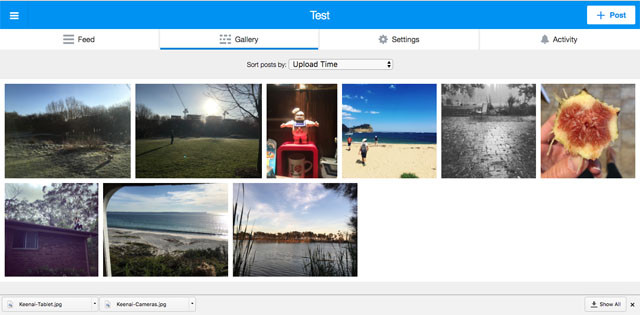 If you'd like a private place to share photos – for example, family albums or pictures for events such as wedding – Cluster is a great option for viewing and commenting on photos, without any of the privacy headaches of social-focused sites like Facebook.
You invite people to join particular groups via emailed links. There's no limit on group size, so the app works equally well for small group events – like a road trip or family barbecue – to larger events such as holidays and weddings. Any member of a group is able to download all posted photos to their computer or smartphone, at original resolution.
Pictures are viewed in photo feeds on your smartphone as well as desktop, and each member of the group can like photos. You can adjust permissions for posting photos, videos, and comments as well as for adding new members.
Along with photos, you can also upload videos and text notes from your Android, iPhone or desktop photo library, as well as directly from the smartphone camera as you take them.
This streamlined service doesn't offer editing options and the photos and videos are organized according to when they were uploaded. Heading into Gallery view allows you to choose different ways of sorting, including time taken, the photographer, and the number of likes – although chronological order is a great way to view the photos of an event as it unfolded.
Cost of storage: Free (although expect premium, paid-for features to roll out in the future)
Automatic photo sync? No
Do you need an account to view photos? Yes
Privacy control: Only people you invite to a group can view photos
Full-size uploads/downloads? Yes
500px: Great for discovery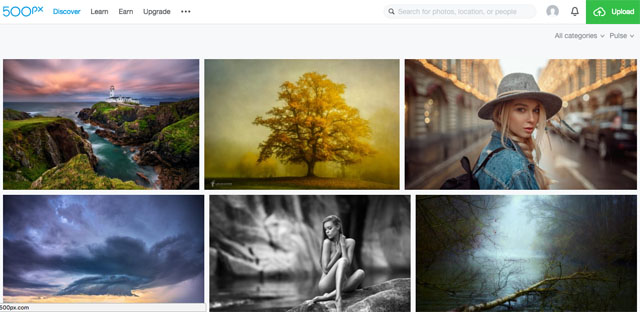 This sleekly designed site is all about its striking photography. You'll find no family pics or collections of vacation snaps on 500px; instead, there are highly edited shots of landscapes, animals and beautiful people, displayed in a minimal, endlessly-flowing grid.
Regular contests (at press time, Reflections was active) means there's usually plenty of artistic inspiration available to browse, too – and prizes to win.
You can upload pictures from your computer, iPhone or Android phone, or import them from Dropbox, Facebook, Instagram and more. You can add keyword tags to make your photos easier to find. iOS users additionally have the RAW by 500px app for editing and licensing photos.
500px also offers a great Galleries feature for curating your favorite photos on the site into personal collections that can be private for inspiration, or public to display a visual style. You can also browse through dozens of themes, including Urban Exploration, Still Life, and straightforward categories such as Animals. Tapping on the Pulse category displays the "best" photos – decided upon by an algorithm that tracks how many likes a photo gets as well as taking into account how active a member is and how meaningful their comments on others' photos.
For pro users, premium accounts come with a portfolio website for photos and videos. 500px also offers the chance to buy – or sell – photos as wall art or stock photography.
Cost of storage: Free for 20 uploads a week; For new users, $19.99/year for unlimited uploads and ability to organize photos into sets. At press time, there was also 10% discount on memberships for those signing up to the 500px newsletter.
Automatic photo sync? No
Do you need an account to view photos? No
Privacy control: You can upload pictures privately so that only you see them; otherwise they are publicly visible by default.
Full-size uploads/downloads? Yes
Shutterfly: Great for photo products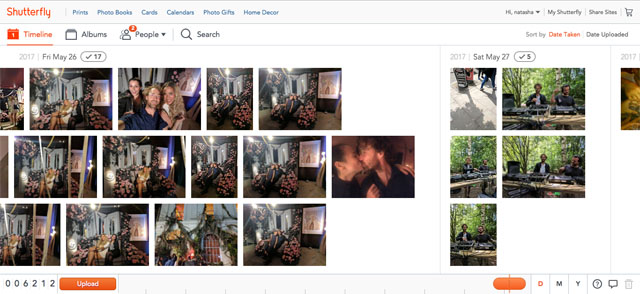 Shutterfly offers a creative range of photo gifts, including metal prints, wooden wall art and battery cases for smartphones. There's also the usual lineup of personalized stationary, calendars, photo books, crockery, blankets and cushions, as well as kiddy-oriented products like lunch bags, puzzles and books customized with your little one's face throughout their pages.
Even if you don't purchase any photo prints, Shutterfly is a good option for collating your photo collection online, as it offers unlimited storage with no restrictions on the size of photos uploaded and the ability to import pictures directly from Facebook, Instagram, iPhoto, Google+ Photos and Adobe Photoshop. You can also send pictures through iPad, iPhone or Android apps.
Shutterfly also took over one of our old favorites, ThisLife, folding in its ability to collate pictures from a range of online accounts: Facebook, Instagram, Flickr, SmugMug Photos, Google Photos. (However, one thing to note is that you can't select photos – Instagram is auto-import, while only option to import all from Google.) These photos can be viewed in your Shutterfly timeline, where you can further sort them into albums, or tag them with people or keywords for organization's sake.
You can also upload directly from Windows or Mac folders, and send pictures through iPad, iPhone, Android and Amazon Kindle Fire apps.
Once pictures are uploaded, you can send a link to the gallery via email, Facebook, Twitter or Tumbler for friends to view. Anyone who can view your album can also order prints of the pictures in it. For collaborative albums, you can create a "Share" micro-site for group members to upload photos and videos and share calendars, messages and polls.
Cost of storage: Free, with unlimited storage; signing up gets you 50 free prints, plus a magnet and address labels. You can also get unlimited free 4x4 and 4x6 prints ordered via the app.
Automatic sync? No
Do you need an account to view photos? No
Privacy control: Albums are private by default and Share sites are limited to their members.
Full-size uploads/downloads? Yes
Google Photos: Great for auto-enhancement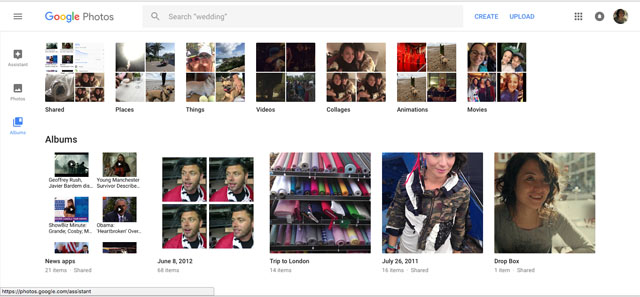 A lot of photo-sharing sites offer a slideshow feature, but Google Photos throws in some unique auto-create options for photos taken with an iPhone or Android phone.
If you enable backup as well as location in the Google Photos app, the Google magic gets to work organizing sets of photos it deems related. For example, if you take a set of similar photos—say, on burst mode—the Assistant feature turns the images into a mini-animation, viewable from the website or app. It can also create movies or collages out of photos snapped at one location.
This feature also organizes your photos by destination, so you can check out the snaps you took in your hometown, or cities or you visited on holiday, say.
(These features can be toggled off in Settings, under "Assistant cards".) If you're on an Android phone (OS version 4.3 or newer), there's an additional Movie feature that can pull together a mini-movie from photos and videos you select.
You can also upload photos from your smartphone or computer and manually create albums. Photos can be as public or private as you want, with the option to share photos, animations, or albums directly to contacts as well via messaging or social apps.
The photo viewer offers sharing and editing options, as well as a slideshow view.
Cost of storage: Free for unlimited photos at Google's downsized "standard" size, which is sufficient for web sharing, or 15GB of full-size pictures (storage shared with Google Drive and Gmail accounts); from $1.99/month for 100GB, up to $299.99/month for 30TB. Users on Google Pixel and Pixel XL get unlimited full-resolution uploads.
Automatic photo sync? Yes via iPhone and Android apps, option to sync to a private album via a desktop folder
Do you need an account to view photos? No
Privacy control: You can set the audience for the photo album and prevent others from sharing the album.
Full-size uploads/downloads? Yes, but full-resolution photos count against storage limit (except when uploading from Google Pixel and Pixel XL phones)
Zenfolio: Great for professionals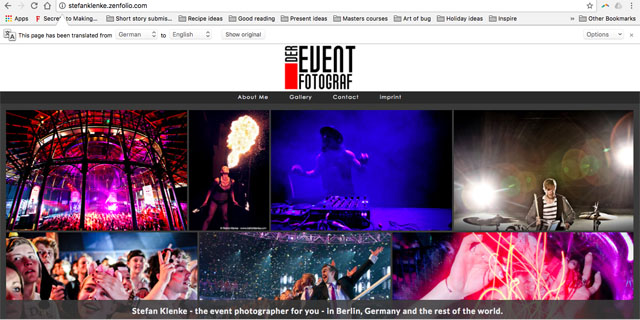 Built to host portfolios rather than photo feeds, Zenfolio offers sleek homepage layouts to show off your best images and a blog where you can easily upload photos and videos as you go.
There's file size is limited to 64MB per file, but there is no limit on the number of photos you can upload, so it's a good tool to store high-resolution images taken with a DSLR.
You can sort photos into galleries that have searchable descriptions and category and keyword tags. Photos can be viewed in an elegant slideshow, in which you control the background music and for the player's speed and transitions.
Zenfolio supports sharing to Facebook, Instagram, Twitter, Pinterest and Google+, as well as plug-ins to transfer pictures in from professional photo-management software, such as Adobe Lightroom and Aperture. You can order prints or photo gifts of your work – and for pros who want to sell their prints, there's the option to build in a shopping cart with credit card and PayPal support, as well guestbook and contact pages. Pro accounts can also add watermarks to their photos.
Cost of storage: From $60/year for unlimited storage; from $240/year to add selling features. Free trial available
Automatic photo sync? Yes, with the Zenfolio apps for iPhone/Android
Do you need an account to view photos? No
Privacy control: You can add a password to a gallery to keep it private
Full-size uploads/downloads? Yes
Instagram: Great for social sharing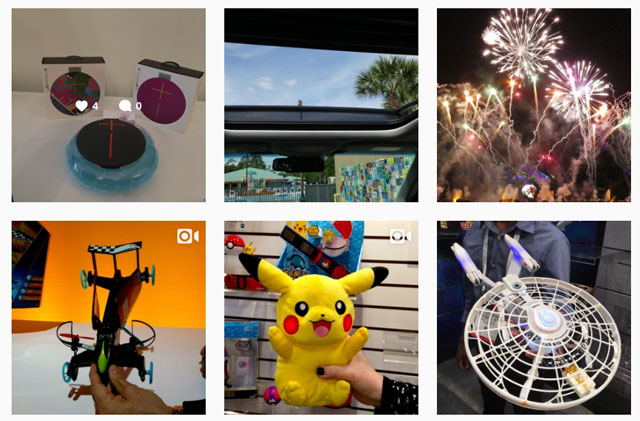 If storing your photos is less important than sharing them with followers across the globe, Instagram is the answer. The wildly popular app for Android and iOS doesn't have much of a desktop presence - although it is possible to browse photos at its website – but any photo you post from your smartphone is saved online forevermore.
You get unlimited photo uploads as well uploads of videos between three and 15 seconds long – although since photos are compressed, it's not the ideal place to store pictures you may want to print out later.
Of course, Instagram's killer app is its dozens of filters, from old-timey black and white to vintage high-colors and moody contrasts. There are also several intuitive sliders to adjust shadows, highlights, focus and more, while the Layout add-on lets you create collages.
You can tag your followers in pictures and captioning images with hashtags to help people outside your existing circles find your pictures. For example, a well-tagged sunset pic of your favorite beach can help you connect with other lovers of dusk and sandy locales.
Though Instagram is designed to be a newsfeed of photos from people you follow, you can view a person's entire photo history – and your own – by clicking on the profile tab. Along with 'heart'ing others' pictures, you can save the most inspiring ones by hitting the "ribbon" icon – you can browse these later from your own profile tab.
Cost of storage: Free, with unlimited uploads (at compressed resolution)
Automatic photo sync? No
Do you need an account to view photos? Yes
Privacy control: You can set your account to be viewed by approved followers only; otherwise, anybody with an Instagram account can see your pictures
Full-size uploads/downloads? No; but you can use external service Instaport to download all your pics to your hard drive
Keenai: Great for Multiple Cameras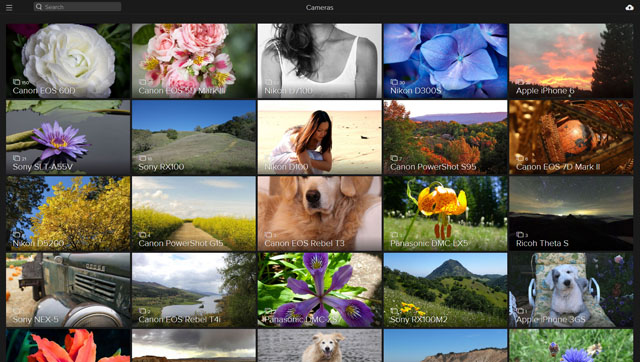 If you take photos on your smartphone as well as a digital camera (or two) – and those cameras happen to be Wi-Fi-enabled – Keenai www.keenai.com is a cloud service that lets you back up full-resolution photos, RAW files and 360-degree images, plus videos from multiple devices. Once a picture or video is backed up, it's viewable from all devices associated with your Keenai account.
Facial recognition and smart keyword tagging help organize fast photo collections (and helps with finding that one picture you know you took). You can create albums comprising both photos and videos from all your cameras to relay tales in full glory. Pictures can be shared to Facebook and Twitter, as well as via email.
On the web app, you have some more sophisticated organizing features. For example, along with viewing events by day, you can divide a day into separate events, or merge a multi-day photo bonanza such as a wedding into a single event's album. Keenai automatically sorts images by date taken, hour of day, shutter speed, ISO and exposure mode, and the Discovery dashboard parses it all so you can see stats like your favorite shooting modes and times.
Don't have a Wi-Fi enabled camera? Keenai currently supports Wi-Fi enabled SD cards including the Eye-fi Pro card (16GB/32GB) and the Toshiba Flash Air W-03 (16GB/32GB), which have a built-in Wi-Fi network that lets you transfer image and RAW files from any camera to a phone, tablet or desktop paired to the SD card.
Cost of storage: $4.99/month with unlimited photo uploads, and up to 300 videos of up to 15 minutes per month; 30-day free trial.
Automatic photo sync? Yes
Do you need an account to view photos? No
Privacy control: Only those you email album links to can view them
Full-size uploads/downloads? Yes
Canon Irista: Great for collating diverse sets of photos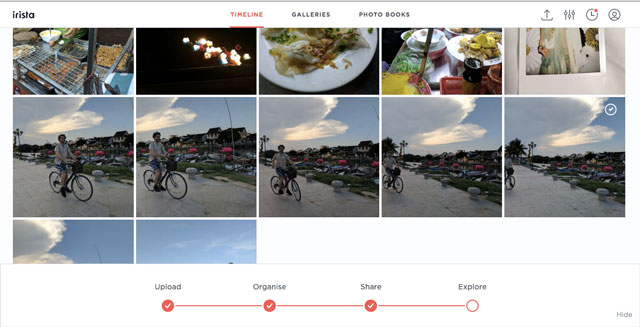 For gorgeous galleries of photos pulled from Facebook, Flickr and Google Photos, along with your smartphone and camera, look no further than Irista, a free-for-15GB cloud storage operated by Canon – but open to all.
Photos, including RAW files, are uploaded in full resolution to a chronologically ordered Timeline, from your social accounts, iOS/Android app or direct from desktop where your camera images may live. Some basic smart tagging such as "Celebration" or "Portrait" helps sift through images, or you can add your own keyword tags. You can also sort through images by camera model, lens or aperture.
Photos can be organized into galleries that can be downloaded (in full-resolution) or shared via a link, or printed in hardcover photo books ranging from 24 to 100 pages, with layflat binding for coffee table viewing.
Cost of storage: Free for 15GB; $2.25/month for 100GB; $12.99/month for 1TB
Automatic photo sync? Yes, from social accounts.
Do you need an account to view photos? No
Privacy control: Only friends with the link to the gallery can view it; however, there's no password protection
Full-size uploads/downloads? Yes
Updated on 6/2/2017 with new top picks
[family views photos via Shutterstock]
Discussion