We've all been there, back from our two-week vacation and stuck with a gazillion photos, many of which are either duplicates or so bad they're essentially useless. Or we've simply neglected to keep our hard drive, memory card or phone storage litter-free because … we get it, work and life can get pretty hectic and photos accumulate easily.
The problem now is carving out a couple of hours, possibly more, to sort through everything. You not only need to manually separate out the best shots, but you also have to organize everything, tag all the photos to make searching a breeze and create a backup in case something happens to your original files.
Or you can use a photo organization tool that will do most of the work for you.
These days, photo organizing apps have risen to a new level of sophistication, making sense of your pictures, using intelligent image recognition to automate tagging and duplicate deletion, backing up to your cloud storage and even providing basic photo editing. And they will make your job a whole lot easier.
We've narrowed down your choices by picking out the top options for your smartphone as well as your computer, highlighting their best features and prime uses. You'll be organizing your photos like a pro in no time.
Best tools for your smartphone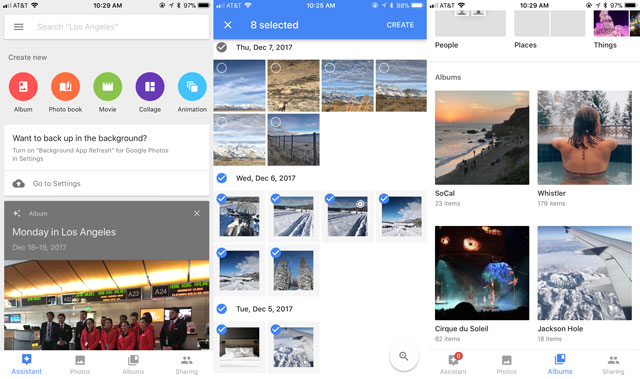 Google Photos
In keeping with its tradition of producing web-based programs that are free, streamlined, user-friendly and mind-blowingly efficient, Google released its own photo storage and sharing service in May 2015. Weeks later, it was declared by many to be the best photo-organizing tool out there.
We don't disagree. Google Photos has a number of aces up its sleeves, including unlimited cloud storage, an option for automatic backup and uploading, easy sharing and multi-platform syncing, simple creation of albums and slideshows, multiple photo selection, GIFs creation and duplicate detection.
And that's only the beginning. This is the ultimate photo organization tool, and its top features include highly effective image recognition to automatically apply appropriate tags, which in turn makes searching for specific photos effortless. Google Photos recognizes not just faces, but also photo contents — for example, photos with cats will be assigned the "cat" tag so the next time you're looking for a specific photo with a cat in it, you can find it simply by searching for "cat."
No more scrolling through hundreds of images to find one photo.
Price: Free for Android and iOS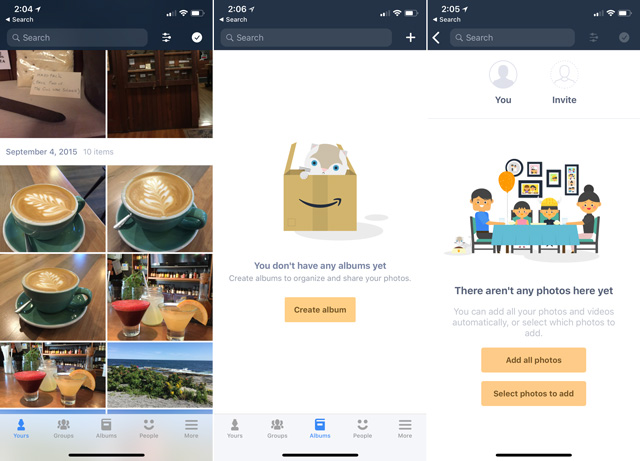 Prime Photos
While Amazon's photo storing and organization feature isn't as comprehensive as Google's — and its unlimited photo storage is only available for Amazon Prime members — the service has a few things going for it. First of all, users have multiple upload options available to them: through the Amazon site, with the Desktop app and with the mobile app.
Another cool feature is the Family Vault, which lets you add up to five people (whether they're Prime members or not) to your vault. Each member (six, including you) can add photos and videos to share with everyone. Prime Photos also uses image recognition to tag photos, organize them based on the faces of the people in them and make searches a lot easier.
Obviously, it doesn't come close to Google Photos' intricate system. But Amazon's service is perfect for non-professionals and casual shooters who just need a place to safely store and share their photos.
Price: Free for Amazon Prime members

Slidebox
You can't help but appreciate the ease of using Slidebox, which is essentially what it sounds like. It doesn't have its own storage — it uses your smartphone's — but it does make it simple to delete photos you don't like. If you're looking for a quick way to clear up some space, this might be the photo-organizing tool for you.
Slidebox displays every photo in your library so you can scrutinize each image individually. Then you can swipe left or right to navigate through photos, swipe up to delete one, tap "Sort to Album" to add a photo to a specific album, tap to create an album or hold a photo to share.
The fact that you have to intentionally swipe up to "delete" (instead of just mindlessly swiping left/right) means that accidental deletion is minimized. And even if you do accidentally delete a photo, it's still retrievable. It merely goes into Slidebox's trash folder, which you can go into to restore photos you've changed your mind about.
Price: Free for Android and iOS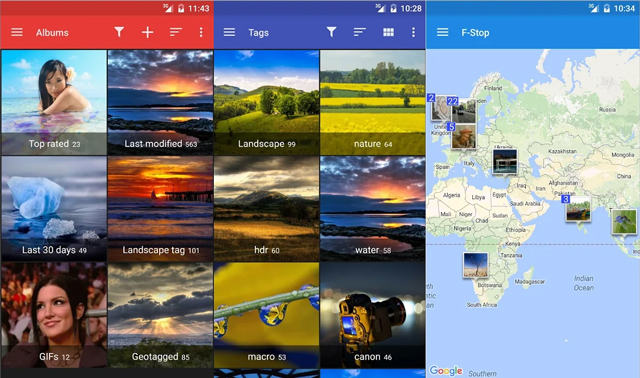 F-Stop Gallery
Here's an app that's great for Android users looking for some basic help. Though F-Stop Gallery isn't as powerful as Google Photos — it doesn't, for instance, use image recognition, automatic tagging and duplicate detection/deletion — it does provide a venue for organizing photos with ease. If you aren't comfortable with automated sorting and prefer the more hands-on approach, this tool is perfect for you.
To start using the app, however, you must let it do a deep scan, which can be a long process because it parses every photo and gathers all the information available, including tags, date taken and ratings. But once the scan is done, you're good to go. You can organize photos into albums, add more tags and create nested folders.
F-Stop Gallery's best feature yet is the Smart Album. It's essentially creating an album based on simple rules you dictate. For example, you can create an album based on the tag "Africa," and the app automatically adds all photos and videos with that tag to the album. There's some automation there, but you're in control.
Price: Free for Android but with in-app purchases
Best tools for your computer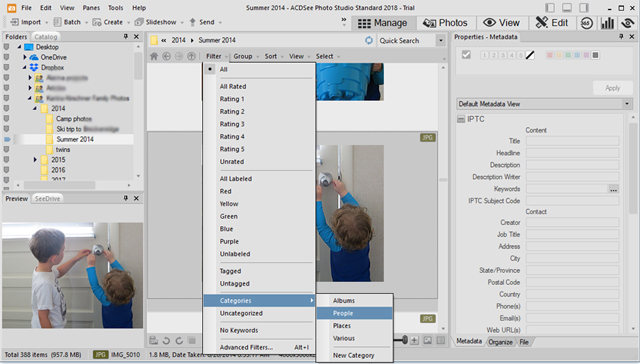 ACDSee Photo Studio Standard
In the category of photo organization tools for desktops and laptops, ACDSee takes the lead. This tool is not only powerful — it's also very flexible, offering users several options to organize images so they can choose whatever they're most comfortable with. You can rate photos, color code them, add categories and labels. Best of all, it's intuitive and extremely user-friendly.
At $40, the Standard version is more than worth the price as this is a professional's tool. You can import your photos directly from cameras and memory cards, and it supports 86 file formats. It also allows you to apply ratings, tags or keywords, geotags, color labels and categories. Plus, it lets you process batch images with ease as well as create folders, sub-folders and slideshows.
As for photo handling, ACDSee Photo Studio allows basic photo editing, so you can make fast edits while you're doing some organizing. To speed things up even more, you can edit multiple images at the same time.
Price: Starts at $39.95 fon ACDSee.com, free trial version available

CyberLink PhotoDirector 9
While CyberLink's PhotoDirector 9 is best known as an excellent photo editor, we adore its photo management capabilities. Like Google Photos, this tool automatically identifies faces in photos, then organizes them so you can easily find them later. It also supports color labeling and star rating, slideshow creation and direct upload to Facebook or Flickr.
One of the coolest things about PhotoDirector 9, however, is its Video-to-Photo Face Swap feature, which lets you create the perfect group photos by using the video to create a still image where everyone in the photo is smiling and not blinking awkwardly.
Other cool features include GIF creation and producing motion stills, which are essentially still photos with moving elements. This program starts at $45, but seeing as you also get a myriad of photo editing features, it's a bargain. Once you start using it, it'll be hard to look back.
Price: Starts at $44.88 on Amazon, free trial version available on CyberLink.com
Apps to help you choose which photos to keep
One feature that's not always available in many photo organization tools is the automated curation of badly-shot photos and duplicates.
On one hand, the feature can save you the trouble of sorting through photos that are more likely to be bad anyway. On the other, while the photo might contain elements that conventionally make a photo lower-quality (blur, underexposure, etc.), that doesn't necessarily mean that the photo itself is bad. Additionally, even if a photo is blurry, there's still a possibility that it can be fixed.
It's the same case with duplicates. We all take several photos of a single scene to ensure that among them, we get the perfect shot. Many of us would rather decide for ourselves which photos we'd like to keep.
Luckily, there are tools that handle such photos without resorting to deletion … at least, not immediately. Google Photos, for example, let's you long-press a "bad" photo to archive it and "hide" it from view until you decide what to do with it. Its Assistant also makes suggestions on which photographs to archive — photos of documents and license plates, for example. And when you're ready to delete, check out one of these apps with automated curation to help you through the process of discarding photos you don't need.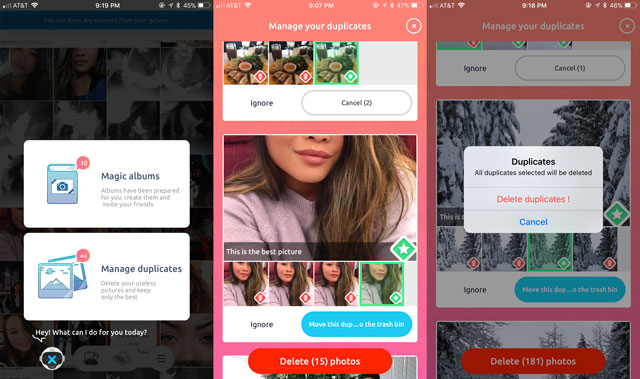 Zyl
Zyl is all about managing duplicates. This app studies your smartphone photo library to detect duplicates, displays those duplicates for you to examine, makes suggestions on which photos to delete and which to keep and then lets you decide. You can choose whether to trash the duplicates and keep the best photo, or just ignore the suggestion.
This photo-managing app doesn't have a lot of other features; the only other one it offers is Magic Album, which automatically groups photos together, apparently based on the dates they were taken, and then suggests putting them in an album. It also allows you to name that album or merge it with the album above or below it.
This Magic Album feature is nifty and simple, which many will appreciate. However, it's the managing duplicates feature that's most useful. It also helps that Zyl does a pretty good job at detecting similar images — even if they're not identical — and then picking the best photo of the bunch. It's usually spot on.
Price: Free for Android and iOS

Photoshop Elements
Photoshop Elements 2018 boasts an AI-type functionality that works with the Smart Tag feature and analyzes every photo based on image quality (exposure, composition, sharpness) and subject. It then gives you a considerably shorter list of the images it's deemed the best.
Elements doesn't give you as much control as Zyl does, but it does let you dictate how many photos you'd like to get back in the results. From there, you can manually choose the photos you're happiest with. It makes sorting easier, as it handles the early screening process and gives you fewer photos to examine. Additionally, it lets you merge two similar portraits when one of the subjects in one photo has their eyes closed.
If you're a non-professional looking for help finding your best shots, this tool is incredibly useful. And Elements has great photo editing tools too (see an overview in our story).
Price: $69.99 on Amazon, free trial version available on Adobe.com
[Image credit: camera photo apps via BigstockPhoto, screenshots by Techlicious, Adobe]