We may earn commissions when you buy from links on our site. Why you can trust us.

The Best Smart Pet Feeders
Lately, a new breed of pet feeders has made its way to the market. They offer the usual functions of giving treats and providing meals but have extra features to make your life as a pet parent easier.
You can check in on your pets while you're away, and interact with them to keep them from getting lonely and to keep them on their feeding schedule if you're delayed. In short, these new feeders deliver the peace of mind that comes with knowing that your pet is doing well.
Top pet feeders and treat dispensers
Here are our top picks for smart pet feeders — both those that deliver full meals and feeders that just offer treats.
Best overall: WOpet automatic pet feeder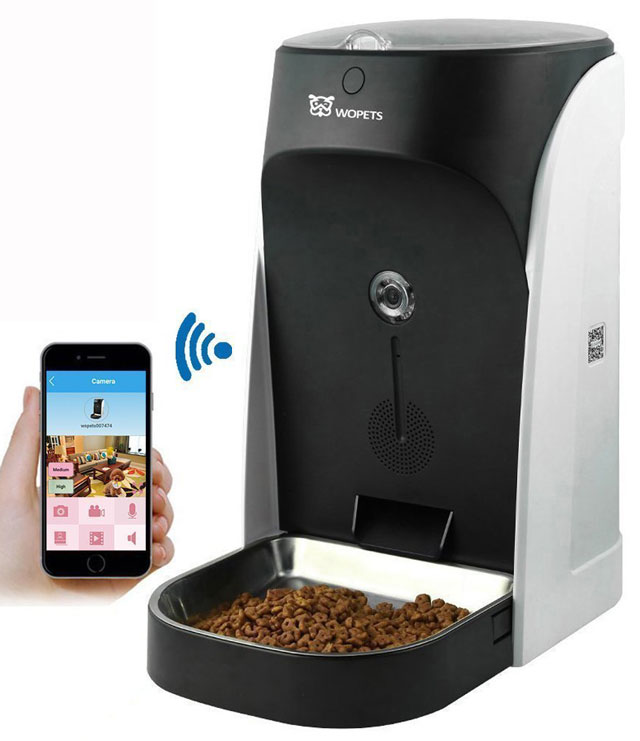 WOpet's automatic pet feeder goes beyond meeting your basic needs — offering different serving sizes, the ability to schedule feedings at any time of day and remote access via your smartphone. The WOpet smart feeder gives you more flexibility than other feeders: You can schedule up to four meals a day at any time you want, as well as start a manual feeding remotely. And you can determine the size of each meal in servings of between 1 and 10 portions of 24 ml each — a level of granularity not found in most feeders.
With this level of control, you can maintain your pet's regular eating habits when you're away instead of having to adjust to the limited preset intervals and portions of other pet feeders. And the app for creating the feeding schedule is easy to use.
The WOpet also comes with a 120-degree HD camera to record your pet and lets you play back pre-recorded messages at mealtime.
Hopper capacity: 17 cups
Food type: Dry
Serving options: 24 ml, up to 10 portions
Smart home compatibility: None
Scheduling: Up to 4 meals/day any time of day
Manual feeding: Available
Power: AC power adapter, 3 D batteries
Extras: Camera, voice, removable storage and feeding tray
Price: $129.99 on Amazon (as of 5/14/2018)

Best for wet food: Feed and Go smart pet feeder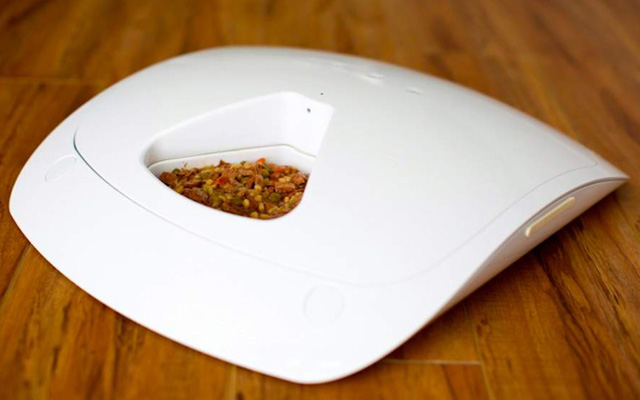 Designing a wet food dispenser brings a unique set of challenges, the biggest of which is figuring out the best way to store the food without sacrificing freshness. Feed and Go has come up with a simple, if basic, solution — storing an ice pack underneath the food to keep it fresh.
Feed and Go designed their six-compartment (thus, six-meal) smart pet feeder with an airtight lid so that each eight-ounce meal, wet or dry, is kept fresh. There are no extra steps. You simply fill up the compartments and then replace the lid. You can also use the compartments for medication or treats.
Beyond meal dispensing, the Feed and Go has a built-in camera with 320 x 240 resolution, a voice recorder so you can prerecord yourself calling your pet to meals, and an app that lets you access the camera and schedule feeding time down to the minute.
As far as wet food dispensing goes, Feed and Go is currently the best you can get.
Hopper capacity: Six 23-ml compartments
Food type: Wet, dry
Serving options: 236 ml per compartment
Smart home compatibility: None
Scheduling: Any time of day
Manual feeding: No
Power: Power plug with USB cable
Extras: Camera
Price: $99.00 on Amazon (as of 5/14/2018)

Best design: PETKIT Fresh Element smart pet feeder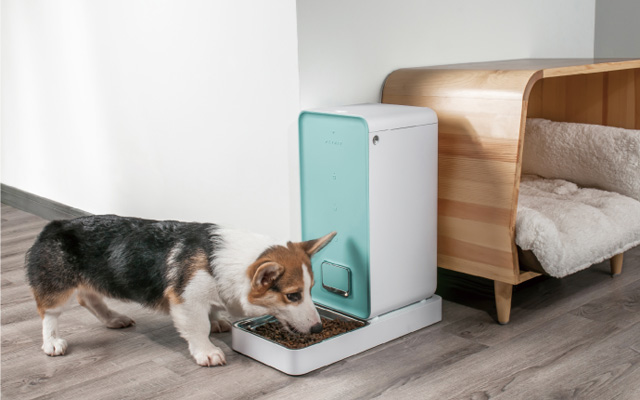 PETKIT Fresh Element's strength is in its design, both aesthetically, with its sleek, aqua-on-white casing, and mechanically, with its three-way self-adaptive wheel system. This system boasts an oscillating bar at the top to even out the food in the hopper, and a spring check-board and silicone impeller to distribute the output. These three things work together to prevent kibble from getting stuck inside and piling up. There's also a backup infrared sensor to ensure that food release follows the feeding plan.
Fresh Element has a weight sensor that tells you when the food quantity is low and a soft silicone sealing ring at the hopper door to keep the food fresh. A sensor at the outlet door makes sure it doesn't shut if your pet's paw or nose is at the opening. And the app lets you customize your pet's meal schedule and portions.
Hopper capacity: 6.78 liters
Food type: Dry
Serving options: 24-960 ml per meal
Smart home compatibility: None
Scheduling: Any time of day
Manual feeding: Yes
Power: Power plug, 4 D batteries
Extras: Removable bowl, low quantity alert
Price: $199.00 on Amazon (as of 5/14/2018)

Best for cats: Petdiary Automatic Cat Feeder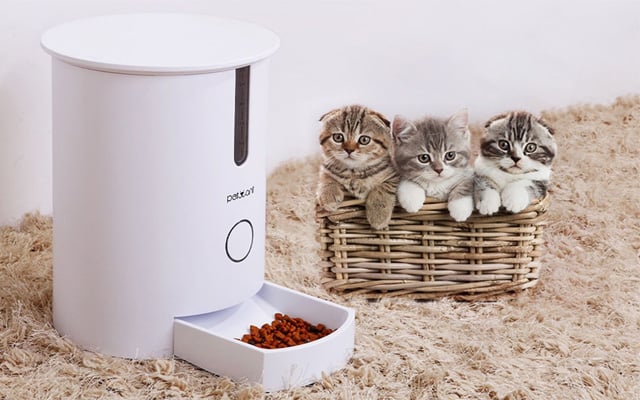 If you're looking for a smart feeder with smaller portion sizes, Petdiary Petwant has you covered. You can schedule meals and snacks in sizes as small as 12ml up to six times per day or dispense food at any time with the Petwant app.
The feeder is generally pet-proof, including a locking top lid, to prevent your pet from overfeeding. And cleaning is easy: the lid, hopper and bowl are all top-shelf dishwasher-safe.
Hopper capacity: 2.8 liters
Food type: Dry
Serving options: 12-60 ml per meal
Smart home compatibility: None
Scheduling: Up to 6 per day plus remote feeding anytime
Manual feeding: Yes
Power: Power plug, 3 D batteries
Extras: Removable bowl, low quantity alert
Price: $99 on Amazon (as of 5/14/2018)

Best for playing with your pet: Petcube Bites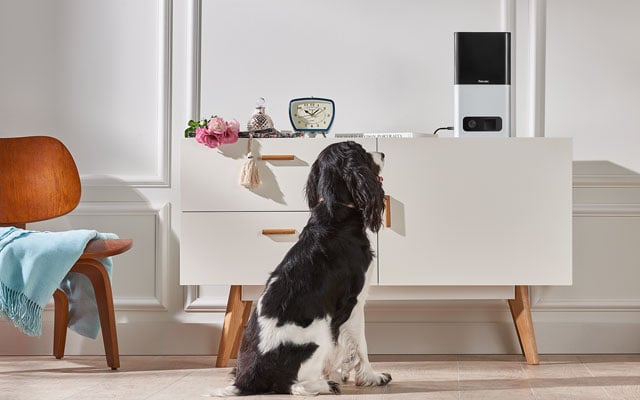 There's a lot of fun to be had when you've got Petcube's Bites. Set it on a stable surface or mount it on a wall (mounting accessories are included), and this treat dispenser will help you and your pet reconnect when needed. After all, Petcube was started because founder Alex Neskin wanted his chihuahua to feel less lonely and anxious while he was at work.
Petcube Bites' main function is to dispense treats whenever you want. With its feature-rich app, you can activate this pet feeder's 1080p HD video camera with 138° wide-angle view and night vision as well as its two-way audio to check in on your furry friends, get their attention or just let them know you're thinking about them. You can even record photos and videos to your heart's content.
To give out some well-deserved goodies, just swipe your finger to tell the treat dispenser to work its magic. A cool feature is that you can fling the treats up to six feet away in arcs of varying degrees, which is amazingly useful when you've got several pets and you want to spread the wealth.
Petcube Bites is also Alexa-compatible, which means you can enable the app on your Amazon Echo and, when you're at home and feeling lazy, have Alexa deliver the treats. Add more functionality by pairing it with the Petcube Play, which not only comes with HD video and two-way audio but also has an interactive laser. And if that isn't enough, you can connect to the Petcube network so you can play with and "visit" other users' pets.
It's well built, effective and one of the best. Your dogs and cats will never be lonely again.
Container capacity: 100 treats
Food type: Treats
Serving options: Several pieces, depending on treat size
Smart home compatibility: Amazon Alexa
Scheduling: None
Manual feeding: Any time of the day
Power: Power plug
Extras: Camera, removable container, two-way audio
Price: $149.99 on Amazon (as of 5/14/2018)

Best for dog-driven play: Furbo Dog Camera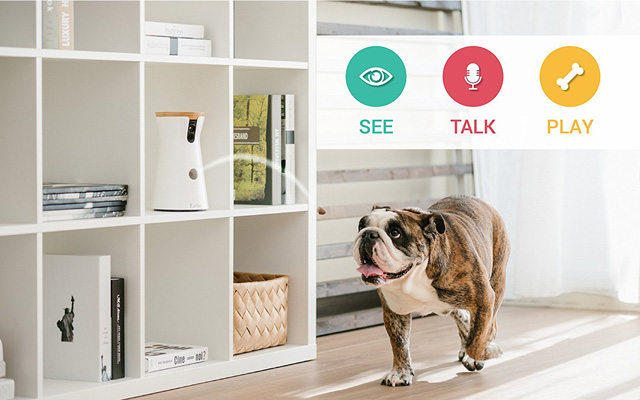 If you're looking for a way to connect with your canine friend throughout the day, the Furbo Dog Camera is a great option to consider. It has a wide-angle HD camera with a 4x zoom, night vision and two-way audio, so you can see what's going on and communicate with your pet.
Smart Dog Alerts notify you when your dog is active, when she's facing the camera or when a human is nearby. It also has a sensor that detects and will send you an alert when your dog barks. You can customize this feature according to your preference so you don't get inundated with alerts.
Additionally, the Furbo works with Alexa, so you can do some hands-free treat-tossing when you're at home or schedule one before you leave.
Container capacity: 100 treats
Food type: Treats
Serving options: One per toss
Smart home compatibility: Amazon Alexa
Scheduling: Any time of day
Manual feeding: No
Power: Power adapter with USB cable
Extras: Camera, Smart Dog Alerts, barking alerts, two-way audio
Price: $199.00 with coupon on Amazon (as of 5/14/2018)

[Image credit: WOpet, Feed and Go, PETKIT, Petdiary, Petcube, Furbo
---
Discussion