The Best Video Doorbells
Techlicious editors independently review products. To help support our mission, we may earn affiliate commissions from links contained on this page.
Thanks to technology like WiFi doorbell cameras and digital peepholes, you don't need to open the door to see who's there. WiFi doorbell cameras let you reach for your smartphone or home phone when the doorbell rings to see a photo or live streaming video from your doorbell camera. And, digital peepholes let you see who's there at a glance via a digital display by your door.
When choosing the best video doorbell for your home, you'll want to assess your door answering needs. First, do you just want to see who's there when you're at home, or do you want to "answer" the door when you're away? If you just need to check when you're at home, a digital peephole viewer that mounts on your door to give you a large, wide-angle view of who's on your doorstep may be the way to go. Another at-home solution is a phone system that rings and shows you on your handset who's at the door.
If you need to see who's visiting your home when you're away or want to "answer" the door remotely, upgrade to a Wi-Fi-enabled video doorbell. These internet-connected doorbells let you see and speak to who's there, and they're also often motion-activated so they can capture and store video of visitors, even those who don't end up ringing the bell.
The final decision is whether to go with a battery-operated or wired solution.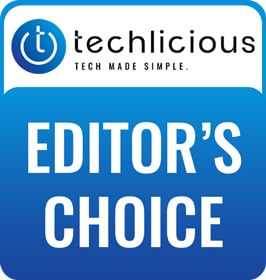 With all of these factors in mind, we found the best, most highly rated and reviewed doorbell cameras plus a digital peephole viewer to cover every video doorbell situation. Check out our picks below.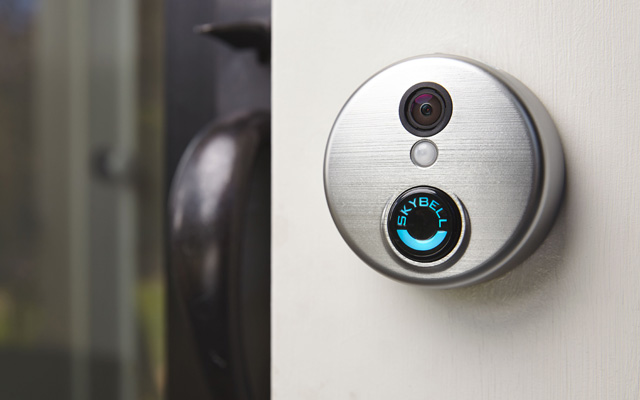 The best video doorbell: SkyBell HD
If you want to be able to "answer" the door from anywhere in the world, our pick is the SkyBell HD. This video doorbell has a full HD 1080p camera with color night vision and a 5x zoom, so you can get a good look at who's there day or night. When the SkyBell HD senses motion or someone rings the bell, it will start recording video. Two-way audio lets you carry on a conversation and while you're chatting, you can take a photo of your visitor, without disrupting video recording. And, you can activate the camera at any time to check out the live feed from your front door. If you don't want to be disturbed, say the baby is taking a nap, you can put the doorbell chime in quiet mode from within the app.
The SkyBell HD is our top pick for a few reasons. It has high-quality day and nighttime video that's among the highest rated for any video doorbell by professional and consumer reviewers. It's the only highly-rated product that records the seconds before an event, meaning you can see a persona as they approach your door — before they ring the bell. And the SkyBell HD provides the best value, offering free cloud-based video storage for up to seven days for free, no monthly subscription required. Other video doorbells require a subscription service for storing video.
The SkyBell HD installs with your existing doorbell wiring. You can choose from bronze or silver finishes.
Price: $199 at SkyBell, check price on Amazon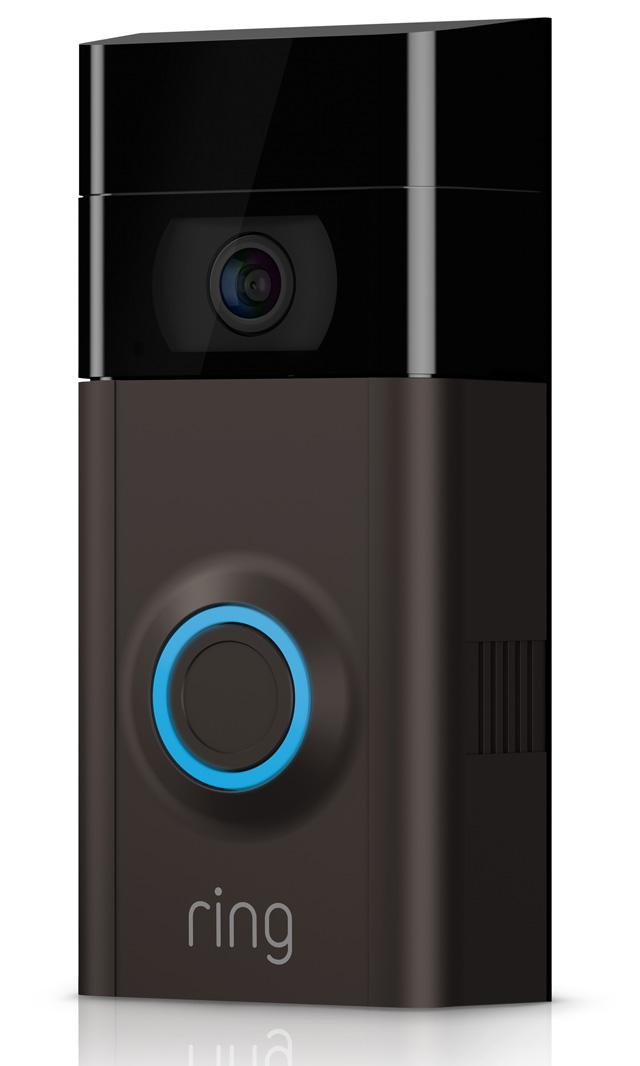 The best wire-free video doorbell: Ring Video Doorbell 2
The Ring Video Doorbell 2 uses Wi-Fi to stream live footage of whoever's at your door to your mobile device. Not only do you get to see who's at your door, but you can talk to guests via one-way video and two-way audio, even if you're not at home.
Set the Ring Video Doorbell 2 to detect outdoor movement in preset zones so that when a guest comes within the detection zone (which is as large as 30 feet), the Ring mobile app sends a ring alert to your iOS or Android device or your Mac or Windows 10 PC.
The Ring Video Doorbell 2 stays on the lookout even at night, thanks to infrared LEDs that help it capture video in the dark. Without a subscription, you can get alerts, live streaming and the ability to see and speak with guests. Automatic cloud storage requires a subscription to the Ring Video Recording at $3 per month or $30 per year. That covers up to 60 days of recordings, which you can download and share.
Of the wire-free video doorbells on the market, the Ring Video Doorbell 2 offers the high-quality video day or night, according to professional and consumer reviewers. It's the only highly-rated wire-free option with motion zones, so you won't be annoyed by false alarms triggered by passing cars or waving branches. And, it's very easy to install.
The Ring Video Doorbell's internal battery powers the device for as long as a year with normal use. Choose the built-in battery, or hook it up to your existing doorbell wiring. Choose from satin nickel or bronze finishes.
The Ring Video Doorbell connects to smart home devices through IFTTT recipes, so you can set recipes for a set of actions, like having your Philips Hue lights turn on when the Ring Video Doorbell senses motion at the front door.
Price: $169.15 on Ring (usually $199.00), check price on Amazon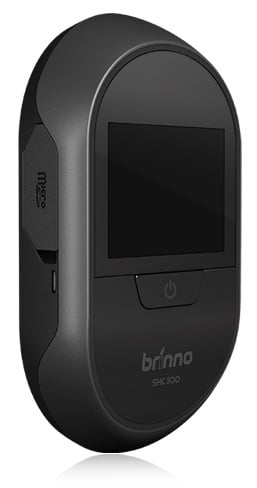 The best digital peephole viewer: Brinno SHC500K
Tired of having to peep through a small hole at your front door to see who's outside? The Brinno Digital PeepHole Viewer can do it for you. One tap displays the view on a 2.7-inch LCD panel — much more viewing area than you'd see through your peephole. The .3MP camera captures a 90-degree area of view or you can zoom into a 40-degree view and is activated by vibrations generated when someone knocks on the door. Each time the camera is triggered, it captures about 10 seconds of video.
The Brinno Digital Peephole fits any door between 1.10 and 2.28 inches thick. To install, simply replace your current peephole with the one in the kit, attach the display mounting bracket and pop on the display. Four AA batteries power the device for approximately 3,000 peeps. When the batteries run low, the Brinno PeepHole Viewer alerts you with a blinking red light.
Since this is a door-mounted solution, you'll still need to go to the display panel on the door to see who's there. But it beats peering through a narrow peephole.
The Brinno SHC500K is our pick because it's unique in coming with a vibration sensor, which triggers video recording even when you're not home. Plus, it's highly rated by consumers and fits a wide range of door thicknesses.
Price: $165, check price on Amazon.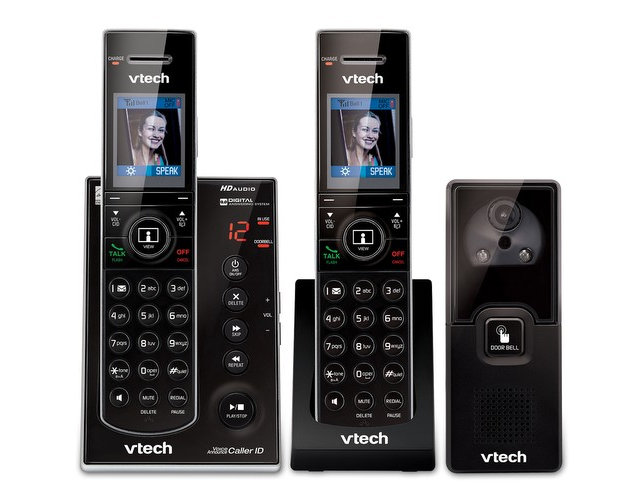 The best phone-base video doorbell: VTech IS7121-2 Handset Answering System
The VTech IS7121-2 is our top pick because it's highly rated and unique in combining a full-featured cordless phone and a doorbell camera intercom in one convenient system. The doorbell camera lets you see who's at the door by capturing a photo of visitors who ring the bell. The handset's 1.8-inch display is small, but you can pan and zoom or adjust the contrast to get a better view. Once you know who's at the door, turn on live video streaming to see more of what's going on, enable two-way audio to chat with your guest or enable both to engage in a quick video chat.
The VTech doorbell cam's night vision technology can capture pictures in low light. If you're not there, the doorbell camera takes a shot so you'll know who rang the bell when you weren't home. The visitor photo log holds up to 100 shots.
The system comes with the doorbell camera, up to five handsets, charging bases for each handset and one charging base with a built-in answering machine. The doorbell camera requires power and is meant to replace your existing doorbell ringer unit using your existing doorbell wiring.
The handsets use DECT 6.0 technology, the best cordless phone technology on the market for distance and call clarity. The handsets also feature Voice Announce caller ID, push to talk, Caller ID call waiting and an eco mode to conserve power when in close range of the base. The system can expand up to 10 handsets and two cameras.
Price: $119.95 on VtechPhones, check price on Amazon
[Image credit: SkyBell, Ring; Brinno; VTech]
Discussion