7 Products that Belong in Your Car Emergency Kit
Techlicious editors independently review products. To help support our mission, we may earn affiliate commissions from links contained on this page.
With the average age of cars on the road being 12.2 years old, breakdowns are more likely to happen. With these seven gadgets, you can be prepared for just about any car emergency. They're all highly rated and designed to help with everything from everyday problems, like flat tires, to life-threatening emergencies.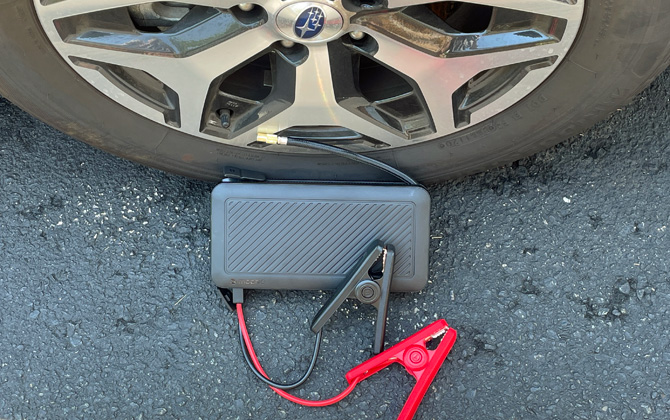 Jump start your car: Mophie PowerStation Go Rugged with Air Compressor
If your battery dies, the Mophie Powerstation Go Rugged will put you on the road again in no time (and it can charge your phone and inflate your tires if the pressure runs low, too!). It can charge cars, trucks, and boats with its built-in 15,000mAh battery as a jump starter.
The process of jump starting your vehicle is simple. Once you attach the included mini jumper cables to your car's battery, you'll see the vehicle battery voltage. The start button flashes green as it does a safety check. If you've attached the cables incorrectly, the start button will flash red. Once the start button is solid green, you can attempt restarting your car.
There is a USB-C cord built into the PowerStation Go Rugged for recharging your phone and other USB-C devices. Or, you can plug your own cable into the USB-A port.
The PowerStation Go Rugged comes with a 24-inch air hose and nozzles to inflate your car tire, balls, bike tires, pool flotation devices, and more. Set the desired air pressure, and the air compressor will shut off automatically when the pressure is reached.
There's also a light built-in, which can act as a flashlight or a red emergency light. All of the components fit into a convenient carrying case with clear instructions printed on the outside.
Price: $159.95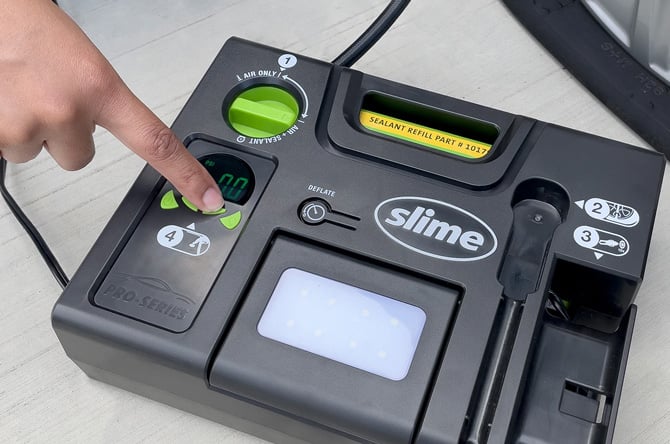 Fix a flat tire: Slime Pro-Series Flat Tire Repair Kit
If you're not in a rush and can safely change your flat tire or wait for help, it is better to get your tire fixed without resorting to using a sealant. Your mechanic will have to rinse out the sealant and make sure your tire pressure monitoring system sensor is clean. If left too long, the sealant can become a sticky mess. However, I recommend adding a sealant to your car safety kit because there are times you can't safely change your tire, or it's an emergency, and that's when the Slime Pro-Series Flat Tire Repair Kit can save the day.
Using the kit is simple. Connect the Pro-Series Flat Tire Repair Kit to your tire, plug the Slime into your car's 12V outlet, enter your tire's suggested pressure, and hit the start button. When the tire is fixed and inflated, the device automatically shuts off. It takes just about six minutes to repair punctures up to 0.25 inches and inflate the tire. Repairs last up to 3 days or 100 miles.
There's also a 350-lumen light built into the device, which you can tilt to light up your workspace. And the kit comes with nozzles for inflating and deflating toys and pool accessories, a needle for balls, and a Presta/Schrader adapter for bikes. So even if you never get a flat tire, you'll find a use for the kit.
Price: $99.99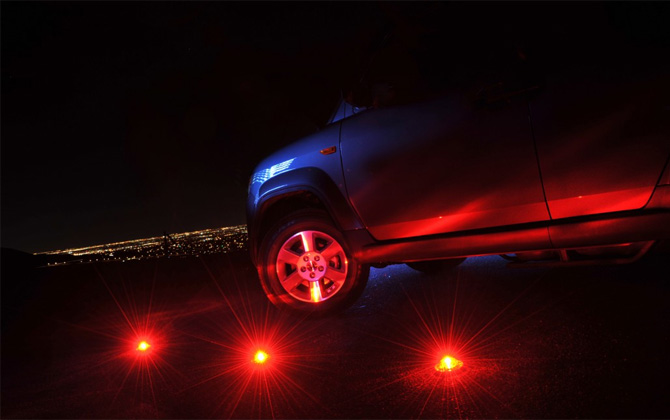 Stay safe on the side of the road: Stonepoint Emergency Roadside Beacons
Working on your car on the side of the road can be dangerous, especially in the dark. The highly-rated Stonepoint LED flares (4.5 out of 5 stars on Amazon with 1,000+ reviews) are visible for up to two miles, waterproof, and crush resistant (to 6,000 pounds): perfect for roadside use, no matter what the conditions. The beacons have two modes – flash and steady. In flash mode, the battery lasts for 60 hours on three AAA batteries, and in steady mode, the runtime is 20 hours. The magnetic base lets you stick the flares to the side of your vehicle for enhanced visibility.
Price: $24.95 for 3 beacons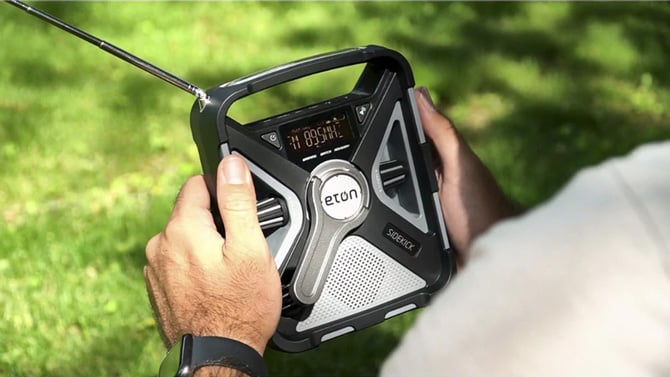 Stay on top of the weather: Eton Sidekick Weather Radio with Bluetooth
Bad weather can sneak up on you when you're on a long trip, but the Eton Sidekick Weather Radio will keep you up to date on current conditions with its NOAA weather alerts. The device has a 2,600mAh battery that powers the radio and recharge your phone slowly (5 watts) via its USB-A port. You can charge the radio's battery three ways – USB, the built-in solar panel, or the hand crank generator (four minutes of cranking generates enough power for 10 minutes of radio use if you keep the volume low). The radio has a large light built into the back and can be used as a red emergency beacon. It's IPX4 rated, so you'll want to keep it out of the rain.
Price: $99.99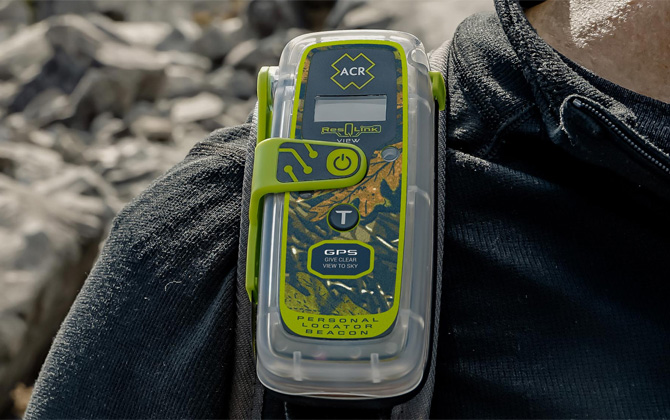 Get help whenever you need it: ACR ResQLink View Personal Locator Beacon
The waterproof pocket-size ResQLink View personal locator beacon uses GPS and a satellite link to contact emergency services with your location no matter where you are – no cell service and no subscription fee required. The battery lasts up to five years, awaiting activation, and 28 hours after you activate it for emergency use. It's a must-have for trips to remote locations.
Price: $389.95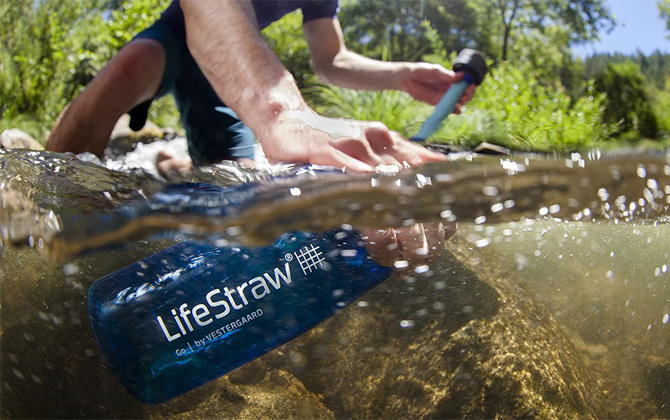 Find drinking water anywhere: LifeStraw Go Water Filtering Bottle
The LifeStraw Go is a water bottle with a filter that removes 99.9999% of waterborne bacteria and 99.9% of waterborne protozoan parasites from water. That means you can find fresh water just about anywhere. And, it's good for filtering up to 1,000 gallons! An additional carbon filter improves the taste and eliminates chlorine, sand, dirt, and organic matter, and lasts up to 26 gallons.
Price: $39.95 for a 22-ounce bottle



Escape an Accident: Lifehammer Safety Hammer Classic
The Lifehammer Safety Hammer Classic can break through car windows so you can escape from your vehicle when using the door isn't an option. And if the seatbelts have jammed, a super-sharp blade will slice through them. Don't just throw it in the glovebox. I recommend using the included mounts for the car door or middle console to keep the tool within reach of the driver. If neither mount works, there's also a generic mount with screws.
Price: $14.95


Updated with new products on 5/24/2022
[Image credit: broken down car via BigStockPhoto, Zagg, Slime, Stonepoint, ETON, ACR, LifeStraw, Lifehammer]
For the past 20+ years, Techlicious founder Suzanne Kantra has been exploring and writing about the world's most exciting and important science and technology issues. Prior to Techlicious, Suzanne was the Technology Editor for Martha Stewart Living Omnimedia and the Senior Technology Editor for Popular Science. Suzanne has been featured on CNN, CBS, and NBC.
Discussion