We've all been there: you're about to run out to meet friends for dinner, only to notice your phone is at 2 percent battery power. You don't want to bring a bulky portable charger with you, but you need a working phone. What are your options for getting your phone charged up fast with enough power to last you through the evening?
There are a few simple tips we have to speed up your charging time with your current charger and cables. And if you really want to juice things up, there are superfast chargers and cables that can take your phone to 50 percent charged in less than 30 minutes, instead of taking hours. But not all superfast chargers are created equal, and some can even damage your phone. We have our recommended choices for the best, fully-certified charging products below.
1. Turn off your phone while it's charging
Without Netflix or your favorite game sucking up processing power and your screen shut down, more juice goes where it's needed sooner. The difference in charging speeds, though, is small versus just having your phone on idle. So weigh the inconvenience of turning off your phone with slightly faster charging.
2. Lock the screen
Along with the phone processor, your screen is the biggest battery drain on your phone's battery. If you can't live with a turned-off phone, let your screen go black to get more power to the battery.
3. Make sure low power mode is on
When you hit a certain battery level, this handy setting for iOS and Android devices automatically dials back screen resolution, animations, background app refreshing, and other battery drainers. It may not offer a huge benefit when recharging your phone from near dead, but every little bit helps.
For iPhones, go to Settings > Battery and toggle on Low Power Mode.
For Android phones, go to Settings > Battery and toggle on Battery Saver. You may also find it in the pull-down quick settings menu.
For Samsung phones, go to Settings > Battery and device care > Battery and toggle on Power saving mode. You'll also find Power saving mode in the pull-down quick settings menu (pull down twice for the extended list of settings).
4. Upgrade your charger
The potential speed of your charger depends on how much wattage in can output. A regular charger will output up to 5 watts (remember those small white square iPhone chargers everyone had?). A fast charger outputs up to 15 watts, and a super-fast charger more than 15 watts. The more watts, the faster the charge, but only up until to reach the limitations of your phone. At the high end, the Samsung Galaxy Note20 supports up to 25-watt charging and the iPhone 13 Pro Max supports up to 27 watts. Most phones today range from 10 to 22 watts. Any charger outputting more than 30 watts would be overkill, and you're phone's circuitry will just limit the extra current to protect the electronics.
Annoyingly, many phones capable of fast charging, including the flagship Samsung and Apple devices, don't ship with a charger. So if you just pick up an old one you have lying around, chances are good that you aren't getting the fastest charging. If that's you, buying a new superfast charger and cable is one of the best purchases you can make.
Chargers from reputable brands are certified to work with phones to regulate the output and deliver just the power your phone needs. You'll notice that after getting to 50 percent charge, the rate of charging slows to protect your phone's battery. Knock-off or generic chargers can be made from cheap materials that don't ground electricity properly and leak charge, which can damage your phone's battery.
The following are my favorite wired and wireless chargers that are certified to keep your phone and other devices safe.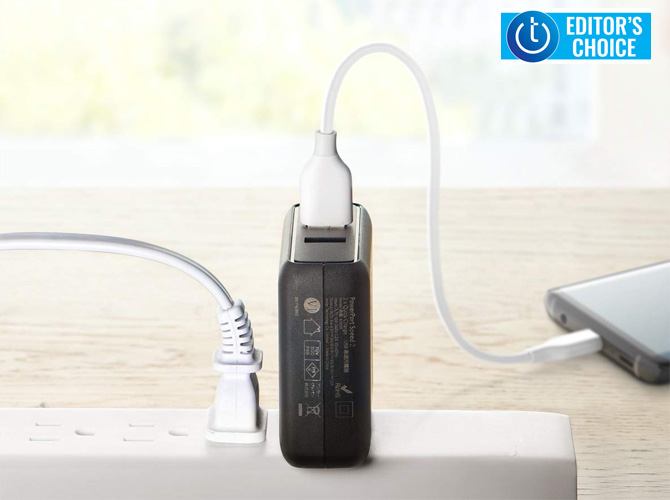 A superfast USB-A charger: Anker PowerPort Speed 2 Ports
These days there are two main types of cables: USB Type A (USB-A) and USB Type C (USB-C). The large USB-A connectors are rectangular with squared corners – they have been around for a while and are what you might think of as "standard" computer USB cable size. The newer and smaller USB-C connectors are rectangular with rounded corners. If you want to use your USB-A cables, I recommend the Anker PowerPort Speed 2 Ports, which supports Quick Charge 3.0 and can output 39 watts of power (up to 20 watts per port simultaneously). I also love the built-in smart light sensor that dims the LED power indicator when the lights are off, so you're not bothered by light while sleeping. Price: $25.99.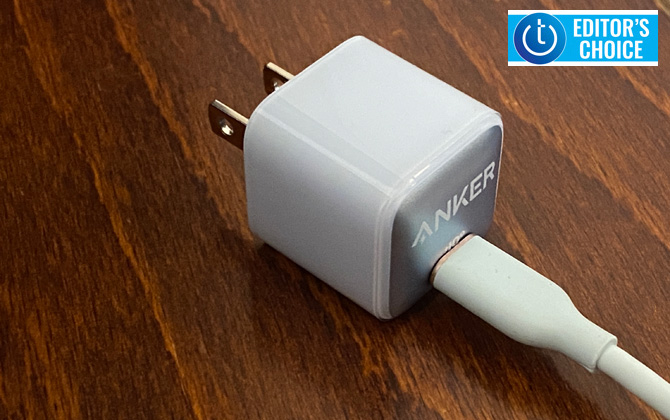 A superfast USB-C charger: Anker Nano Pro 20-watt
If you have an Android phone with a USB-C port (most do) or iPhone, your best charging option is a USB-C charger. You can get a 20-watt charger that's about the same size as an old 5-watt iPhone charger but charges three times as fast up to 50 percent charged.
I like the Anker Nano Pro 20-watt charger, which uses a new Gallium Nitride chip to stay cool while charging. The tiny charger also comes in four fun colors, Glacier Blue (shown), Cool Lavender, Black Ice, and Arctic White. Price: $19.99.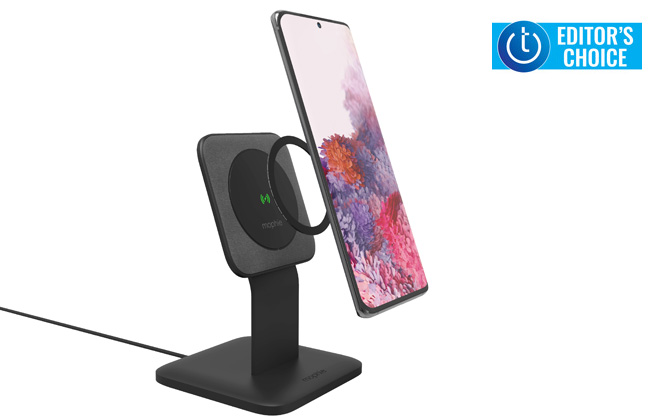 A fast wireless charger: Mophie 15W snap+ wireless stand
Many phones support Qi wireless charging. And while earlier phones couldn't handle more than around 5 watts, the most recent models, like the iPhone 13 Pro Max and Samsung Note20, support 15-watt wireless charging.
I like the Mophie 15W snap+ wireless stand, which, as its name suggests, delivers 15 watts of power to any Qi-enabled phone. The pad has magnets to hold iPhones with MagSafe in place. And if you don't have a MagSafe phone, the stand comes packaged with magnetic rings that you can attach to the back of your phone or case to hold your phone perfectly aligned for charging. The Mophie snap+ can charge through cases up to 3mm thick. Price: $59.95

A superfast car charger: Belkin Boost Charge 32W car charger
Just like you'll want a superfast wall charger, a car charger with the ability to deliver more than 5 watts is just as handy on the go. I recommend a charger that can support USB-C and USB-A for older devices to give you more flexibility to use whatever cable you happen to have with you.
My go-to charger is the Belkin Boost Charge 32W car charger. Its USB-C port can charge at 20 watts, while the USB-A port charges at 12 watts. Measuring a small 2.1 by 0.8 inches, you'll hardly notice it's there when not in use. Price: $29.99.


A superfast portable battery charger: Mophie powerstation wireless stand
Like wall and car chargers, you can pick up a portable charger with the ability to deliver a fast charge, though not quite as fast as their wired counterparts. Wired charging will max out around 20 watts and wireless charging at 15 watts.
What sets the Mophie's powerstation wireless stand apart from the competition is its flexibility. Folded flat, the Mophie powerstation looks like an attractive cloth-covered 8,000mAh portable battery pack (enough for around two full charges of your phone, depending on model). But built-in is a stand that you can slide out and tilt up to hold your phone at an angle. Place your phone on the stand for 10-watt wireless Qi charging or plug into the USB-C port for 18-watt fast charging. Price: $99.95.

5. Upgrade your cable
If you're not noticing faster charging with your superfast charger, it may be the cable. Just because your cable can plug into your phone and your charger doesn't mean that it is up to the task of fast charging. For USB-A cables, make sure they're USB-A 3.0 for the highest charging speeds. For USB-C cables, look for those that are certified for the charging speed of your charger, at a minimum.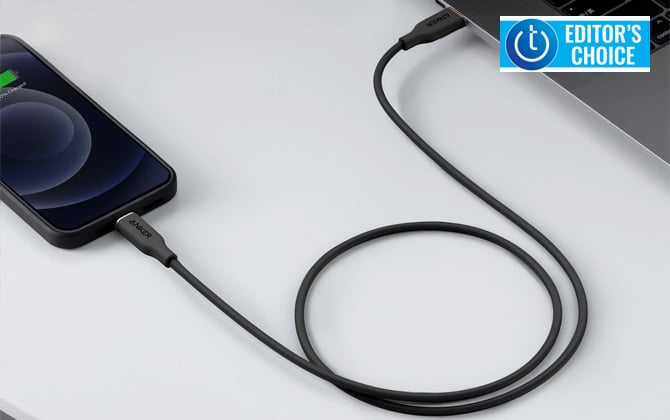 I like the Anker Powerline III Flow for USB-C to USB-C and Lightning to USB-C cables. They are rated up to 100 watts and, in my experience, they wear well, don't tangle, and come in attractive colors: pink, green, purple, white, and black. Price: starting at $19.99.

For USB-A 3.0 to USB-C and USB-A 3.0 to Lightning, I like the Anker Powerline+ III line of cables. They are rated up to 15 watts charging, and have a nylon braided outer layer that is tested to 35,000 bends. Price: starting at $19.99.

Updated with new picks and guidance on 10/14/2021
[Image credit: smartphone charging concept via BigStockPhoto, Zagg, Belkin, Anker, Techlicious]
For the past 20+ years, Techlicious founder Suzanne Kantra has been exploring and writing about the world's most exciting and important science and technology issues. Prior to Techlicious, Suzanne was the Technology Editor for Martha Stewart Living Omnimedia and the Senior Technology Editor for Popular Science. Suzanne has been featured on CNN, CBS, and NBC.