Choosing Between a Family Plan and a Shared Data Plan
Techlicious editors independently review products. To help support our mission, we may earn affiliate commissions from links contained on this page.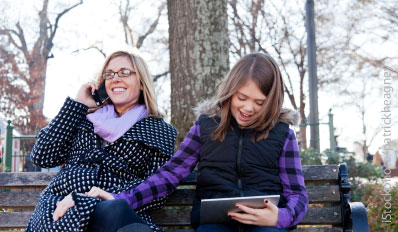 Between our smartphones, tablets and laptops, my family uses a lot of devices that connect to the Internet–inside and outside of our home. So would we be better off with a shared data plan, which gives us a big bucket of data to share between all of our various devices, or getting a separate data allowance for each line, which we would get with a traditional family plan? And which carrier is offering the specific combination of data and talk that best matches our usage?
It would be great if there were a clear answer, but it really comes down to how much time you talk on the phone versus the amount of data you consume. You probably know how many minutes you use, so it should be easy to narrow the choices to a talk-time cap or an unlimited plan, but calculating data is a little trickier.
According to NPD Connected Intelligence, the average Android user consumes about 870MB of their data plan per month. If you plan on using laptops or tablets, though, I would bump your estimate of future usage up to at least 2GB of data per person.
Ready to see which plan is for you? Below you'll find how the four major carriers stack up for a two-person and four-person household:
Two Person Plans

Carrier
Plan type
Minutes per line
Messages per line
Data per line
Monthly Fee
AT&T
Family Plan
550
Unlimited
3GB
$150
Family Plan
550
Unlimited
5GB with hotspot
$190
Family Plan
Unlimited
Unlimited
3GB
$210
Family Plan
Unlimited
Unlimited
5GB with hotspot
$250
Mobile Share
Unlimited
Unlimited
4GB shared
$150
Mobile Share (2 hotspots)
Unlimited
Unlimited
4GB shared
$190
Sprint
Family Plan
1500
Unlimited
Unlimited
$150
Family Plan (2 hotspots)
1500
Unlimited
Unlimited, 2GB hotspot per line
$190
Family Plan
Unlimited
Unlimited
Unlimited
$210
Family Plan (2 hotspots)
Unlimited
Unlimited
Unlimited, 2GB hotspot per line
$250
T-Mobile
Unlimited Nationwide 4G
1000
Unlimited
Unlimited (5GB high speed)
$150
Unlimited - Premium with Smartphone Mobile Hotspot Service
1000
Unlimited
Unlimited (5GB high speed)
$160
Unlimited Nationwide 4G
Unlimited
Unlimited
Unlimited (5GB high speed)
$160
Unlimited - Premium with Smartphone Mobile Hotspot Service)
Unlimited
Unlimited
Unlimited (5GB high speed)
$170
Verizon
Share Everything
unlimited
unlimited
4GB shared
$150
Share Everything (2 hotspots)
unlimited
unlimited
4GB shared
$190
Four Person Plans

Carrier
Plan type
Minutes per line
Messages per line
Data per line
Monthly Fee
AT&T
Family Plan
700
Unlimited
3GB
$240
Family Plan
Unlimited
Unlimited
3GB
$370
Family Plan (2 hotspots)
Unlimited
Unlimited
5GB with hotspot
$410
Mobile Share
Unlimited
Unlimited
10GB shared
$240
Mobile Share (2 hotspots, 2 tablets)
Unlimited
Unlimited
10GB shared
$300
Sprint
Family Plan
1500
Unlimited
Unlimited
$210
Family Plan (2 hotspots)
1500
Unlimited
Unlimited, 2GB hotspot
$250
Family Plan
Unlimited
Unlimited
Unlimited
$410
Family Plan (2 hotspots)
Unlimited
Unlimited
Unlimited, 2GB hotspot
$450
T-Mobile
Unlimited Nationwide 4G
1000
Unlimited
Unlimited (5GB high speed)
$210
Unlimited - Premium with Smartphone Mobile Hotspot Service
1000
Unlimited
Unlimited (5GB high speed)
$220
Unlimited Nationwide 4G
Unlimited
Unlimited
Unlimited (5GB high speed)
$220
Unlimited - Premium with Smartphone Mobile Hotspot Service
Unlimited
Unlimited
Unlimited (5GB high speed)
$230
Verizon
Share Everything
unlimited
unlimited
10GB shared
$260
Share Everything (2 hotspots, 2 tablets)
unlimited
unlimited
10GB shared
$320
Discussion