We may earn commissions when you buy from links on our site. Why you can trust us.

Chromebook Plus: A New Dawn of AI-Enhanced Computing
It's been over a decade since Google launched the first Chromebooks back in 2011, ushering in a new era of inexpensive cloud-based computing for consumers. With the new Chromebook Plus category of computers, Google is setting a new bar for performance. The new members of the Chromebook Plus family are not just a notch above the regular Chromebooks in terms of specifications. They are designed to support a suite of Artificial Intelligence (AI) driven features and capabilities that promise a more intuitive and powerful user experience.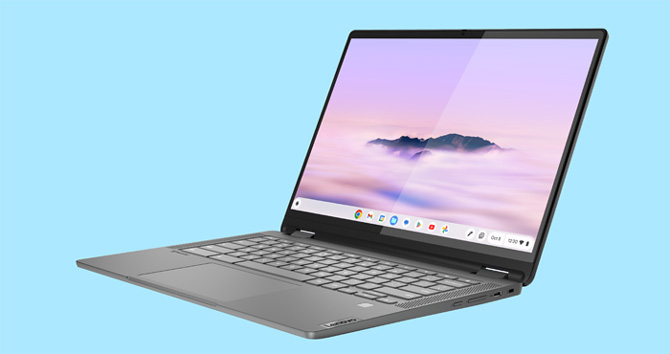 At the heart of Chromebook Plus is a substantial upgrade in hardware specifications. These models are powered by at least an Intel Core i3 12th Gen or AMD Ryzen 3 7000 series processor, setting a performance baseline that inexpensive Chromebooks can't match. The new Chromebook Plus models start at $399, whereas you can pick up a regular Chromebook for around $100. Accompanying this processor prowess is a minimum of 8GB RAM and 128GB storage, ensuring smoother multitasking and ample space for files and applications. The display quality hasn't been overlooked either; Chromebook Plus boasts a Full HD IPS or better display, offering superior resolution and color accuracy. The web camera is a 1080p+ model equipped with Temporal Noise Reduction, ensuring clearer video calls and recordings.
One of the main drivers for this new Chromebook Plus category is to support the integration of AI into everyday computing. For instance, there are OS-level AI video calling enhancements like improved lighting, live captions, and noise cancellation, which are designed to make video calls more engaging and less taxing. You'll also be able to customize the background blur in video calls.
Google is also making many of the AI-based photo editing features once reserved for Pixel and Google One customers available to Chromebook Plus users. You'll have access to Magic Eraser, which removes unwanted objects from your photos seamlessly, and the ability to add portrait blur to existing photos. For those looking for more professional editing tools, Adobe Photoshop on the web is now accessible and should run flawlessly on Chromebook Plus laptops. Google is also offering three months of Adobe Photoshop web app and Express Premium Android subscription as a perk for Chromebook Plus owners.
In a very welcome change, it will be easier to work offline with Chromebook Plus models, making them more usable on planes and other places with spotty WiFi. With larger hard drives and a new feature called Filesync, your files will automatically download from your Google Drive onto your Chromebook.
Google has four launch partners for Chromebook Plus: Acer, Asus, HP, and Lenovo. Each has a couple of models, and prices start at $399.
Acer Chromebook Plus 414 ($399)
Intel Core i3, 8GB RAM, 128GB storage, 15.6-inch display
Acer Chromebook Plus 515 ($449)
AMD Ryzen 3, 8GB RAM, 256GB storage, 14-inch touchscreen display
ASUS Chromebook Plus CX34 ($399)
Intel Core i3, 8GB RAM, 128GB storage, 14-inch display
ASUS Chromebook Plus CM34 ($499)
AMD Ryzen 3, 8GB RAM, 128GB storage, 14-inch touchscreen display
HP Chromebook Plus 15.6" ($499)
Intel Core i3, 8GB RAM, 128GB storage, 15.6-inch display
HP Chromebook Plus x360 14" ($699)
Intel Core i3, 8GB RAM, 256GB storage, 14-inch touchscreen display
Lenovo IdeaPad Flex 5i Chromebook Plus ($499)
Intel Core i3, 8GB RAM, 128GB storage, 14-inch touchscreen display
Chromebook Plus marks a significant milestone in Google's journey to bring AI to everyday computing. With a starting price of $399, these models, poised to offer superior performance and a host of AI-driven features, present a compelling option for people seeking more from their laptops.
Want to see what Microsoft is up to with its Copilot AI initiative? Read our story about how Microsoft is integrating Copilot into just about everything.
[Image credit: Lenovo]
For the past 20+ years, Techlicious founder Suzanne Kantra has been exploring and writing about the world's most exciting and important science and technology issues. Prior to Techlicious, Suzanne was the Technology Editor for Martha Stewart Living Omnimedia and the Senior Technology Editor for Popular Science. Suzanne has been featured on CNN, CBS, and NBC.
---
Discussion