Tablet Stands & Other Kitchen Accessories
Techlicious editors independently review products. To help support our mission, we may earn affiliate commissions from links contained on this page.
With the many cookbooks and recipe apps available for tablets, you may be tempted to bring your tablet into the kitchen and get cooking. But there's one snag: tablets don't fare well in the messy environment that often accompanies cooking, especially when you're cooking with young ones. And while the old saying tells you not to cry over spilt milk, you might find spilling milk on your shiny new iPad to be worth a few tears.
Fortunately there are solutions to keep your tablet safe and secure while still taking advantage of all of your favorite kitchen apps.
Stand (your tablet) up
The first thing you'll want is a good stand that will prop your tablet up securely so you can easily see your recipes while you're working. You may already have a stand (any stand to prop your iPad up will do), but if you don't, check out our favorite kitchen-specific options:
Belkin Kitchen Cabinet Tablet Mount
If you'd rather not take up valuable counter space, this mount attaches to the bottom of your kitchen cabinets to let your tablet float above your workspace. The mount is adjustable to fit tablets between 7 and 10 inches, meaning it will work with almost any tablet (including the iPad). And, unlike some cabinet mounts, this one doesn't require permanent installation: it's simple to attach to any cabinet or shelf and when you're done, it can be removed and folded up for out of the way storage.
Price: $49.99 on Belkin.com or $37 on Amazon.com.
Belkin Kitchen Stand for Tablets
However, if you have counter space to spare, this sturdy stand lets you easily prop your tablet at two different viewing angles (even if your tablet is in a case). And if you're worried about getting greasy kitchen smudges on your screen (which you should be), it also comes with a stylus for using your touchscreen without any mess.
Price: $39.99 on Belkin.com or $22 on Amazon.com
.
Belkin Fridge Mount for iPad
If you have an iPad (model 2 or later), this fridge mount is not only great for recipe reading, it also can display the family calendar, grocery list, daily weather and more. This stand sticks to your refrigerator, cabinets or anywhere else in your kitchen using 3M Command Strips for easy installation.
Price: $39.99 on Belkin.com or $23.98 on Amazon.com
.
Chef Sleeve Dishwasher Safe iPad Stand
Just a simple block with two slots to hold your tablet at different angles, this stand is about as simple as it gets. However, it distinguishes itself by being the easiest to clean, because you can toss it in the dishwasher without fear of damaging it. While it is advertised for the iPad, this stand should fit most tablets.
Price: $34.99 on Amazon.com
.
Protect your tablet from stains and spills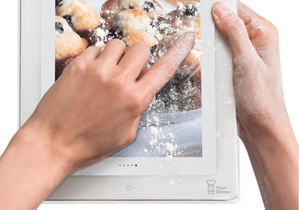 Chances are you have a case to keep your tablet safe from damage, but the average case won't help if you spill something on your tablet. And while we all think we'd never be so clumsy as to knock something into our tablet, accidents do happen—wouldn't you rather be safe than sorry?
Our favorite option is the Chef Sleeve, which offers 25 disposable plastic sleeves fitted for the iPad, Kindle, and iPhone for $16-$20 per pack on ChefSleeve.com or Amazon.com
. Though this may sound like a limited selection, the iPad version should fit most 10" tablets and the Kindle version should fit most 7" tablets—but be sure to compare the product size to your tablet size before you buy. These sleeves are made of EcoTouch HD film, which leaves your tablet screen clear and sharp, even though it's protected behind tough plastic. When your latest kitchen experiment is over, simply throw out the sleeve.
Unfortunately for those on a budget, the cost of disposable Chef Sleeves can really add up over time. But if you're willing to sacrifice some image clarity for lower cost, you'll find any good zip-top bag that's large enough to fit your tablet will protect it from kitchen grime. You can use your tablet through a zip-top bag, though the plastic may distort the screen and a large plastic bag might be awkward. But it is a very cost-effective way of keeping your precious gadgets safe, so long as you make sure it's sealed properly before you get started.
Keep messy fingers away from your tablet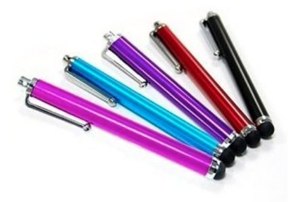 If you're not planning on using sleeves—maybe your tablet is mounted on your cabinets and safe from spills—we definitely recommend picking up a stylus so you can control your tablet without getting grease or grime from your hands all over its pristine surface. You can save time—and countless trips to the sink to wash your hands—by using a stylus instead of your fingers.
Really, any stylus will do, but it should be one that's easy for you to manipulate (even when your hands are covered in the sticky remnants of bread dough you've been kneading) and easy to clean. We're particularly fond of low-cost packs of styluses, which aren't quality, but also won't be something you'll be upset if it's ruined in a kitchen mishap. Check your local office supply store or Amazon.com
.
So what are you waiting for? With this advice to keep your tablet safe and sound, there's no reason not to take it into the kitchen: it's time to get cooking!
Discussion