We may earn commissions when you buy from links on our site. Why you can trust us.

Fun, Spooky Tech for Halloween
If you haven't noticed the Halloween candy displays lining store aisles, it's our responsibility to inform you that it's October, which means Halloween is just around the corner. For holiday enthusiasts, that means it's time to start getting ready for trick-or-treat season and decking the halls for the spooky occasion. We've collected six high-tech tools to help you prep your home for plenty of Halloween fun.
Webcaster Shooter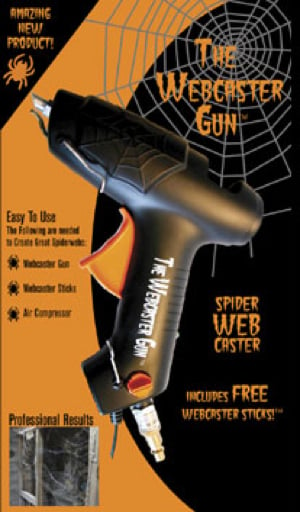 While you can buy fake spiderwebs by the bag and hang them yourself, the web-slinging Webcaster Gun lets you hang spiderwebs with no more effort than pointing and shooting.
If you're planning a haunted house or just want to go all out with your holiday decor, this could be the perfect gadget. The only catch is that to use this gadget, you'll need an air compressor to power the gun.
The Webcaster also needs ammo, which comes in sticks that are clear, black, orange, neon yellow or neon orange; the gun comes with several clear sticks, but if you plan to do lots of webbing, you may need to buy additional ammo at $6 per half-pound.
Price: $39.99 from thewebcastergunsales.com or $40.08 on Amazon
Radio-Controlled Black Widow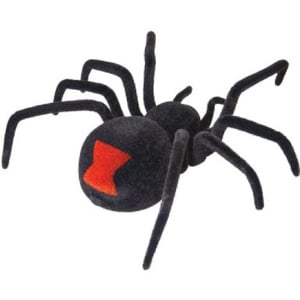 Though this gadget isn't for the arachnophobic, we can't think of a better way to startle trick-or-treaters (or your Halloween party guests) than with the Elenco Radio Controlled Black Widow spider.
This 9-inch mechanical arachnid has a furry texture for a realistic look — or as realistic as you could expect from an oversized plastic spider — and it can scurry forward, backwards, or in circles with a range of 25 feet. To make this behemoth go, you'll need a 9-volt battery, which isn't included.
Price: $44.12 from Amazon
Spooky Shadows Light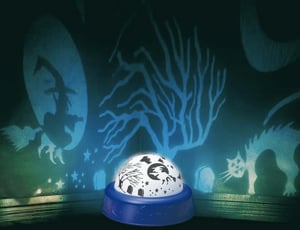 For something a bit less creepy than a spider, try the Spooky Shadows Light, which casts moving, Halloween-themed shadows like witches and cats on to the wall.
It could be just the thing to add atmosphere to your Halloween party or get the little ones into the spirit of the season before trick-or-treating time. The Spooky Shadows Light takes two C batteries, which aren't included.
Price: $19.99 from spirithalloween.com or Amazon
Peep n' Peepers Flashing Eyes Halloween Lights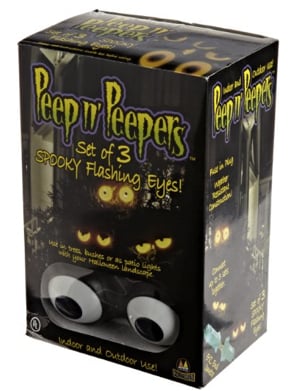 We can't quite decide if these eye-shaped lights, which blink and flash, are spooky or silly — but we imagine that the effect has a lot to do with how you place them.
Each set of Peep n' Peepers comes with three pairs of eyes on a 12-foot cable. Hide them in the bushes or inside darkened windows, and they'll light up to startle your Halloween guests.
And if three pairs of eyes isn't enough, you can chain together up to three sets of Peep n' Peepers for a group of nine pairs of eyes.
Price: $12.51 from Amazon
Fright Doorbell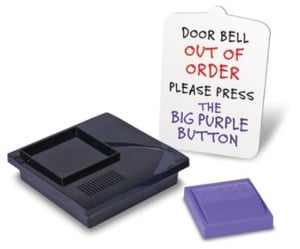 Your standard doorbell sound seems pretty dull when Halloween comes around; fortunately, there's the wireless Fright Doorbell.
Just set it up by your front door and when trick-or-treaters arrive, it will play one of eight random sounds: thunder, creaking, evil laughter, ghostly moaning, a witch's cackle, a Jacob's Ladder, wolf howls or cries for help.
It can add a lot of atmosphere to even the most ordinary doorstep!
Price: $17.95 on Amazon
Pelican ProGear Clip-on Light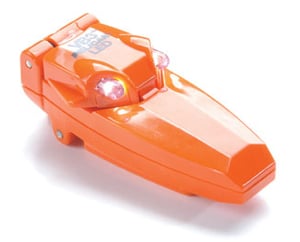 You don't want your trick-or-treaters wandering around in the dark, and they aren't interested in carrying bulky flashlights. Fortunately for both of you, Pelican has the solution in the clip-on ProGear VB3 2220 LED flashlight, which even comes in a Halloween-friendly orange color.
A pair of ultra-bright white LEDs will provide plenty of light when needed, and it easily clips to clothing to keep little hands free for important trick-or-treat tasks. This flashlight lasts up to 32 hours on a pair of CR2032 Lithium batteries (included), so there's no worry about the power running out during Halloween.
Price: $24.75 from pelicantprogrear.com or $18.79 on Amazon
Hopefully we've helped you kick-start your Halloween planning, whether you want to create your own haunted house or you're just taking the kids trick-or-treating around the neighborhood. Happy Halloween!
---
Discussion