The Best News Aggregators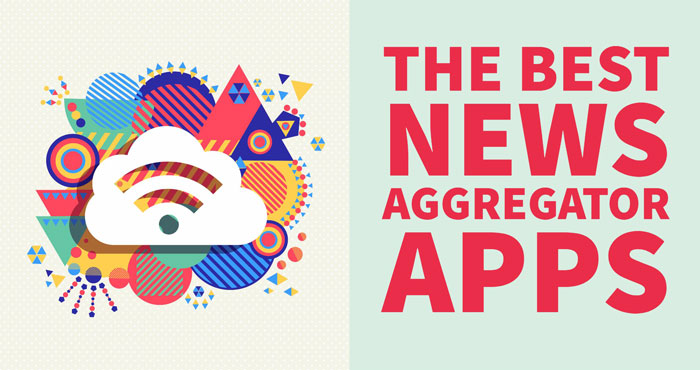 Is it us, or is life inundated by breaking news, political upheaval and viral headlines? Chances are you've already downloaded your favorite newspaper's app. But in a time when news itself makes headlines as fake news, a news aggregator gives you another way to parse news from multiple trusted sources (or of course, entertaining sources) into a single, streamlined de facto newspaper.
To find the best of these apps, we looked for ease of use and subject matter to widen one's understanding of the world we live in. We rated our favorites on their highlights, as well as technical features like offline access, customizable alerts and the ability to save articles to read or refer to later.
Best for breaking news: AP Mobile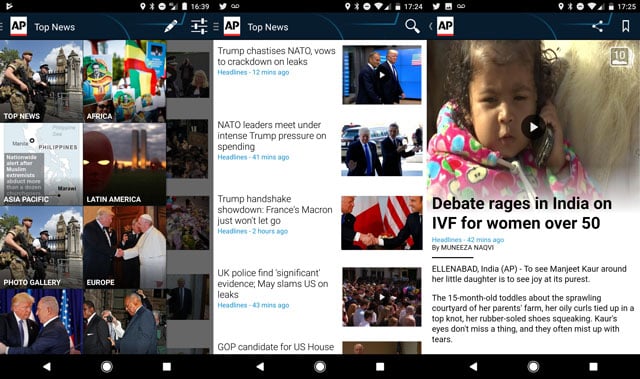 The Associated Press is often the first reliable source to break a story, and its smartphone app is a cleanly designed way to tap that news at its source. A tiled home screen divides the headlines into categories such as sports, technology and business, as well as world regions if you select the International instead of U.S. edition. There are also video and photo galleries if you prefer to get a more visual angle.
Along with AP stories, you can add a category for local stories from your city's media (in the U.S. edition). Read your feed in English or in Spanish. Headlines are displayed in a comfortably sized font, as are the articles, which makes for easier reading than many similar apps. Should you have a news tip of note worth sharing, there's even a way to message the AP team.
Offline access? Yes, but not for multimedia.
Customizable alerts? Basic. You can disable alerts or set a quiet time.
Saving articles for later? Yes.
Filter bubble: This is a neutral way to get the news, and the view doesn't personalize according to what you click on.
Price: Free for Android and iOS devices.
Best for saving stories as you go: Pocket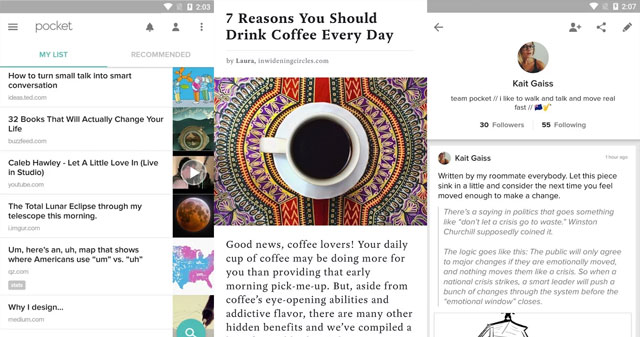 Pocket is a great way to store articles you want to read as-the-go for later. What sets it apart from other services is its integration with over 1500 third-party apps like the Twitter app, Tweetbot, Zite, Flipboard, Feedly and a ton of others. If you're on desktop or mobile, all you have to do is install browser extensions and the apps themselves on iOS, Android, Mac and more, and you will automatically get the option to share content to Pocket that you want to check out when you have more time. You can even save an article with email by sending it to add@pocket.com. It's incredibly versatile, and the company's apps are clean and easy to read.
Offline access? Yes.
Customizable alerts? Yes, you send the stories you want to save for later to Pocket. By following others on Pocket, you can also see what they recommend and Pocket will recommend articles based on those follows, as well.
Saving Articles for later? Yes.
Filter bubble: Since you select stories to save to Pocket and follow people to read their recommended stories, it's up to you to find people and stories with other viewpoints.
Price: Free for iOS and Android
Best for discovery: Nuzzel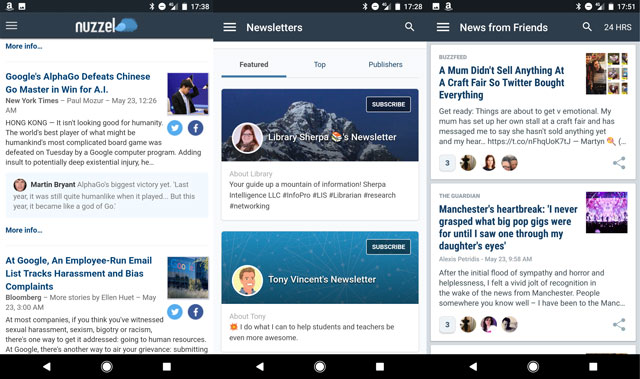 Nuzzel is a fascinating app based on the increasingly social aspect of news. Not only is the feed of headlines based on what your Facebook or Twitter friends are posting, but Nuzzel offers you a way to curate your own newsletter and browse those of others.
Sort your article feed by how recent an article is or how many friends shared it. At the bottom of each article, find other stories liked by the people who liked that particular story, which may send you down a rabbit hole into media you've never heard of. Check out related resources such as Reddit threads. If you happen to be one of the growing number of Americans who get their news from Facebook or Twitter, a move likely to exacerbate the echo chamber of personalized newsfeeds, Nuzzel could be a gentle means of expanding your filter bubble.
Offline access? No.
Customizable alerts? Yes, for mobile and email. You can limit the number of alerts per day, receive a daily email digest, and tweak how many friends need to have shared a story for it to appear in your feed.
Saving articles for later? No, but Nuzzel can link to read-it-later-apps Buffer, Pocket and Instapaper.
Filter bubble: Potentially more expansive than reading news on Facebook, as displays headlines based on number of shares, not what you click on.
Price: Free for Android and iOS devices.
Best for science: Science News and Discoveries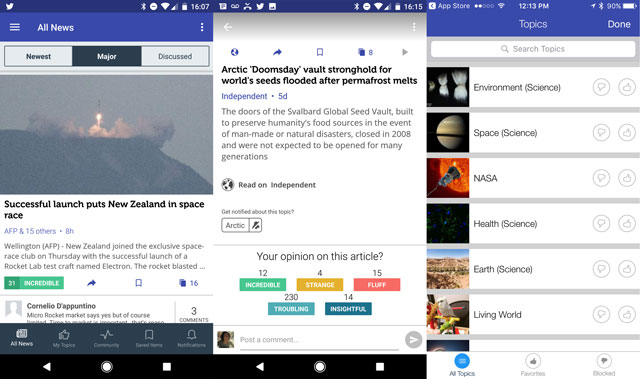 A varied swath of tech, science and mainstream media populate this sparky, science-focused news app. Catch up on science news written for an everyday audience, and peruse articles from more specialized science and medical titles. There's a stream where you can review which articles are most frequently discussed on the app itself. You can "favorite" particular topics from the science world to build your own cherry-picked feed.
Once you create an account (or sign in with Google or Facebook), partake in the fun community features such as creating and answering polls, tagging and commenting on articles and earning badges for these activities.
Offline access? No.
Customizable alerts? Yes. You can enable or disable push alerts.
Saving articles for later? Yes.
Filter bubble: Expansive. You can view multiple sources for any given article.
Price: Free for Android and iOS devices.
Best for fine-tuning your own feed: Feedly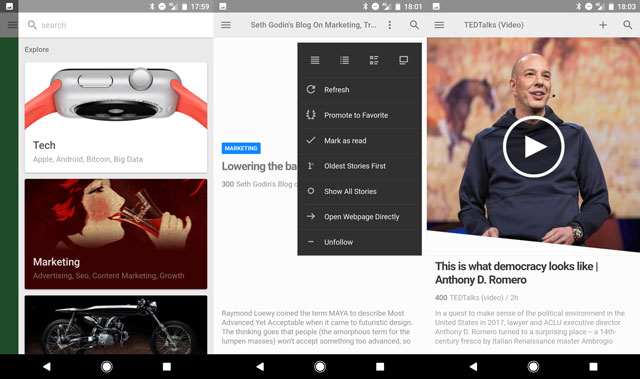 If you're particular about the sites you visit for your daily dose of information, Feedly is your answer. Feedly works by pulling in the headlines from sites you choose, whether they're mega-media news sites or tiny, independent blogs. Type in your favorite URLs, or browse vast lists by categories as broad as technology to as niche as Ashtanga yoga. You can even follow Reddit threads that have RSS features enabled. You'll never miss a post from your favorite site or blog again.
Search by topic, company name, publisher or even keywords to ferret out the latest on a trending topic. Once you've finished reading your stories, you can sweep them away.
A comprehensive settings menu lets you set shortcuts for saving or sharing articles, creates taglines to automatically append to links you share, and generate email addresses to CC or BCC for email shares.
Offline access? Sort of. If a page of links loads before you went offline, you can click them.
Customizable alerts? No.
Saving articles for later? Yes. Also integrates with Pocket and Instapaper.
Filter bubble: Customizable—there's an Explore feature to find new sites, plus you can seek and follow media with opposing viewpoints.
Price: Free for Android and iOS devices.
Best for longer reads: Flipboard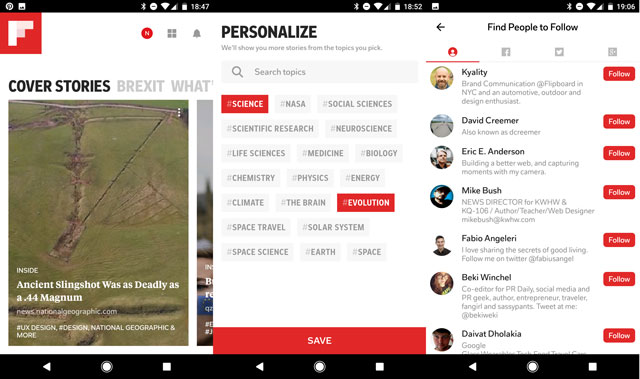 Like Feedly, Flipboard is a great option for building your own news stream. You'll enjoy the added visual ease of reading articles displayed in a breezy, good-looking digital magazine format. Instead of curating a list of URLs, however, Flipboard adds entire topics as newsfeeds (or in Flipboard parlance, magazines), then pulls in headlines to create a diverse selection of online titles. Topics may be broad, such as politics, or more specific, such as writing or mindfulness.
You can also add Facebook as its own "magazine" designed from posts by pages you've liked, which is handy for keeping up with bands or brands you're a fan of without clocking up those Facebook hours. Flipboard is easy reading on a smartphone, but it comes into its own on a tablet, with slick, sweeping gestures to flick to the next expansively and gorgeously designed story.
Offline access? No.
Customizable alerts? No alerts at all.
Saving articles for later? No, but integrates with Instapaper, Pocket and Readability.
Filter bubble: Reasonably large, though you can narrow your viewpoint by hitting "show less like this" to remove certain sites from your magazines.
Price: Free for Android and iOS devices.
Best for Social Sharing: Buffer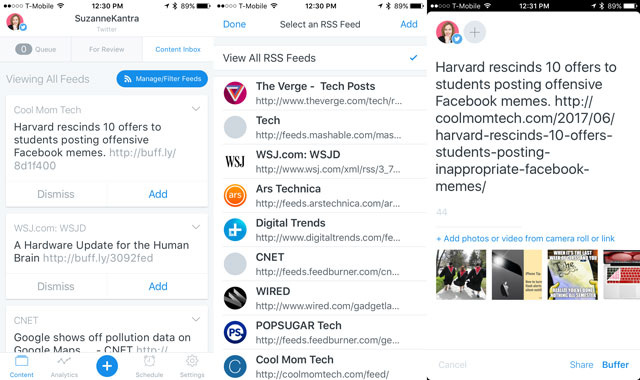 Buffer makes social media sharing and scheduling easier in general, but when you combine it with their RSS reader, you'll be an unstoppable news sharer. All you have to do is add your social media profiles to Buffer including Twitter, Facebook, LinkedIn, Google Plus and Pinterest, then go to the section labeled "RSS Feeds." You'll then see links and headlines to all of the articles in your feed. Just press "Add" to personalize a message to go with the link and share it to any or all of the social media accounts connected to your Buffer account. With the standard free account, you can only add 15 feeds, but it's great if you have a set of core sources you regularly share from.
Offline access? No.
Customizable alerts? No alerts at all.
Saving articles for later? Sort of. If you don't dismiss a story, it will stay in your feed for a few days.
Filter bubble: You can add the specific RSS feeds you would like, but Buffer does not curate sources or stories for you.
Price: Free for iOS and Android.
[RSS feed image via Cienpies Design/Shutterstock]
Discussion