The Best OTC Hearing Aids to Match Your Hearing Needs and Lifestyle
Techlicious editors independently review products. To help support our mission, we may earn affiliate commissions from links contained on this page.
You've grudgingly admitted to yourself that you don't hear as well as you once did. You find yourself turning up the TV volume to the annoyance of your roommate, spouse, or kids, and/or resorting to closed captioning. You find yourself asking people to repeat what they just said way too frequently. Concerts are still ear-stingingly loud, but you have a hard time making out individual instruments or the words the singers are singing. Conversations with wait staff in restaurants, sales or check-out people, train conductors, medical office personnel, or friends, family, or co-workers at social gatherings have become hard if not impossible to follow, with voices from the folks right in front of you drowned out by the mass of chattering and ambient sound around you.
If you've experienced any of these hearing shortcomings, you likely suffer from mild or moderate, often age-related, hearing loss. Just like the 35-40 million other Americans, including myself, suffering from these aural annoyances, you may be a candidate for a hearing aid. But you don't want to spend the $4,000-$8,000 you know an audiologist will charge, you may not want to wear anything that looks like you need a hearing aid, and you may not want or need to wear a hearing aid all day.
Fortunately, thanks to new federal rules adopted last fall, you can now buy far cheaper over-the-counter hearing aids (OTC HAs) similar to what you'd get from an audiologist, usually for between $1,000-$3000. The best of these new OTC hearing aids are labeled "self-fitting, which means the results of an app-based self-administered hearing test are used to customize your hearing aids to compensate for your specific hearing deficiencies. I have and will be testing every OTC hearing aid model I can get my hands on to gauge their relative effectiveness.
"Self-fitting" OTC HAs are FDA-cleared medical devices and are available in two types. The first type of self-fitting OTC HAs are "all-day" models that do nothing except improve your hearing; if they include Bluetooth, it's for hands-free phone calls only, not music listening. All-day OTC hearing aids look like familiar tiny prescription hearing aids powered by batteries that last 12 hours or more.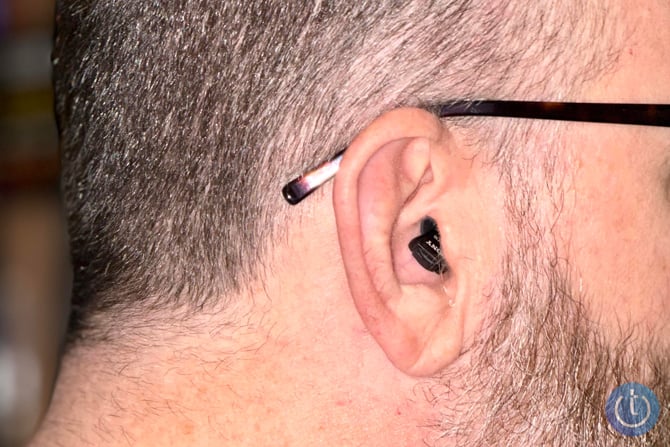 The second type and newest type of OTC hearing aid are what look like regular Bluetooth earbuds for listening to music wirelessly but also double as self-fitting hearing aids. But like regular Bluetooth earbuds, you'll get only 5-7 hours of battery life, so are designed for use in temporary situational boosted hearing circumstances.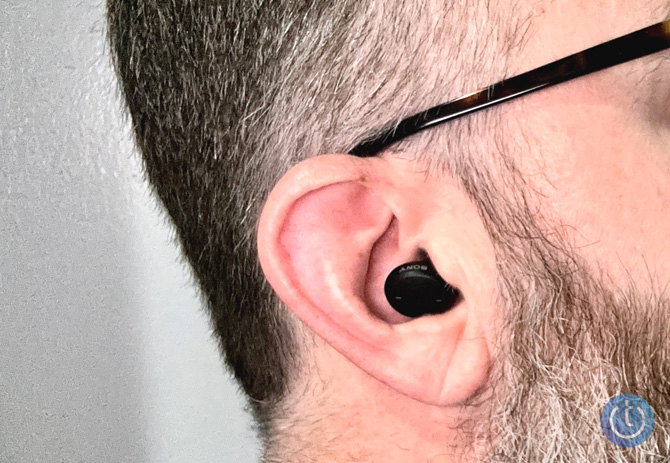 [You can read more about "self-fitting" OTC hearing aids and the differences between "all-day" and Bluetooth models in our story What You Need to Know Before Buying OTC Hearing Aids.]
So what would be the best self-fitting hearing aids that fit your particular hearing needs and lifestyle? These are our choices.
Common OTC HA Features
The most predictably reliable OTC hearing aids are "self-fitting" and "FDA cleared." Look for both of these phrases when you shop to be assured you're getting the closest approximation to the hearing assistive devices you'd get from an audiologist. With one exception, our Best OTC Hearing Aid choices are all FDA-cleared self-fitting models because only these OTC HAs guarantee compensation for frequencies you may be missing as well as cleaning up of all sounds, rather than mere amplification offered by non-self-fitting models.
For those of you who need just a bit of an aural volume boost – for instance, just to improve your TV watching or to increase your conversation comprehension – rather than a more restorative self-fitting hearing aid, there are a plethora of personal sound amplifier products (PSAPs). PSAPs simply amplify what you can already hear, and don't necessarily clean up these amplified sounds or compensate for sounds you can't hear. Since they lack corrective or restorative technologies, PSAPs cost a fraction of self-fitting OTC HAs, some less than $100. Your choice of a merely amplifying PSAP-style hearing assistive device versus a self-fitting model boils down mostly to how poor your hearing is in specific situations.
All-day and Bluetooth bud self-fitting OTC HAs offer some shared, some differing, and some exclusive features. In order of importance:
Volume
Nearly all OTC HAs, self-fitting or PSAPs, let you raise or lower the hearing aid volume, usually via the hearing aid app. Just how loud you can make your hearing aids varies greatly from model to model – some models can get MUCH louder than others, extreme loudness that could potentially contribute to your hearing loss. Self-fitting OTC HAs usually include a master volume control over both buds, while non-self-fitting and PSAP models often offer separate volume controls for the left and right buds to let you compensate for different hearing loss in each of your ears.
Battery Life
"All-day" hearing aids should offer at least 12 hours of battery life. Bluetooth bud-type hearing aids are designed for situational usage, so battery life beyond their normal 5–7-hour range isn't nearly as critical, especially since their case will quickly recharge them.
Presets
Many if not most OTC HAs of all stripes boast of included "presets" – essentially fixed frequency levels (i.e. preset volumes of bass and treble) to help hear better, especially voices, in specific situations such as "restaurant," "meeting," "TV," etc. The effectiveness of presets depends heavily on the expertise and efficiency of the device maker who created them and your level of hearing. As a result, some folks may hear stark differences between presets, others little or no difference at all. In non-self-fitting OTC HAs or PSAPs, presets are designed and often promoted to compensate for hearing loss, but it's impossible for presets to replicate the hearing compensation or restoration provided by self-fitting models. However, for folks with only mild hearing loss and limited budgets, presets can boost certain frequencies over others to help voices rise above ambient noise.
Directionality
Found mostly in Bluetooth models, this app-based control lets you narrow the buds' microphones to pick up sounds only in a definable area in front of you – after all, most of the time you don't need or want to hear what's going on to your immediate left, right, or behind you. I've found narrowing the microphone directionality effectively increases sounds – and especially voices – far more than presets.
Tone controls
Some OTC HAs, especially Bluetooth models, include separate bass-treble adjustment controls that can be far more precise in compensating for specific ambient situations than presets. Other OTC HA apps let you simply emphasize/amplify voices or either minimize or maximize sounds from your surroundings, the latter of which is effective for getting the fully enveloping experience from public events such as concerts, the movies, or the theater, for instance.
Noise Canceling
Found only on Bluetooth bud OTC HA models, active noise canceling (ANC) is present only to improve your wireless music listening experience and has nothing to do with hearing assistance. Unfortunately, many Bluetooth bud OTC HAs don't include ANC, which means if you want to fully enjoy your music, you're forced to turn your hearing aid volume down to 0. But 0 hearing aid volume isn't noise canceling – ambient noise can still leak in with even the tightest ear tip seal, so is not as effective as ANC. Then, when you need to pause the music and hear the outside world again, you'll then need to go back to the app and raise the hearing aid volume back up.
Bud Controls
A few – too few, IMHO – Bluetooth bud OTC HAs offer on-bud controls to raise or lower volume, pause/play music, pick-up and hang-up calls, and especially to quickly switch from music listening to hearing mode and back again. But OTC HA makers seem to think their aging customers won't know how to work on-bud controls. As a result, seniors are sentenced to continually pulling out their phones to access the hearing aid's app to perform even the simplest function.
The Best Self-Fitting OTC Hearing Aids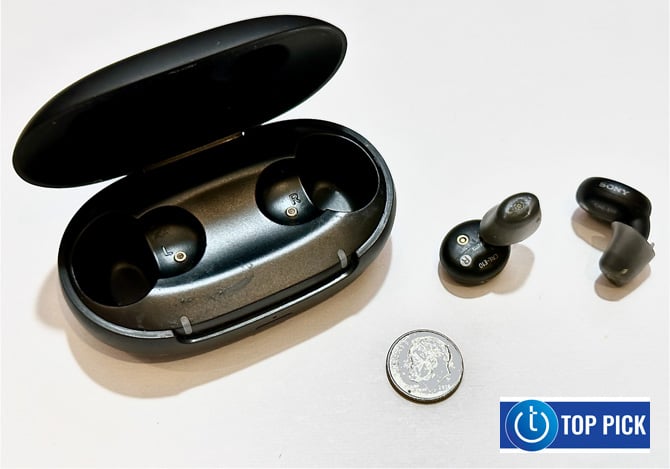 Best All Around OTC Hear Aids: Sony CRE-E10
Sometimes you want all-day hearing assistance, sometimes you just want to wear a hearing aid when you're running errands so you can listen to music and engage with people when necessary. The relatively high-priced Sony CRE-E10 ($1,299.99) are the only OTC HAs that enables both situational options. You can wear the E10 all day thanks to an industry-leading 26-hour battery life, they provide Bluetooth for stereo music listening, and they're small enough to not be as nearly obvious in your ears as other Bluetooth buds. But, like all jack-of-all-trades, the E10 is not exactly a master of any. They're comfortable for several hours of wear, but my ears were happy when I removed them. While smaller and less visible than larger options such as the HP Hearing Pro, the "closed" style Sony CRE-E10 don't provide the truly natural sound of a true all-day OTC HA such as the Eargo 7 or its Sony sibling, the CRE-C10. And because Sony uses a proprietary mix of Bluetooth Low Energy (LE) and its own wireless connection technology to achieve the E10's long battery life, you don't get quite the full audiophile quality you expect from a Sony earbud for music listening nor a consistently reliable Bluetooth connection. But, the CRE-E10 is the only – if pricey – mixed-usage self-fitting OTC HA choice.
+ Pros

– Cons

26-hour battery life for all-day wear
Plenty of volume
Multi-segment microphone directionality
Bass/treble tone controls

Expensive
Inconsistent Bluetooth LE connection for music listening
Not full audiophile music playback
No on-bud controls
Read our full Sony CRE-E10 review.


---

Best For All-Day Wear: Eargo 7
Yes, you could save some shekels on the previous Eargo 6 or even the 5 and get pretty much the same excellent hearing restoration and in-ear invisibility as the Eargo 7 ($2,950.00). But since we're talking the "best," the extra clarity algorithms and automatic situational sound adjustments Eargo added to these newest buds do make them a smidge better than the company's earlier entries. Bottom line: the Eargo do the best job of all the OTC HAs I've tested at essentially restoring your hearing to what you remember as normal. And because of their tiny design, not only do the Eargo 7 nearly disappear in your ear – after a few minutes, you'll simply forget you're wearing them.
+ Pros

– Cons

Most natural sounding OTC HA
Nearly invisible in ear
Day-long battery life
Audiologist assist for set-up and use

Expensive
Minimal amplification
Minimal tone adjustments
Read our full Eargo 7 review.


---

Best Budget All-Around OTC Hearing Aids: Nuheara IQbuds2 Max
Nuheara's IQbuds2 Max ($499.00) is not an FDA-cleared OTC HA medical device like its newer cousin, the Nuheara-made FDA-cleared self-fitting HP Hearing Pro ($699); the nearly identical Bluetooth bud IQbuds2 Max technically qualifies merely as a PSAP. However, the IQbuds2 checks all the function, feature, and performance check boxes of a self-fitting OTC HA. Like its HP sibling, the IQbuds 2 Max include an audiologist-developed hearing test, the results of which are programmed into the buds. The buds then clear up and amplify ambient sounds, including voices, and the app includes microphone directional narrowing and other tone controls. The IQbuds 2 Max also are among the best music-listening Bluetooth buds and include excellent active noise canceling. Yes, the HP Hearing Pro made by Nuheara offer slightly better hearing aid technology and amplification. But the Hearing Pro are $200 more, lack some of the IQbud2's sound adjustment features, and omit the IQbud2's insanely convenient touch bud controls that let you instantaneously switch between music listening and ambient sound and back again without having to continually reach for your phone to access the app, required with the HP Hearing Pro.
+ Pros

– Cons

Cheap PSAP/Bluetooth earbuds
Active noise canceling
Microphone directionality settings
On-bud controls

Not an FDA-cleared self-fitting OTC HA
5-hour battery life
Large and highly visible
Read our full IQmax2 Buds review.


---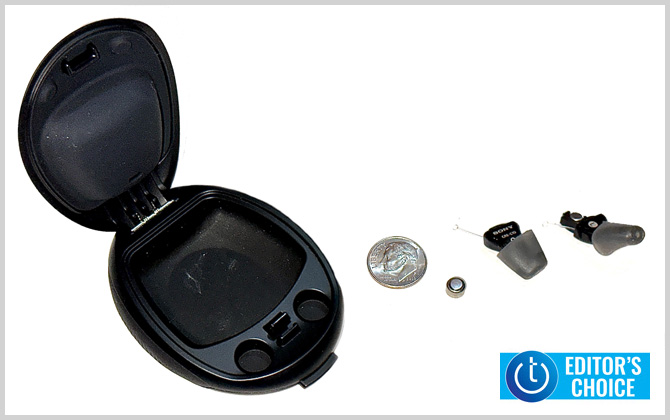 Best Budget For All-Day Wear: Sony CRE-C10
The Sony CRE-C10 ($999.99) offer higher volume and a slightly better emphasis on voices than the Eargo 7 at a third of the price, and their batteries provide 70 hours of usage. That's the good news, maybe the best news for most folks looking for the best and least expensive self-fitting OTC HA alternative to prescription hearing aids from an audiologist. But, instead of rechargeable batteries, the C10 are powered by tiny single-use hearing aid batteries, a limitation I found difficult to overcome, even with the cost-savings. First, you'll spend $75-$100 a year buying replacement batteries. Second, batteries will last 70 hours, but you never know when they'll run out of juice; given Murphy's Law, they'll always seem to die at the most inconvenient times. Third, the only way to turn off the C10 when you're not wearing them – and thereby squeezing the most amount of power from the batteries – is to open the tiny battery compartment on each bud every time you remove them from your ears. Fourth, you have to remember to buy and always keep extra batteries with you. If you're OCD, or on a strict budget and willing to deal with these battery bothers, the Sony CRE-C10 are probably a superior choice versus the Eargo 7, given the price difference and louder volume.
+ Pros

– Cons

A third of the price of the Eargo 7
Multi-day battery life
More voice amplification than the Eargo
Nearly as physically invisible as Eargo buds

Requires single-use hearing aid batteries
Added cost and management of batteries
Have to open tiny battery compartment to turn them off
Read our full Sony CRE-C10 review.


---
[Image credit: Stewart Wolpin/Techlicious]
Stewart Wolpin has been writing about consumer electronics for more than 35 years, including news, reviews, analysis and history, and has attended and covered nearly 50 Consumer Electronic Shows and around a dozen IFA shows in Berlin. For the Consumer Technology Association (CTA), he is an elector for and writes the official biographies of the annual CT Hall of Fame inductees, and is the keeper of the industry's official history.
Discussion