The Best Weight-Loss Apps
Techlicious editors independently review products. To help support our mission, we may earn affiliate commissions from links contained on this page.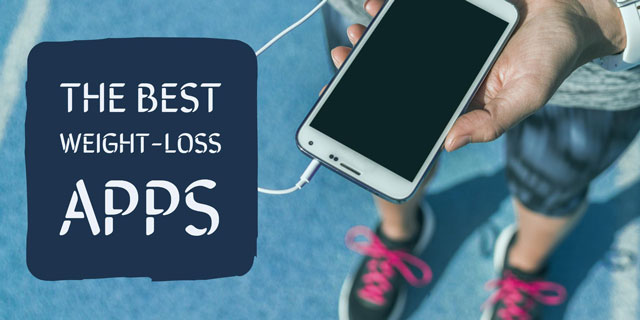 Losing weight can be fraught with frustration if you're severely restricting your diet or when the pounds start creeping back on.
"Weight loss is about changing your beliefs around exercise and food," says nutritionist Mary Jane Detroyer, MS, RDN, CDN. It's no use implementing an active, clean-living regime to shape up for a special occasion like a wedding, only to revert to your Big Mac-hoovering, sedentary ways when it's over.
Instead, an effective diet focuses on long-term, maintainable changes to your lifestyle. The most effective diet is one whose benefits aren't just about losing weight but about staying healthy as you age and enjoying a body that can do anything you want.
Set reasonable goals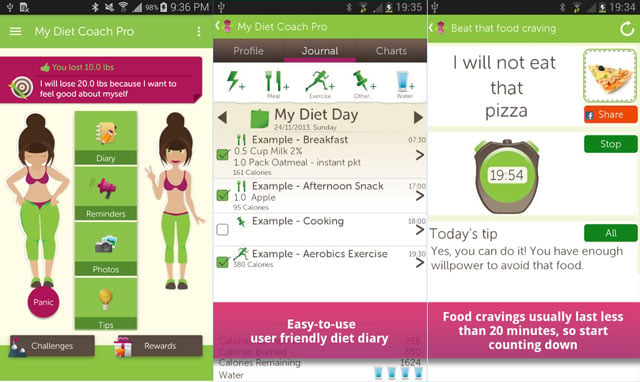 Rather than picking an arbitrary, smaller number for how much you want to weigh, set goals around more tangible measurements. For example, a more slender waistline is a desirable result for both heart health and looking fit. Or aim for a lower body fat percentage. Remember that muscle weighs more than fat, so if you're upping your strength training (an important part of a health regime), take that into account when tracking your weight.
For tracking your goals, try BodyShot ($2.99 for iOS) or My Diet Coach - Pro ($2.99 for Android). Both apps let you store photos along your weight loss journey, as well as letting you track basic stats like weight and waist and hip circumference.
Try setting smaller, routine-based goals such as the number of alcoholic or sugary drinks you'll have this weekend or how much you'll slash that weekly chocolate intake. "Trying to do too much and not succeeding at anything does not feel good, and so people stop," Detroyer says.
Cut calories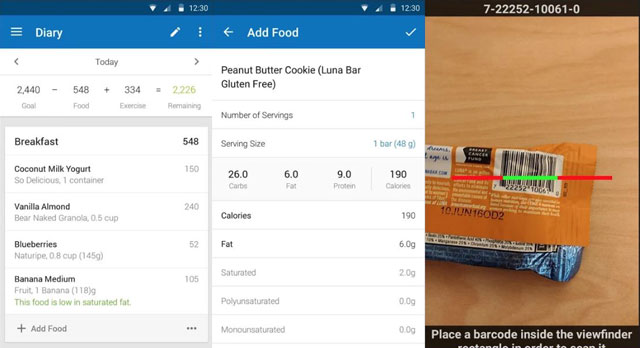 While cardiovascular exercise is crucial for keeping your ticker healthy, recent research has found that cutting down on calories is more effective than exercise for weight loss. "A moderate exercise program of shorter duration (30 minutes) and low frequency (two or three times a week) without a change in eating patterns will not result in weight loss," Detroyer says.
To figure out how much you need to change your eating patterns, use a diet-tracking app like MyFitnessPal (free for iOS and Android), which lets you set a goal weight and then recommends a daily caloric intake. Enter your daily meals and snacks, and MyFitnessPal will analyze its calorie content and break down the so-called macro-nutrients of carbohydrates, fats and proteins. Its database includes six million foods and their nutritional makeup, and the app also supports barcode scanning of supermarket foods. It can pull in data from a range of fitness bands and health apps to calculate how many calories you're burning.
Exercise more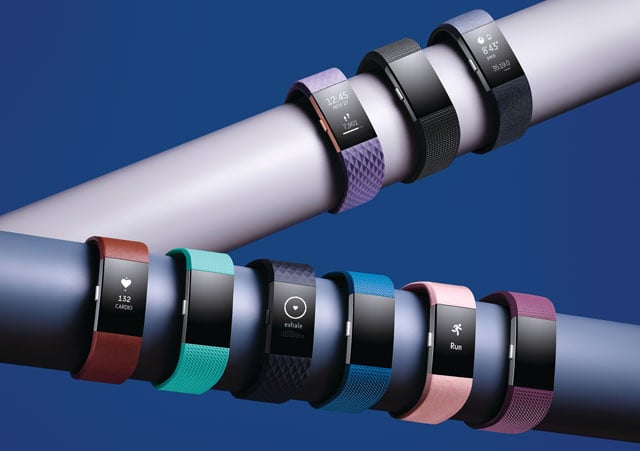 On the other hand, if cutting down on delicious pastas, cheeses and sirloin is a no-go, up your exercise game. Detroyer recommends 60 to 90 minutes of varied cardiovascular and weight-bearing exercise five or six times a week at progressing intensity. "Without changing your dietary patterns very much, you would still start to see a change in the way your body looks, thanks to the loss of fat and increase in muscle," she says.
We like MapMyFitness (free for Android and iOS) for tracking runs and bike rides. The app sends cheery reminders when you haven't logged anything in a while.
Just make sure you're exercising vigorously enough. One way to track this is to monitor your heart rate with a fitness monitor like the Fitbit Charge 2 ($149 on Amazon), or a heart-rate-measuring smartwatch like the Apple Watch 2. Hitting 70 percent to 85 percent of your maximum heart rate (get an approximation by subtracting your age from 220) is necessary for improving cardiovascular fitness, which also increases the number of calories you burn per minute. Another way to tell if you're exercising at a good level is to monitor your breathing. During moderate exercise, you should be able to comfortably carry on a conversation, while during vigorous exercise, you can speak only in short bursts.
Don't overdo it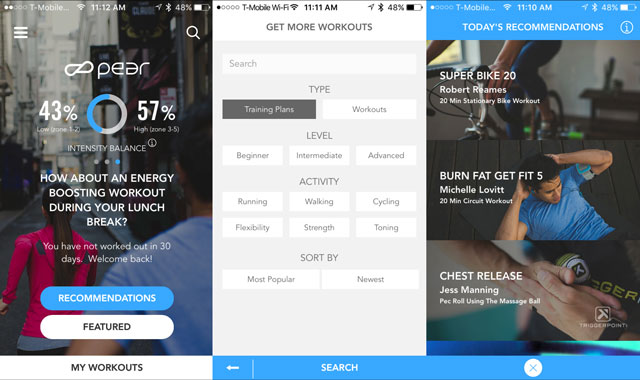 "People who begin exercise programs and severely restrict their intake of calories may also not lose weight because their body becomes very efficient at burning calories as a way of preserving itself," Detroyer says.
If you're new to exercising or exercising intensely, a good rule of thumb used by the American Heart Association is to aim for 150 minutes a week of moderate activity like brisk walking or bicycling under 10mph, or try 75 minutes of vigorous activity like running or jumping rope.
Stay inspired with a maintainable workout schedule using PEAR (access an unlimited selection of workouts for $3.99/month or $29.99/year; available for iOS and select Android devices), which offers a holistic exercise program that builds in rest days and a combination of low- and high-intensity workouts.
Build muscle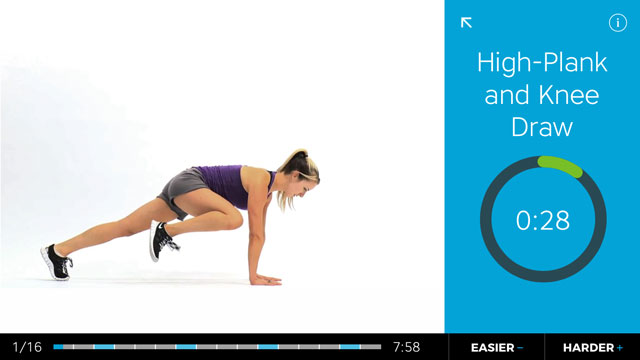 It's not about how much you weigh; it's about what your weight is made of. "Muscle is more metabolically active than fat," Detroyer says. More muscle means burning more calories, whether you're powering up a hill or flicking through Netflix. Build your biceps (and triceps, quadriceps and hamstrings) by pumping iron or doing weight-bearing exercise like yoga and Pilates.
For inspiration, check out Workout Trainer (free for Android and iOS), which offers thousands of workouts to tone and strengthen via push-ups, crunches and DIY yoga routines and cardio-focused workouts. For the enthusiastic barbell lifter, try JEFIT (free for Android and iOS), which offers programs for strength building and muscle toning.
Get active outside a gym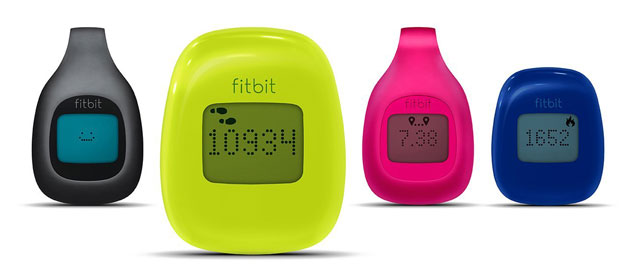 "Find a person to get more active with," Detroyer says, "and something you like to do that gets you more active." Gardening, walking dogs, ballroom dancing, boxing, hiking or donating time in a hospital can all boost your movement levels all without having to set foot inside a gym.
Meetup (Android and iOS) can help you meet workout buddies near you for a variety of activities.
If you're just starting your exercise regime, strap on a fitness tracker and aim to walk the 10,000 daily steps recommended for general fitness for beginners. We like the Fitbit Zip ($59.95 on Amazon).
Share progress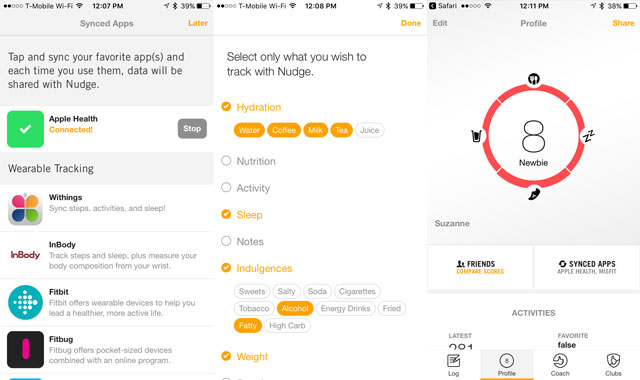 If you're looking for support, Nudge (free on iTunes and Google Play) makes it easy to connect with others easily. Choose to connect one on one via your contacts list or Facebook for private support, or join one of the ongoing chat clubs that cater to lifestyle interests like running, strength training and recipes. Nudge makes logging and tracking very easy, whether you're tracking food, sleep, your energy level or indulgences like sweets, fatty foods or alcohol. The app pulls in data from popular apps like RunKeeper, Fitbit, Withings and Up by Jawbone.
Get enough carbs, fats and proteins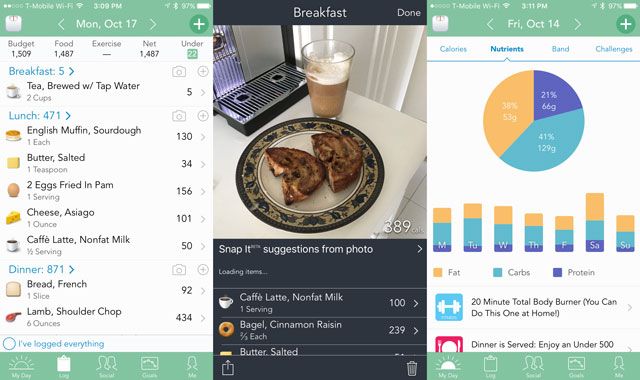 Inadequate protein and carbohydrates in your daily diet can impact body composition and reduce your ability to build that calorie-torching muscle, Detroyer notes.
Carbohydrates, whether in a sugary juice or slow-digesting whole-grain pasta, are necessary for energy, and the brain itself only uses carbohydrates. "That's why people who go on a high-protein diet like Atkins have difficulty focusing as the day progresses," says Detroyer.
Some vitamins require fat to be absorbed. Fat is also necessary to protect organs, regulate hormones and produce nerve linings. The bottom line? You need to hit all three macro-nutrients in a ratio that depends on your weight-loss goals and how active you are.
The IIFYM calculator can help you figure out a personalized makeup of carbs, fats and proteins based on your daily activity, height and weight. You can then track your personal intake via Lose It! (free for iOS and Android), which supports barcode scanning for any food as well as manual entries for fresh produce or home-cooked meals. The new Snap It features lets you save a picture of the food you're eating, and the app will guess what's on your plate. The Snap It feature is also handy if you don't want to enter your meal right away, such as when you're at a restaurant. When you enter your food, you'll see a breakdown of the food's protein, fat and carbs at a glance. To set and measure progress toward macro-nutrient goals, you'll need the Premium version at $2.50/month or $29.99/year. Lose It! also pulls exercise data from popular activity trackers, digital scales and fitness apps.
Bonus: Tracking macro-nutrients can be a less restrictive way to change your eating patterns than counting every calorie that passes your lips.
Stay hydrated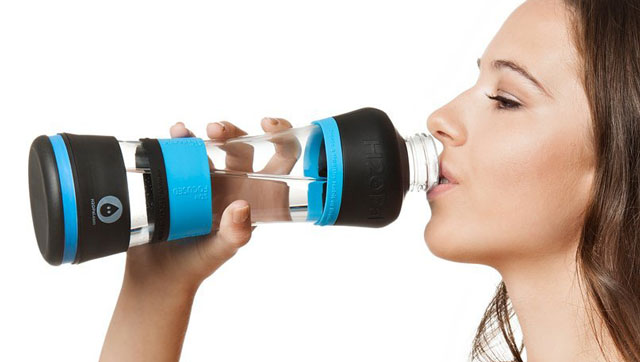 Dehydration can make you feel slow and unmotivated. It can also increase your snacking, since thirst is sometimes mistaken for hunger.
Aim to get half your fluids from water, Detroyer advises. "Diet soda is different than drinking a bottle of flavored water because of artificial sweeteners that have to be removed from the body," she says. "Some research shows that they also stimulate the body to look for more calories throughout the day and drive a desire for carbs/sugar."
Track your hydration via Waterlogged (free for iOS), which logs water intake by comparing photos of bottles you've drunk from with photos of the same before you glugged that H2O. Waterminder (free for iOS and Android) sends reminders to your smartphone or Apple Watch to drink water, logs the number of ounces you've consumed and displays your progress toward a daily goal.
If manually entering information grates on your tech-savvy nerves, try out a smart water bottle like the iOS-only H2Opal Hydration Tracker ($97.01 on Amazon), which can measure the amount of water you've emptied.
Keep it up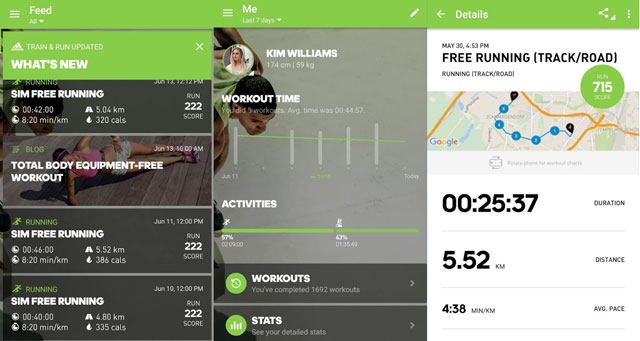 "Once the weight is lost, staying physically active is the key to keeping it off," Detroyer says.
It's natural as time goes on for weight loss to plateau and motivation to wear thin. Try all-round training apps like Nike+ Training Club (Android and iOS), which provides personalized training plans at various intensities that adapt to your workouts, along with audio and visual guidance for workouts, or Adidas Train & Run (Android and iOS), which offers real-time voice coaching as well as hundreds of workouts at various intensity levels to stave off boredom and increase difficulty as your fitness improves.
Updated with new app picks on 10/27/2016
[Image credits: runner holding smartphone via BigStock, FitBit, H2OPal]
Discussion