Which New Smartwatch is Right for You?
Techlicious editors independently review products. To help support our mission, we may earn affiliate commissions from links contained on this page.
Looking to replace your standard wristwatch or fitness tracker with something a bit more high tech? Right now you have plenty of options. Many tech companies and some more fashion-oriented brands have developed their own takes on the smartwatch paradigm. Whether your priority is good health, smart looks or smooth integration with your smartphone, there's a perfect wearable for you.
If you haven't yet joined the smartwatch revolution, we can't blame you. Smartwatches are still fairly new technology. The earliest models had high price tags, low battery life and no sense of style. But the smartwatch is starting to come into its own. Today's smart wearables combine the best of watches, fitness trackers and smartphones to give you convenient access to whatever you need, right from your wrist. And while prices are still high, they're coming down.
Not convinced? Check out this list of eight new (or soon-to-be-released) smartwatches and fitness watches. We think you'll find these wearables really do offer something for everyone.
Withings Steel HR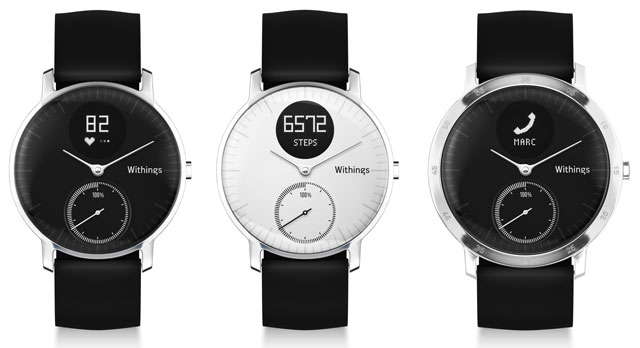 The Withings Steel HR watch packs the best aspects of a smartwatch into a classically styled watch. Eschewing the battery drain of digital touchscreens, the Steel HR refreshingly uses analog technology (it has actual watch hands!) to offer everything you would expect from a smartwatch. A discreet display on the top part of the watch face lets you see health information and smartphone notifications. The Steel HR's 25-day battery life means you won't have to remember to plug it in every night (or even every week).
This watch offers the tracking features you'd expect from the average fitness tracker, including the ability to keep tabs on your heart rate, steps taken, distance traveled and calories burned. It automatically recognizes walking, running and swimming as exercise — yes, it's water-resistant to 50 meters — and tracks sleep, too. A tap on the watch's crown switches the display to show what you want to see. Easy!
All of this data syncs with the Withings app, Health Mate. It's not the slickest fitness app on the market, but it does the job of tracking your health data and integrates with Apple HealthKit and Google Fit if you want to see your info elsewhere.
Withings Steel HR will be available this fall for $179.95 (36mm version) or $199.95 (40mm version).
TomTom Spark 3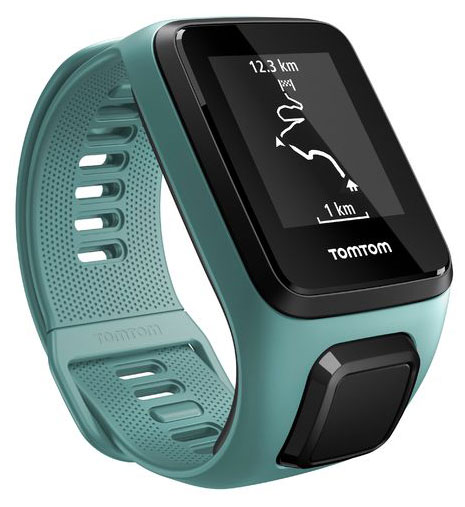 If you're looking for an everyday watch, TomTom's Spark 3, which sports a basic display and no smartphone notifications, probably isn't it. However, it's a great choice for runners.
As you might expect, TomTom leverages its experience with GPS and mapping in the Spark 3. Built-in GPS allows accurate tracking when you leave your phone at home, and you can upload running routes directly to your watch. A stand-out feature here is the new route exploration mode, which guides you back to your starting point if you prefer to run or hike off the beaten path. Another plus for anyone who wants to work out without lugging around a smartphone: 3GB of built-in storage for music, so you can upload your workout playlist and listen via Bluetooth headphones (included). It has a paltry five-hour battery life while playing music, but that's still more than enough to handle a daily run.
Beyond that, the Spark 3 includes standard fitness tracking features including an optical heart rate sensor and the ability to track a variety of workout activities (including treadmill workouts) and sleep. It's waterproof up to 40 meters and can track swimming, too. If you want still more fitness tracking, TomTom offers the new Adventurer, which adds a barometer for 3-D distance tracking and new modes for hiking, trail running, skiing and snowboarding — for a price, of course.
The Spark 3 syncs data back to your smartphone using TomTom's MySports app. If you don't like MySports, it also works with third-party apps like Strava and Runkeeper.
The TomTom Spark 3 is available for $249.99; the upgraded Adventurer model will set you back $349.99 when it becomes available this fall.
Garmin Vivomove

Garmin typically focuses on fitness tracking, but the round-faced Vivomove looks like a watch rather than a fitness tracker — and that's the point. People who wear fitness trackers all day don't necessarily want a bulky, rubberized cube sitting on their wrist. That's where the Vivomove fits in.
So what do you give up to get the Vivomove's classic watch looks? This tracker's a bit light and basic on both fitness and smartwatch features. It counts steps and monitors sleep but doesn't track heart rates, and while it's waterproof to 50 meters, it doesn't track swimming activities. Vivomove syncs to your smartphone (iPhone, Android or Windows Phone) via Garmin Connect but doesn't provide smartphone notifications. (Unlike the Withings Steel HR, this analog smartwatch has no screen to display notifications on.)
The Garmin Vivomove is available now starting at $139.99 on Amazon.
Fossil Q Wander

Fossil's latest smartwatches include the Fossil Q Wander and the Fossil Q Marshal, which offer slightly different styling. The Wander is all smooth curves, while the Marshal has a slightly chunkier, more rugged design. Both watches run Android Wear, a slimmed-down version of Android focused on watches and other wearables. That means plenty of smartphone integration for notifications and apps, plus a customizable AMOLED touchscreen that has a familiar feel for Android users — and despite the Android" right in the name, these watches work with iPhones, too.
The Wander's fitness features are fairly standard, with the ability to track steps, distance, calories burned and sleep, but there's no heart rate monitor. As long as you don't need anything too advanced, it will work fine. A 24-hour battery — enough for everyday wear but not quite enough that you won't have to charge it regularly — tops off the features list. In the end, it's a good option for someone more interested in style and smartphone integration than fitness.
The Fossil Q Wander is available now for $295.
Asus ZenWatch 3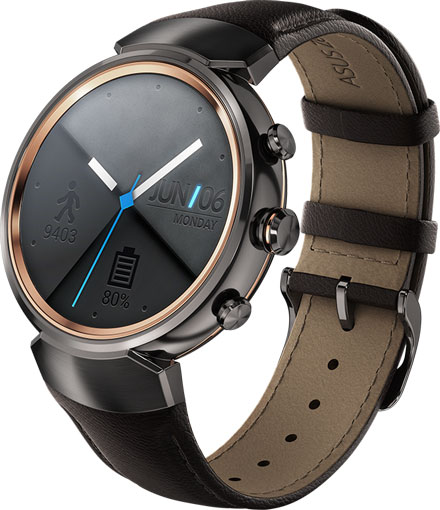 The Asus ZenWatch 3 is another Android Wear device that sports the classic style of a conventional wristwatch — and if you've read this far you know that's the current trend in smartwatches. Because it's Android Wear, the ZenWatch 3 has access to a wide range of apps and offers good smartphone integration for both iPhone and Android. A two-day battery is a nice feature to see on an Android Wear device, but Asus also offers HyperCharge, which will boost your watch back up to 60 percent in just 15 minutes when you need to power up fast.
ZenWatch 3 tracks basic fitness data, and Asus boasts it has a 95 percent accuracy rate on step count, but details beyond that are a bit sketchy. The ZenWatch 3's IP67 water resistance protects it from a dunk in up to a meter of water for up to 30 minutes, but that's not good enough for swimming, so don't expect it to track laps in the pool. As a smartwatch focused on style rather than fitness, it should cover the basics, but if you need heart rate monitoring or other advanced features, look elsewhere.
The Asus ZenWatch 3 will be available in November for $229.
iMCO CoWatch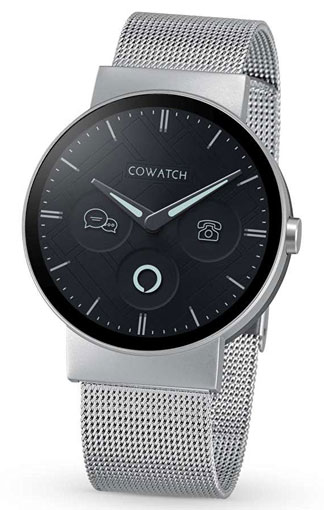 iMCO is a smartwatch newcomer that started selling its CoWatch through a crowdfunding campaign. The device has now made its way to become a retail product. Unlike anything else on this list, the CoWatch runs on the new Cronologics OS, which was built from the ground up for smartwatches. With none of the baggage of Android Wear or watchOS, the CoWatch should be easy to use with either iPhone or Android. Having a unique OS means you won't have access to the apps on other watches, but Cronologics has a selection of apps you may find to be sufficient. This device is a solid fitness tracker, too, with a heart rate monitor as well as the ability to track steps. If you want a GPS function, you'll have to upgrade to something more sports-friendly. The 32-hour battery is more than enough to get through a day or two without charging.
The CoWatch's standout feature is Alexa integration. When connected to Wi-Fi, you can use CoWatch to ask Amazon's Alexa voice assistant questions. While Apple Watch has Siri and Android Wear has OK Google, this is the first watch to integrate with Amazon. Alexa can do everything you'd expect of a voice assistant including great Amazon integration, which may encourage Amazon fans to pick up a CoWatch.
The iMCO CoWatch is available now starting at $279.
Samsung Gear S3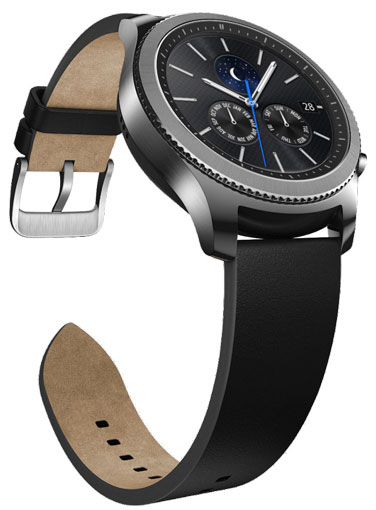 If you're looking for a watch that has everything, the Samsung Gear S3 may be the answer. This smartwatch comes in two styles, the sleekly designed Classic and the more rugged Frontier. Both feature a super AMOLED touchscreen, a bezel that rotates for navigation, IP68 water resistance (it will survive rain or an accidental dunk in the sink, but not swimming) and a very nice four-day battery life. The watch runs Tizen, a mobile OS similar to an Android running Samsung's TouchWiz skin, and will look quite familiar to Samsung owners. While Tizen has the same app problems that Chronologics has, Tizen's been around longer and already has 10,000 apps available, so it shouldn't be difficult to get any apps you need.
On the fitness front, the Gear S3 is surprisingly full-featured for an all-purpose smartwatch. It tracks heart rate and steps and also has a GPS, an altimeter and a barometer. That's a lot of fitness data you can collect while leaving your smartphone at home, and when you do have your phone with you, that data syncs with Samsung's S Health. Like TomTom's Spark 3, the Gear S3 has built-in storage (4GB), so you can upload playlists to listen to when you're running without your phone. The watch's SOS feature is good when you're running or otherwise out and about; press the home button three times to send your location to predetermined people of your choice if you ever need help.
One feature of the S3 you won't find on any other smartwatch on this list is LTE. Certain S3 models can connect directly to cellular networks for internet access without being paired with a phone or connected to Wi-Fi. A built-in microphone and speaker let you make calls (via LTE or over Wi-Fi when used with a voice calling app) directly from your watch, and Samsung's S Voice allows voice control. You can even stream Spotify directly from your watch using the Spotify app. While none of these are necessarily must-have features, they're certainly convenient.
The downside to this gadget? It only works with Android phones. It's the perfect companion to your Samsung phone, since it shares the same TouchWiz-style interface, but iPhone users are out.
The Samsung Gear G3 will be available this year for $250.
Apple Watch Series 2

Of course, iPhone owners have their own option in the Apple Watch Series 2. And while this watch doesn't match the Gear S3 feature for feature, iPhone users will enjoy how well it integrates with their iPhones and existing apps. The Apple Watch is one of two on this list (TomTom's Spark 3 being the other) that ignores the trend toward a classic circular style in favor of a modern, square design that rather resembles a tiny iPhone.
The Apple Watch features a touchscreen and a familiar iOS-style interface with WatchOS. Whether you pick up the updated Series 2 or the older Series 1, both watches have a faster processor than the original watch and use the new WatchOS 3, providing speedier performance and apps that open instantly.
For fitness, the Apple Watch offers an optical heart rate monitor and tracks activity levels and workouts. On top of that, the Series 2 is waterproof to 50 meters and also tracks swimming. If you want to leave your phone at home, both models let you listen to your workout playlist without your phone (via Bluetooth headphones), and the Series 2 has a built-in GPS for accurate run tracking. While the watch has built-in activity and workout apps, it also integrates with many of your favorite iOS apps, so you don't even have to get used to a new system.
The biggest downside to the Apple Watch (besides the fact that it's iPhone-only) is its high price tag. Only the Series 1 watch really competes price-wise with the rest of the list, and the Series 2 — the watch swimmers and runners will want — is over $300.
The Apple Watch Series 2 is available now starting at $369. If you don't need the GPS or waterproofing, the Series 1 may serve you just as well for $269.
[Image credits: Apple, Asus, Fossil, Garmin, Samsung, iMCO, TomTom, Withings]
Discussion