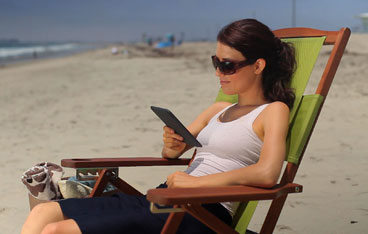 Getting ebooks and audio books for free is always a good idea but, when Oprah chose two Charles Dickens novels (A Tale of Two Cities and Great Expectations) as her book club selections – perhaps her final book club selections at that – the matter became a national priority. Luckily, it's easy to find these books and millions more to read on your computer, smartphone, ebook reader or tablet at no charge. You may even be able to have someone read the books aloud for you, equally free.
Project Gutenberg
For years, the first and foremost source for free out-of-copyright literature has been Project Gutenberg, which offers over 33,000 free books in a variety of formats, so they're compatible with computers, iPad, Kindle, Sony Reader, iPhone, Android and other portable devices. What's more, they have download instructions for each device available right on the home page.
Google eBookstore
After years of scanning texts from the world's libraries, Google recently launched the Google eBookstore with over 3 million titles, 2.8 million of which are free downloads, that can be read in your web browser or downloaded to Android devices, Barnes & Noble's Nook, the Sony Reader and Apple's portable devices.
Unlike the straight-text downloads from Project Gutenberg, many of the Google titles dish up pages just as they were scanned, page by page, including the original typefaces and illustrations (if any). As someone who started out in book publishing, I find this charming, at least on a large-screen device. On a smartphone it's not quite as comfy as reading computerized text, though. Fortunately, the shopping experience is done cleverly. Hovering your cursor over search results offers a user rating and the option to view an on-screen sample that loads very quickly.
Amazon
Amazon also has an extensive free book selection, with over-the-air downloads available for Kindles and, via free Kindle reader software, PC and Mac, iPhone and iPad, Android, Blackberry and Windows Phone 7 devices. In addition to the typical public domain titles, Amazon offers an odd grab-bag of copyrighted books made available free by their publishers (often to entice you into reading a series).
Currently, the promotional books include Snowy Night Seduction, The Holy Bible English Standard Version, Sudoku, a selection of foreign language phrase books, a bilingual Old Havana Cookbook, and The Dickens with Love, a holiday romance that hinges on the discovery of a previously unpublished Christmas book by Charles D himself. Fortunately, reader ratings are prominently displayed, so you can pick out the promising titles from the virtual free-book bin.
Barnes & Noble
Barnes & Noble offers free NOOKBooks for the Nook and devices that run the Nook software, which include iPhones, iPads, Android devices, BlackBerries and computers. While the selection is smaller for Nook, the titles are different. Pride and Prejudice and Zombies, for example, currently runs $4.79 for Kindle download, yet it's free for the Nook.
OverDrive
Finally, a company called OverDrive operates a kind of digital branch for 9,000 local libraries worldwide – you can type in your zip code and see if you're eligible. The available collection will depend on your library's purchases, but can include both ebooks and audiobooks, including current bestsellers and backlist titles.
As for devices, the OverDrive Media Console software works with ebook readers including Nook, Sony Reader and a few others (Kindle support is notably absent), computers and Android and Apple devices. With audiobook titles available in both MP3 and WMA formats, the total list of compatible devices (including the ubiquitous iPod/iPad/iPhone family) is extensive.
Unlike the other resources listed here, OverDrive offers downloads as if they were actual, physical titles – your library buys a certain number of copies of the ebooks and audiobooks it chooses, and when those are "checked out," you just have to wait. The good news: there's an easy-to-use reserve system, which emails you when a title you've requested becomes available. The bad news: by the time I make it to the top of the list for the audiobook version of Tale of Two Cities, Oprah will long since have left the air.