Updated April 21, 2010 to include new steps for Windows 7
Why is my computer slow?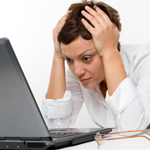 You may not care how your computer works, but one thing we all seem to notice is when that computer is running slowly. A sluggish computer happens to the best of us—and fixing it can be easier than you might have guessed. Whether it's a prolonged start-up, websites inching along or programs that take forever to open, follow our simple steps to resolve these annoying problems.
Before you get started, you need to be clear about what area of your PC is running slowly. Take a look at these three common issues and click on the link that best relates to you: