Android Spyware Apps: How Dangerous Are They?
Techlicious editors independently review products. To help support our mission, we may earn affiliate commissions from links contained on this page.
Mobile spyware has been reported numerous times in the media as a serious threat for phone users. When we first covered the spyware issue back in March, 2012, we were shocked by the volume of comments we received from readers who suspected they were the victims of spyware. And, some of the claims they were making about how much information the alleged spy was able to capture seemed a little far fetched.
But the comments kept coming in from women (yes, women seem to be the primary victims) whose lives are being turned upside down by a controlling spouse, boyfriend or ex who seems to know their every move.
So we started to take a deeper look at the issue and what we found is very disturbing. Spyware programs are very real, easily available and far more intrusive than we expected would be possible.
Worse, spyware threats are also highly pervasive—according to security company Lookout, .24% of Android phones they scanned in the U.S. had surveillance-ware installed intended to target a specific individual. Sophos reports a similar .2% infection rate from spyware. If those numbers hold true for Android users in general, that would mean tens of thousands are infected by spyware. And this isn't just an Android issue, iOS and BlackBerry devices can be easily infected as well. Yet, mobile security vendors are currently doing a poor job at spyware detection.
I tested three of the most common spyware apps—Mobile Spy, Mobile Stealth & Phone Control—in detail to find if each could do everything it claimed. The results were eye-opening. While features varies somewhat between the three, each could easily be installed on my Nexus 4 running Android 4.2 and capture significant amounts of highly personal information; including allowing a spy to remotely track your location, monitor your text messages, listen to your calls, see every photo and video you shoot, turn on your phone's microphone to monitor its surroundings and take pictures with your phone's camera.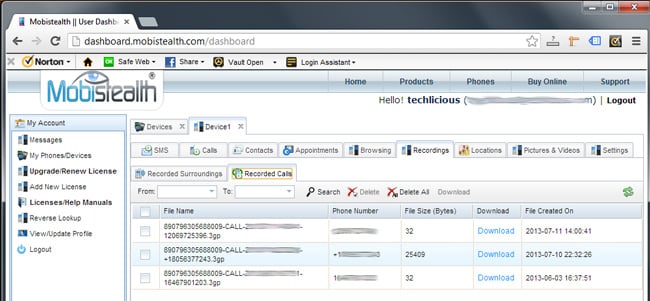 Meanwhile, the app remains hidden in the background, given you no warning that something may be amiss.
Mobile Spy
At $100 per year (or $50 for three months), Mobile Spy isn't cheap, but it provides a robust set of monitoring capabilities and allows the snooper to access the details through a simple-to-use web interface. For an extra $50 a year, Mobile Spy adds the ability to remotely record the audio using the phone's microphone and capture pictures with the phone's camera.
Mobile Spy also works with iOS (requires jailbreaking), BlackBerry (v7 and below) and Symbian, and multiple devices can be monitored from the same web interface. Once installed, the app remains hidden from the user, only appearing as "SIM Toolkit" in the list of running apps within Android Settings.
Mobistealth
Mobistealth is very similar to Mobile Spy, but offers one important feature—the ability to record live phone conversations. While almost certainly illegal in many jurisdictions without both parties' consent, recording call audio provides a much more complete profile on the person you are monitoring. You pay for this added functionality, though. A one year subscription to Mobistealth is $199.
Mobistealth also works with iOS (requires jailbreaking), BlackBerry (v7 and below) and Symbian, and multiple devices can be monitored from the same web interface. Once installed, Mobistealth remains hidden from the user, showing "Lookout Secure" in the running app list.
Phone Control
If you're looking for an app that provides a robust set of features at a bargain basement price (one-time fee of 1.99 Euros), Phone Control is a great choice. Formerly available through Google Play (before getting kicked off), Phone Control gives you all the tools you need to monitor your target, including recording of live calls. What you don't get is the slick web interface—tracking data is delivered to you via email—and some features that require manual initiation.
Not having a web interface makes managing the device more difficult, but offers a potential privacy advantage. With the other spyware apps, your target's content is sent and stored on the company's servers where, potentially, others could access it. With Phone Control, information is sent from the phone using an email address you set up on the device, so the data is never transmitted to a third-party (other than your email host).
Installation is a more involved process than with the other apps, requiring downloading and installing two apps, one which the developer will send you after you pay through Paypal. We've also been notified by the developer that he will no longer be supporting the app, so it's not clear how much longer it will be available.
Phone control is only available for Android. Once installed, Phone Control remains hidden from the user, showing "Android Manager" in the running apps.
Comparison of monitoring features

| Features (Android) | Mobile Spy | Mobistealth | Phone Control |
| --- | --- | --- | --- |
| Record surroundings | | | |
| Record audio | ✔ | ✔ | ✔ |
| Capture photo | ✔ | ✔ | ✘ |
| Text message monitoring | ✔ | ✔ | ✔ |
| Call tracking | | | |
| List call details | ✔ | ✔ | ✔ |
| Record phone calls | ✘ | ✔ | ✔ |
| Track web history | ✔ | ✔ | Manual |
| View photos & videos | ✔ | ✔ | ✔ |
| GPS tracking | | | |
| On-demand | ✔ | ✔ | ✔ |
| Historical | ✔ | ✔ | ✔ |
| Monitor phone contacts | ✔ | ✔ | Manual |
| Monitor calendar | ✔ | ✔ | Manual |
| Hide on install | ✔ | ✔ | ✔ |
| Web interface | ✔ | ✔ | ✘ |
| Supported OS | Android, iOS, BB | Android, iOS, BB | Android |
Discussion