The Best Free YouTube Video Downloader Is Fast and Easy to Use
Techlicious editors independently review products. To help support our mission, we may earn affiliate commissions from links contained on this page.
You can find just about anything you'd want to watch on YouTube (and a lot you wouldn't). And while most YouTube watching is done online, there may be times you want to download a copy of the video for using in a presentation or watching when traveling without an internet connection. I researched the options to uncover the easiest and safest ways to do that on your phone or computer, ideally, for free.
There are a number of options when it comes to downloading YouTube videos. You can download videos with the YouTube app on your phone or tablet if you subscribe to YouTube Premium ($11.99 per month), and there are apps for your computer that let you download and save YouTube videos so you can watch them for free anywhere at any time. But you need to be careful when selecting a free YouTube downloader. Just like choosing a VPN, you should find out how the app makes money. Some "free" downloader apps may install malware or hard-to-remove adware – and that's a steep price to pay.
Sticking to an app on your computer from a reputable company is also a better choice than using one of the many websites that help you download YouTube videos. Like the rogue apps mentioned above, many of the downloader sites inundate you with ads (sometimes explicit) or try to trick you into downloading their proprietary software (which may contain adware or other malware, as well). These sites also go in and out of existence because of copyright complaints, so I would stay away.
To figure out which YouTube downloader I would recommend as my top pick, I researched the best-known software options, including Media OOO's 4K Video Downloader, Digiarty's WinX YouTube Downloader (and the Mac version, MacX YouTube Downloader), VLC Media Player, Any Video Converter Free, and Free YouTube Download.  I also took into consideration what other professional reviewers from sites like Cnet, TechRadar, and Tom's Guide found to be reliable, malware-free YouTube downloaders.
The two downloaders that consistently rose to the top are 4K Video Downloader and WinX YouTube Downloader. In addition to a good reputation for security, 4K Video Downloader and WinX YouTube Downloader have the key features you'd want in a YouTube downloader – support for 4K video downloads (8K for WinX) and the ability to easily download playlists and channels, in addition to single videos. And each uses a freemium model, which encourages you to upgrade to the paid version of the software but gives you plenty of functionality for free.
After testing both of these options extensively, my pick for the best free YouTube Downloader is WinX YouTube Downloader/MacX YouTube Downloader for its consistently high download speeds and an interface that is intuitive for even novice users.
The best free YouTube downloader: WinX YouTube Downloader (MacX YouTube Downloader)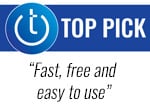 WinX YouTube Downloader (and its sister, MacX YouTube Downloader) takes all of the guesswork out of downloading YouTube videos. It's a simple three-step process to download a single video and if you want to download a playlist or channel, the software steps you through your options.
To download a video, you copy and paste the URL of the video into WinX, verify the video format to save to (mp4 or webm) and the resolution (WinX YouTube Downloader can handle up to 8K), and then click on the down arrow to start the download. It's that simple.
WinX YouTube Downloader also makes it easy to download just the videos you want from your favorite channels and playlists. When you paste in the URL for the playlist or channel, you're presented with a list of videos to download from which you can make your selection. With other downloaders, it's all or nothing when it comes to playlists and channels.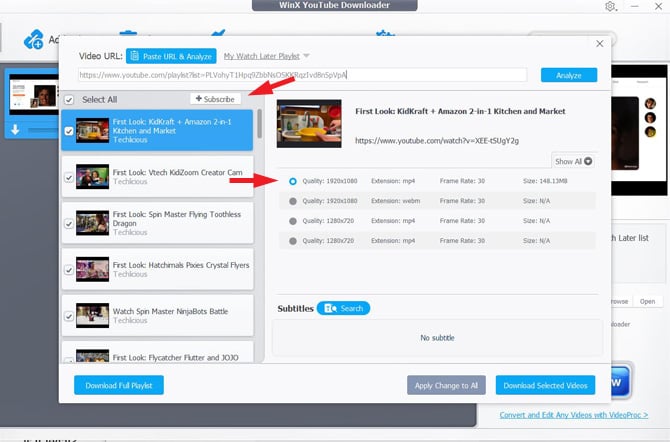 You can also subscribe to a playlist or channel with WinX YouTube Downloader, and the software will keep track of which videos you've already downloaded. When you check on your subscriptions, you'll see a "new" tag on any videos you haven't downloaded. Other YouTube downloaders don't let you subscribe to playlists and channels in the free version of the app.
Premium features like recording YouTube Live video, subtitles, and creating an audio mp3 file from videos are highlighted in WinX YouTube Downloader, but require upgrading to Digiarty's VideoProc for $37.95.
I used WinX YouTube Downloader to download various videos, playlists, and channels and found download times to be fast every time. For instance, it only took a few minutes for 1GB of data (a 5-minute, 4K video). Other YouTube downloaders restrict your download speed for their free versions, which I found could take up to 10 times as long.
Is downloading YouTube videos legal?
Generally speaking, most content on YouTube is protected by copyright (including the videos on our own Techlicious YouTube channel) and we should respect both creator copyrights and YouTube's ability to monetize that content through ads on the site.
Some argue laws allow wiggle room with respect to downloading copyrighted content for personal use or under Fair Use – a situation even YouTube acknowledges. However, YouTube's terms of service expressly forbids any downloading. "You are not allowed to: access, reproduce, download, distribute, transmit, broadcast, display, sell, license, alter, modify or otherwise use any part of the Service or any Content except:  (a) as expressly authorized by the Service; or (b) with prior written permission from YouTube and, if applicable, the respective rights holders." So, it's possible that YouTube could suspend or terminate accounts using automated download tools for personal use, even when done legally, though I haven't seen any evidence that they have done so.
[Image credit: YouTube logo on laptop via BigStockPhoto, screenshot via Techlicious]
Discussion