The Best Portable Space Heater Under $150
Techlicious editors independently review products. To help support our mission, we may earn affiliate commissions from links contained on this page.
The Vornado ATH1 is the best portable space heater under $150 with the most efficient heating, easy to use controls and best-in-class safety features.
Vornado ATH1 Tower Heater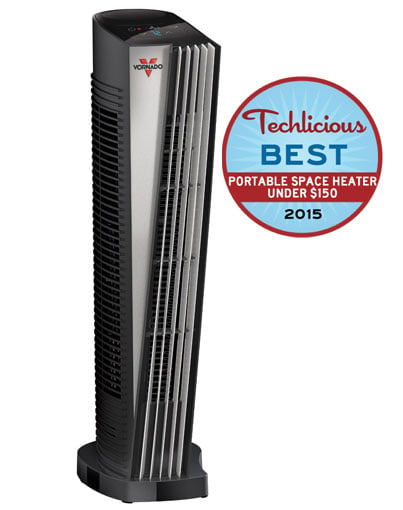 As most of us living in colder climates know: even after turning up your home's thermostat, sometimes it's just not enough to stay warm. A corner bedroom remains drafty. Guests shudder in the dining room. The garage-turned-workshop, unconnected to the central heating system, is downright icy. Space heaters are a popular and effective way to close the chill gap—one room at a time, without burning through too much money.
With many models available, we narrowed down the choices for our testing by looking for portable space heaters that would be well-suited to heating a medium-sized room (12x18 feet) efficiently and safely within 15 minutes; so we selected models with a heating capacity of at least 1500 Watts. We also wanted our heater to weigh less than 10 pounds, so it could easily be carried from room to room. And the space heater must have a range of temperature control settings (just a High and Low wasn't going to cut it). Finally, the heater should be quiet enough to allow you to sleep. And while it's possible to spend outrageous amounts on a space heater, we kept the price limit to a reasonable $150 (that eliminated the Dyson AM05 and AM09, which start at a very pricy $399).
For safety, the ability to automatically shut off when airflow is blocked or the unit overheats is a must-have. According to the National Fire Protection Association, space heaters caused one-third of home heating fires between 2007 and 2011. We didn't want our home to be one of them.
Once we had our initial group of space heaters identified, we then looked at both user and professional reviews, to see which performed best in the lab and in real-world use.
Using these extensive initial screening criteria, we ended up with four heaters to evaluate in our hands-on testing: the Lasko 754200 ($24.97 on Amazon), the Vornado ATH1 tower heater ($119.99 on Amazon), Lasko 6462 Full Circle oscillating heater ($63.61 on Amazon) and the Bionaire BCH9212R-NU tower heater ($61.50 on Amazon).
After spending hours testing each heater for heating efficiency, ease of use, portability and housing surface temperate, the Vornado ATH1 tower heater emerged as our pick for the best portable heater under $150. The Vornado ATH1 delivers strong heating performance, convenient features and best-in-class safety, wrapped in an attractive housing that you would be happy to have in any room.
Heating efficiency
The last thing you want going into a freezing room is to have to wait endlessly to take off your coat. Our testing had us start out in a room at 62 degrees. with a goal to break 70 degrees in 15 minutes.
The ATH1 easily heated our 12- by 18-foot room within the allotted time, using the brand's "V-Flow Circulation"—a system that creates a wide flow of air using specially designed louvers (see the video below). Once the programmed temperature was reached, the Vornado ATH1 continuously adjusted the temperature of the heating element, lowering or raising it as needed, which provided even heating and a consistent noise level. We never felt as if the heater was blowing hot air directly towards us, and yet the room warmed up nicely, while the heater remained cool to the touch.
The Lasko and Bionaire models we tested cycled heat on and off completely to maintain temperature, creating pockets of hot and cold, as well as intermittent noise as the element clicked on. For those looking for instant spot heating, this might be seen as a plus. But for continuous, even heating of a whole room, the gentler method of the Vornado is a better option.
Ease of use
The Vornado ATH1 has touch-sensitive controls that let you set a specific temperature, as did the Bionaire and the Lasko 6462 Full Circle (the Lasko 754200 was the only in our test group that had a basic dial control.) You can choose "Auto Climate Control" mode, which adjusts the fan speed and heat output to maintain the temperature. Or, you can choose between two heat settings—750W or 1500W, to allow for more control over energy consumption—and three fan settings. The Bionaire and Lasko Full Circle have easy-to-use remote controls, a feature the Vornado and Lasko 754200 both lack.
Portability
Portable heaters can range in weight from 3.5 to 35 pounds. We recommend a heater that's no more than 10 pounds for easy portability. The ATH1 weighs about half of that at 5.35 pounds. It was the second lightest heater of the four we tested, behind the tiny Lasko 754200, which weighs in at 3.7 pounds. The Lasko 6462 Full Circle was the heaviest, weighing in at 7.5 pounds, while the Bionaire was in the middle of the pack at 6.7 pounds.
The sleek, smartly designed Vornado ATH1's measures 20 inches high, yet has a width of only 5.49 inches—delivering a smaller floor footprint than its four competitors. In comparison, the Bionaire measures 8.9 x 8.2 x 21.6 inches, the Lasko 6462 measures 11 by 9.15 by 25 inches and the 754200 measures 5.75 by 7 by 9.2 inches. Another nice touch: a cutout in the back of the Vornado serves as a grip for easy transport.
Safety features
Safety features are a primary concern when purchasing a space heater.
The models in our test group all automatically shut off when airflow is blocked or the unit overheats. The Vornado ATH1 adds automatic tip-over protection, so the heater shuts off when it senses it's being knocked over. When we pushed the heater over multiple times, during testing, each time it turned itself off before hitting the floor.
It is also notable that the constant heating method of the Vornado meant the outside of the unit remained notably cooler to the touch than the competitors.
Quiet operation
Noise is another concern, especially if you'll be using the heater in a bedroom at night. The Vornado ATH1 kept a consistently low noise level, similar to a white noise machine. The three other heaters we tested had similarly-low noise levels, but did occasionally turn off/on to adjust heating levels, which could be distracting.
What people are saying about the Vornado ATH1
The Vornado ATH1 was rated "excellent" by Consumer Reports for its room heating ability and its fire safety. On Amazon, the average rating was 3.5 stars, lower than we like to see, and lower than the other units in our testing, which scored between 4.3 and 4.4 stars. While two-thirds of buyers rated the Vornado four or five stars, about on third were vocally negative about the unit's heating ability and noise level – quite contrary to our experience and that of Consumer Reports.
Part of the issue appears to be that people are expecting the unit to put out a stream of hot air, as most other space heaters do. Though, as we've already explained above, the Vornado ATH1 is a steady heater, not a heat blaster – if you're looking for instant spot heating Lasko 754200 will serve that purpose better and only cost you $25.
However, a meaningful portion of the negative customers sound like they may have received defective units. For us, this is certainly a ding against the Vornado. But in the event that you get a bad unit, it can always be returned for an exchange if you buy from Amazon. And the Vornado has a 5-year warranty, versus 3 years for the Lasko units and one year for Bionaire, giving you more long-term peace of mind.
The Competition
The Best Budget Space Heater: Lasko 754200
The 4-pound Lasko 754200 has the simplest design of the group. Unlike the three other models we tested, it has no digital temperature display. A dial switch regulates settings from low to high, so you have to program the thermostat more by feel – shuttling from fan-only to high heat with a dial switch. The other drawback to the Lasko 754200 is that its front grill gets hot to the touch — not enough to burn you, but we would be concerned about using it in areas with children or pets. Despite its small size, it heated our room as quickly as our top pick. And, at $24.97 on Amazon, it's the best bargain.
Bionaire BCH9212R-NU
The Bionaire BCH9212R-NU shares many of the same features as our top pick, the Vornado ATH1. Like the Vornado, the Bionaire is a compact, tower, is cool to the touch when operational and has a two heat settings, 750 watts and 1500 watts, has automatic tip-over protection, an LED display and remote control.
Unlike the Vornado, the Bionaire cycles heat on and off and oscillates to disperse heat, creating distracting noises and air currents. Plus, it's slightly bigger at 8.9 x 8.2 x 21.6 inches and heavier than the Vornado at 6.7 pounds. It offers a remote control, which the Vornado does not.
Lasko 6462 Full Circle Ceramic Heater
The Lasko 6462 is an oscillating tower heater that can be programmed to blow heat in a 90-degree, 170-degree or a full 360-degree movement. It our tests it easily heated the room within 15 minutes. The design, although a modern style, makes the unit a bit top-heavy, and at 7.5 pounds, it was the most cumbersome of the four we tested to move around. And, like the Lasko 754200, it was uncomfortably warm to the touch. It offers a remote control, which the Vornado does not.
The bottom line
Based on our testing, the Vornado ATH1 is the best portable space heater under $150, edging out the competition with the most efficient heating method, easy to use controls, best-in-class safety features, a non-oscillating base, which makes it sturdier, and an exterior that stays cool to the touch. And if the Vornado will be placed in a public room, you'll appreciate its sleek, high-end design.
The Best Portable Space Heater Under $150:
Vornado ATH1 Tower Heater
Corrected Bionaire wattage on 1/27/2016
Discussion