Call Control App for Android Prevents Robocalls from Going to Voicemail
Techlicious editors independently review products. To help support our mission, we may earn affiliate commissions from links contained on this page.

Everyone hates robocalls and spam calls with a passion. And while there are numerous ways to block spam callers, most of them simply send the caller to your voicemail, meaning you now have to manually delete the annoying messages from your mailbox. The Call Control - SMS/Call Blocker app for Android is the first one I've tested that successfully solves this problem; spam callers are both silently blocked and prevented from leaving voicemail, leaving you at peace.
That voicemail skirting feature, combined with Call Control's extensive wildcard blocking capabilities, makes it the best call blocking app I've tested. You don't get those features for free – an annual subscription is $29.99 – but if you are fed up with spam calls going to your mailbox or looking to block all calls spoofing your area code and local exchange, you should give Call Control a shot.
Spam call blocking features
Call Control offers the most options for spam call identification and blocking of any of the apps I've tested. Like market leaders Hiya and Truecaller, Call Control has a community-based spam identification system that uses feedback from its users to identify the latest numbers being used by telemarketers and robocalls. However, because Call Control's installed base is smaller – 5 million-plus Android installs, versus 10 million-plus for Hiya and 100 million-plus for Truecaller – it's probable that the community reporting will be slightly weaker. Community-based call blocking also requires a subscription ($9.99 per quarter or $29.99 per year), something Truecaller (but not Hiya) offers as part of its free package.
However, if your experience is similar to mine, you've found that a large percentage of robocalls are coming through spoofed numbers made to resemble your own area code and exchange. Call Control allows you to use wildcards to block any area code or area code plus exchange (e.g., 1-212-555-*). And, unlike Hiya, if you're getting spam calls spoofing numbers from outside the US, Call Control also lets you block international country codes. In addition, Call Control allows automatic blocking of private callers, unknown callers and toll-free callers. All of these options are included in the Free subscription version of the app.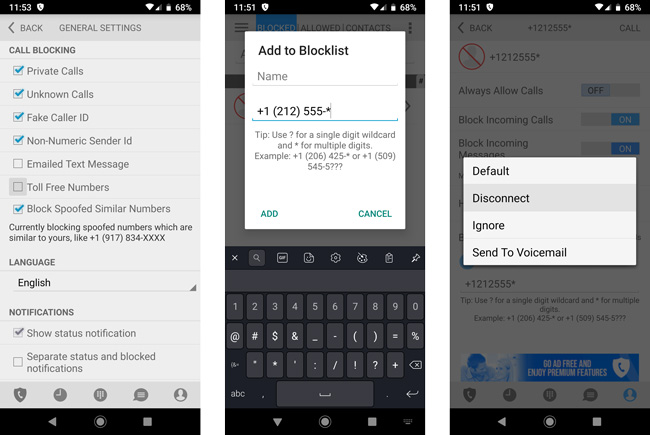 But where Call Control is the absolute winner is its ability to immediately disconnect blocked calls, rather than ring once and send to voicemail, as Hiya and Truecaller do. After all, it doesn't do much good to block a call if it still rings and then you have to go to your voicemail to manually delete it later. If you want blocked calls to go to voicemail, that is an option if you're concerned about false positives, but I never had one in my time with Call Control, and you can upload your contact list to ensure that neighbors in your contacts who may share your exchange don't get blocked.
The block and disconnect capability has been a game changer for me, as the numerous spoofed calls I receive to my cell number and my home landline number (which is forwarded to my cell) are quickly dropped, with no more annoying voicemails about free trips, credit card balance reduction offers or scams in Mandarin targeting Chinese immigrants.
Unfortunately for iPhone owners, because of operating system limitations the iOS version of the app can't stop calls from going to your voice mailbox. However, spam calls are put in a "blocked messages" folder to make managing them easier. Apple users are also limited to only blocking one spoofed number using the area code and exchange of their iOS device.
Call Control allows filtering of spam SMS messages, too. Though I was unable to test its overall effectiveness as I never receive spam texts.
Caller ID features
Like other spam blocking apps, Call Control has enhanced Caller ID options, though you have to pay extra for it. Otherwise, caller ID is simply limited to what is in your address book. The Call Control subscription plans include Caller ID for businesses and similar numbers. For other numbers, Premium lookup credits are sold on an individual basis of 5, 15, and 30 lookups for $2.99, $4.99, and $7.99, respectively.
Comparatively, both Hiya and Truecaller offers enhanced Caller ID for business listings as part of their free offerings, though other lookups are also extra.
Call Control privacy protection
In order to provide basic caller ID for your contacts and for whitelisting, Call Control will need access to your address book. This can be a big privacy concern if you don't know what is being done with that information. I reached out to Call Control and spoke with the CEO, John Adler, about how this information is handled. According to Adler, "We do not upload your contacts as a fundamental principle of privacy…We use contacts on the phone when we make call handling decisions which are local to the device, but we do not upload, or store them anywhere else."
Call Control was founded and is headquartered in the Seattle area, so there is an added level of comfort that you are not dealing with an overseas organization.
Summary of Call Control – should you buy it?
For the full suite of blocking capabilities, a subscription to Call Control - SMS/Call Blocker will run you $9.99 per quarter or $29.99 per year. Not cheap, but in-line with the other premium call blocking apps. And Call Control is the only one that will disconnect spam calls without ringing and block calls from going to voicemail – a huge upside. The free version still offers the ability to block spoofed calls pretending to be neighbors, which, in my case, is the majority of spam/robocalls I receive. The downside is the very limited caller ID and rather annoying ads peppering the app (though, in practice, you don't spend much time in the app, so not a big deal).
So, if you're like me and getting constant robocalls from spoofed local numbers, Call Control is a no-brainer – get it and send those calls to oblivion. If your spam and robocalls come from other numbers, it is still worth giving the paid version of Call Control a try first – because if the community blocking works for your circumstances, you'll love those calls not going to voicemail.
After our review was written, we discovered our partners at StackCommerce are offering a big discount on Call Control for $19.99 (33% off) on a one-year subscription through Techlicious Deals (Techlicious may receive an affiliate commission for purchases made through links on our site.)
PROS
Only spam call blocking app I've tested that stops calls from going to voicemail
Robust wildcard blocking for both US and international numbers
Relatively large installed base for community spam reporting
US-based company that does not upload contacts to their servers
Rated 4.4 out of 5 Stars on Google Play, with over 99k reviews.
CONS
Install base is smaller than competitors, so community blocking may not be as strong
No Caller ID included in Free plan
Annoying ads in Free version
Discussion